Fashion is cyclical, and every few decades, we witness the resurgence of iconic trends from the past. The '90s, with its bold and distinctive style, is currently experiencing a revival in the fashion world. From oversized denim jackets to slip dresses, the nostalgic fashion of the '90s is making a strong comeback, capturing the hearts of fashion enthusiasts and influencers alike. In this article, we will take a trip down memory lane and explore the key trends from the '90s that are reemerging in today's fashion scene.
Denim Delight: The Reign of the Oversized Denim Jacket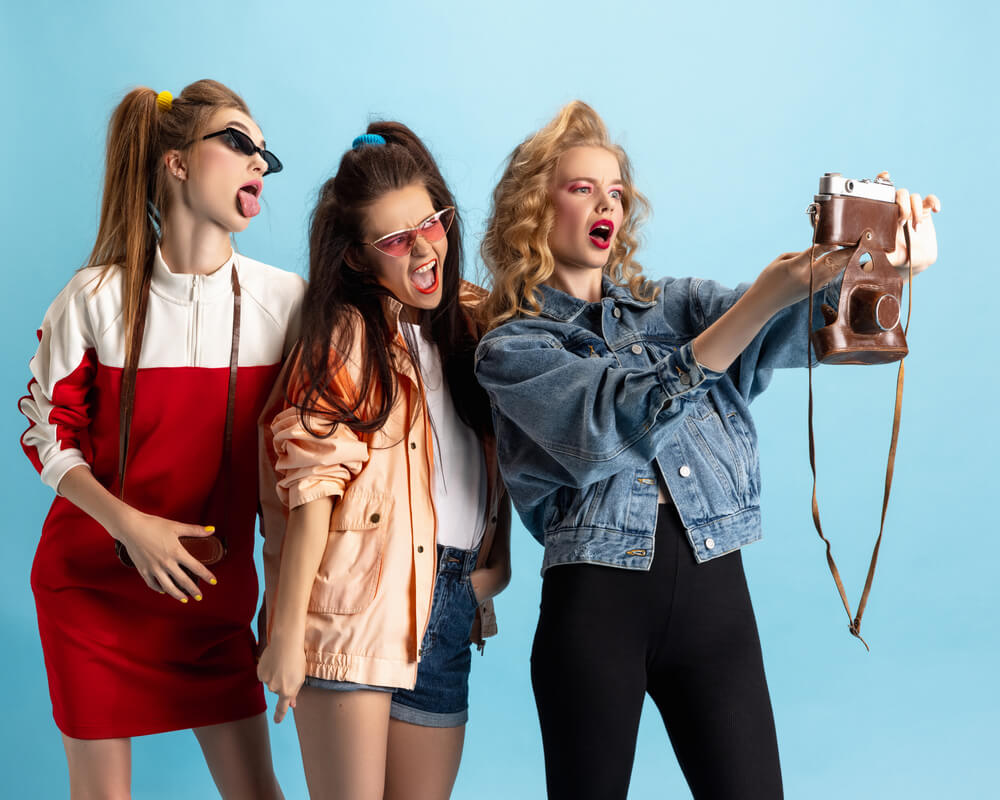 One iconic '90s fashion staple that is making a powerful comeback is the oversized denim jacket. This versatile piece adds an effortlessly cool touch to any outfit, whether you pair it with a floral dress or a casual t-shirt and jeans combo. The oversized silhouette and distressed detailing give it a vintage appeal that perfectly encapsulates the '90s aesthetic. Look for jackets with acid wash, light blue, or black denim to channel the true essence of the era.
Grunge Glamour: Plaid, Flannel, and Combat Boots
The grunge fashion movement of the '90s has resurfaced with a modern twist. Plaid shirts and flannel tops are back in the spotlight, providing a laid-back and effortlessly chic look. Whether worn tied around the waist, layered over a band t-shirt, or as a statement piece on its own, plaid adds a touch of nostalgia to any outfit. Paired with ripped jeans and a pair of combat boots, this grunge-inspired ensemble creates an edgy and rebellious vibe.
Slip into Style: The Charm of Slip Dresses
The slip dress was a quintessential '90s fashion item that epitomized minimalism and elegance. This slinky, spaghetti-strap dress is experiencing a major resurgence in recent years. Whether in a solid color or adorned with delicate floral patterns, slip dresses have become a staple for both casual and formal occasions. Layer them over a t-shirt or pair them with a chunky sweater for a trendy and effortless look. Slip dresses offer a perfect blend of comfort and sophistication, making them a must-have in every fashion-forward individual's wardrobe.
Funky Footwear: Platform Sneakers and Chunky Sandals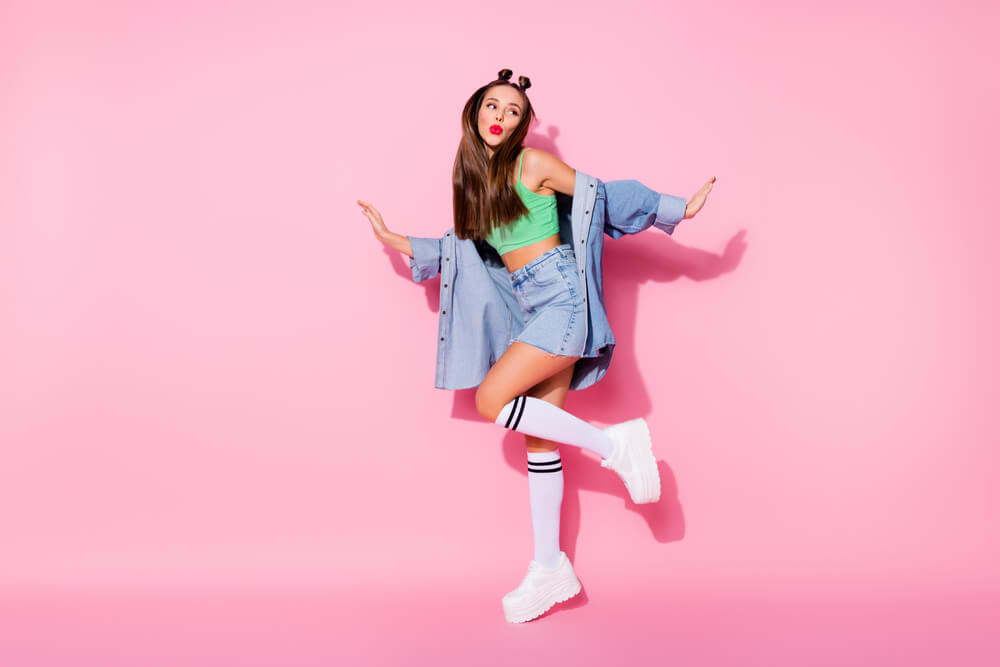 When it comes to footwear, the '90s introduced us to bold and unconventional styles that are back in full force. Platform sneakers and chunky sandals are among the most notable trends that have made a comeback. These statement shoes add height, attitude, and a touch of nostalgia to any outfit. Pair them with jeans, skirts, or dresses for an instant style upgrade. With their comfortable and chunky soles, platform sneakers and sandals offer both fashion and functionality, making them a go-to choice for the modern fashionista.
Logo Mania: The Rise of Branded Fashion
The '90s marked the rise of branded fashion, and logos became synonymous with style and status. Today, we see a resurgence of this trend as logos and branding are making a strong comeback in the fashion industry. From iconic brands like Tommy Hilfiger and Fila to streetwear favorites like Supreme and Off-White, logos are prominently displayed on clothing, accessories, and even shoes. Embrace the nostalgia by incorporating logo pieces into your outfits, whether it's a statement t-shirt or a classic logo belt.
Hair Accessories Galore: Clips, Scrunchies, and Bandanas
No '90s-inspired look is complete without the right hair accessories. From butterfly clips and scrunchies to bandanas and headbands, hair accessories are back in full force. These stylish additions not only elevate your hairstyle but also add a touch of '90s nostalgia to your overall look. Butterfly clips, with their whimsical charm, can be used to pin back sections of your hair or add a playful accent to your updo. Scrunchies, available in a wide array of colors and patterns, provide a fun and practical way to tie up your hair while making a fashion statement. Bandanas and headbands, whether worn as a boho-inspired headwrap or a sleek and sophisticated accessory, offer versatility and flair.
Sporty Spice: Track Suits and Athletic-Inspired Fashion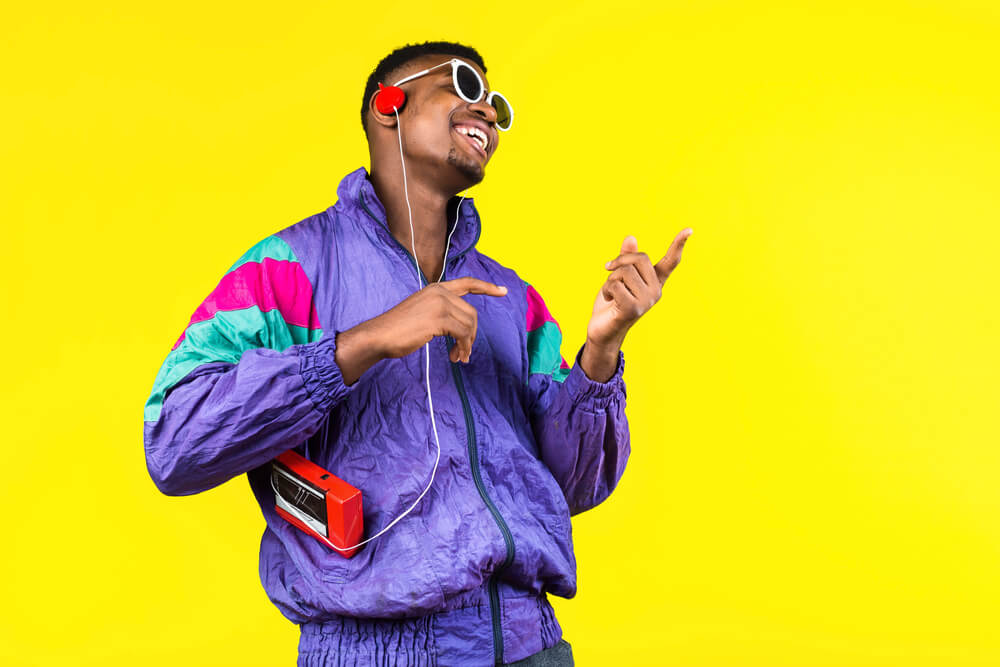 The '90s witnessed the rise of sporty fashion, and this trend is back with a modern twist. Track suits, with their matching jacket and pants combo, have become a street-style staple. Brands are reimagining the classic tracksuit with bold colors, retro designs, and updated silhouettes, making them suitable for both casual and athleisure wear. Combine a track jacket with high-waisted jeans and sneakers for a sporty yet trendy look that pays homage to the '90s.
Baggy Jeans: Embracing Comfort and Coolness
In the '90s, baggy jeans were a fashion statement that exuded both comfort and coolness. Today, this relaxed-fit denim trend is making a comeback, appealing to those seeking a laid-back and effortless aesthetic. Whether in the form of wide-leg jeans, mom jeans, or boyfriend jeans, the emphasis is on comfort and a relaxed silhouette. Pair them with a fitted top or a cropped sweater to balance the proportions and create a fashionable ensemble.
Choker Necklaces: A Stylish Neck Adornment
Choker necklaces were an iconic accessory of the '90s, adorning the necks of fashion-forward individuals everywhere. These close-fitting necklaces, available in a variety of materials and designs, instantly add a touch of edginess and sophistication to any outfit. From delicate chains to wide velvet bands, chokers can be worn as a single statement piece or layered for a more eclectic look. Experiment with different styles to find the choker that best complements your personal style.
Crop Tops: Flaunting Confidence and Midriffs
Crop tops were a fashion sensation in the '90s, allowing individuals to confidently show off their midriffs and embrace their body positivity. This trend has made a strong comeback, offering a versatile and stylish option for those who want to add a playful and flirty touch to their outfits. Pair a crop top with high-waisted bottoms, such as jeans, skirts, or shorts, for a balanced and fashionable look. Opt for different sleeve lengths, fabrics, and patterns to create diverse and eye-catching ensembles.
Conclusion
The resurgence of '90s fashion has brought a wave of nostalgia and excitement to the fashion world. From oversized denim jackets to slip dresses, choker necklaces to platform sneakers, these trends continue to captivate fashion enthusiasts and serve as a source of inspiration for contemporary style. By embracing the nostalgia and incorporating these trends into our outfits, we celebrate the cyclical nature of fashion while adding our unique modern twist. So, raid your closet or explore thrift stores and vintage boutiques to rediscover the iconic trends of the '90s and infuse your wardrobe with a touch of retro charm.