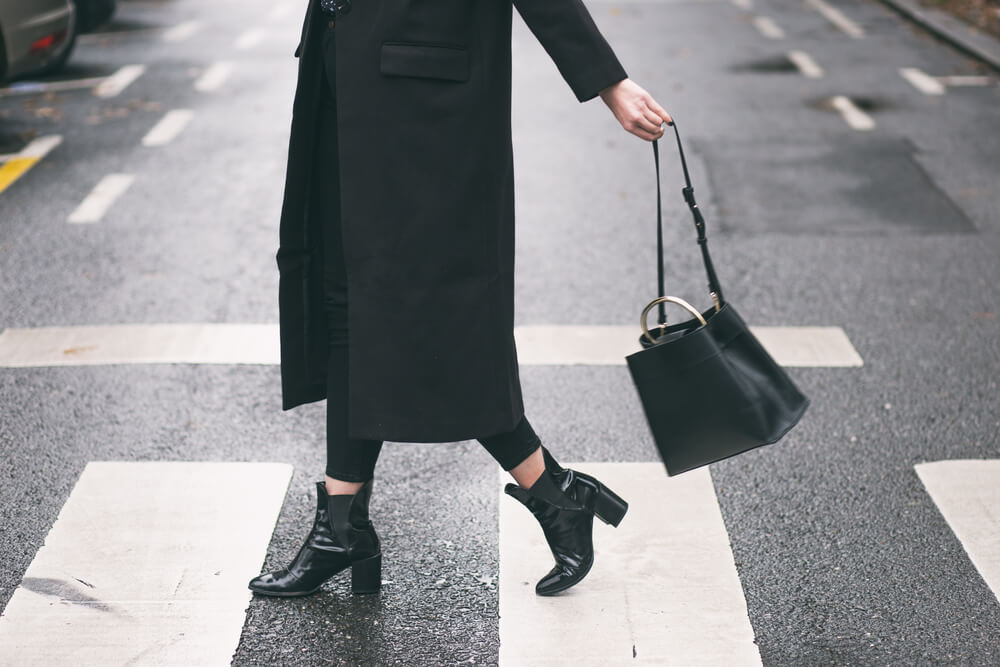 With each new season comes new and exciting styles, and fall 2020 is no exception. We can't wait to pull out our sweaters, long coats, and beanies, and to find new and exciting pieces to style them with.
The big question – are leggings making a comeback and will we be introducing them back into our closets for fall and winter 2020?
Read on to find out all you need to know…
How To Wear Leggings Stylishly In 2020
Leggings have been a part of our closets for many many years now coming in and out of style. However, they're most certainly going to be a staple item within our fall 2020 wardrobes. With that in mind, we're looking for fresh new ways to style them up for a contemporary and relevant vibe. Additionally, thanks to a certain world event, comfortable clothing has become an optimal and altogether essential part of our daily lives. 
So, how do we make these unbelievably comfy pants stylishly relevant? Let us fill you in on all the best ways to wear your leggings right now. 
Leggings With Ankle Boots
With fall upon us and winter around the corner, we're rediscovering our favorite ankle boots in preparation for the chill. Thankfully, it just so happens that leggings offer one the chicest and most comfortable accompaniments for those boots we love so much!
The key to perfecting this super-simple yet ultra-stylish trend is to get the fit of your leggings just right. You'll also need to decide which style you want to go for before slipping them on. 
Some, especially those in colder climates, prefer total coverage from their leggings. This means your leggings tuck neatly into your boots but aren't so long that they create an unsightly bulge of fabric. Pay attention to the length and make sure they're long enough to sit inside your boots without you needing to roll them up before purchasing. 
Others prefer to opt for a slightly cropped look which leaves a small gap between the top of the boot and the cuff of the leggings. To create this look, ensure your leggings sit no more than 6cm above your boots. Any higher and they may look a little small for you and make your legs look shorter than they are. We adore this option especially when styled with a casual t-shirt or sweater and a chic, longline winter coat!
Faux Leather Leggings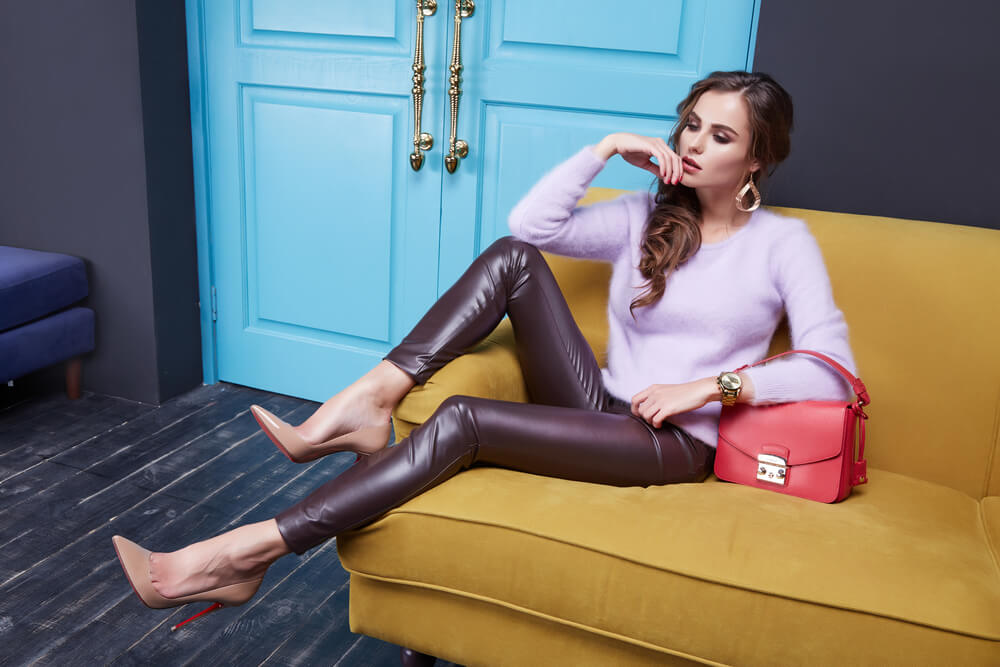 Whether you love or hate faux leather, you can expect to see a lot of it for fall and winter 2020. And what's top of the list? You guessed it, faux leather leggings. That's right, these sleek slip-on pants are here for the foreseeable and we have to say, we like what we see!
So, how do you make this arguably daring trend work for you? It's actually very simple! One of our favorite ways to adapt to this style if you're not one for adding heels and a crisp white shirt is to opt for a chunky knitted sweater instead. This provides the perfect balance between dressed up and casual. Not to mention, its a much chicer take on your regular weekend jeans and a sweater combo. 
Equally, faux leather leggings and pants always look killer when styled simply with a black or white t-shirt, a long cardigan, and boots. Give it a go with the amazing Quilted faux leather leggings by Spanx. This is a great option to try before the weather turns completely from pleasantly cool breezes to snow and chilling winds.
That said, when winter does hit, simply switch out your cardigan or sweater for a winter coat and add a beanie to make this trend work right through until springtime! These particular leggings will certainly keep you warm on a chilly day, plus, they'll go with every top, sweater, and coat that you own!
Pretty Sport Leggings
You might be an avid runner, perhaps you're an eternal gym bunny, or, maybe you simply love to practice yoga in your living room. Whichever is true for you, pretty printed leggings are where it's at when it comes to 2020 sportswear. 
Additionally, we're so busy these days that many of us are now finding ways to incorporate our exercise into our daily routines in any small window we find available. That often means we're staying prepared by running errands or grabbing groceries in our gym wear. If this sounds like you, you'll understand why choosing leggings that make you feel not only comfortable and supported, but also stylish, is more desirable than ever. 
Opt for a gorgeous pair of Printed high-waisted PowerHold leggings by Fabletics for ultimate comfort, stunning prints, and a streamlined shape. We swear by these leggings and love how they're as supportive for a high impact workout as they are pretty for your pre-workout to-do list!
Sport Luxe Leggings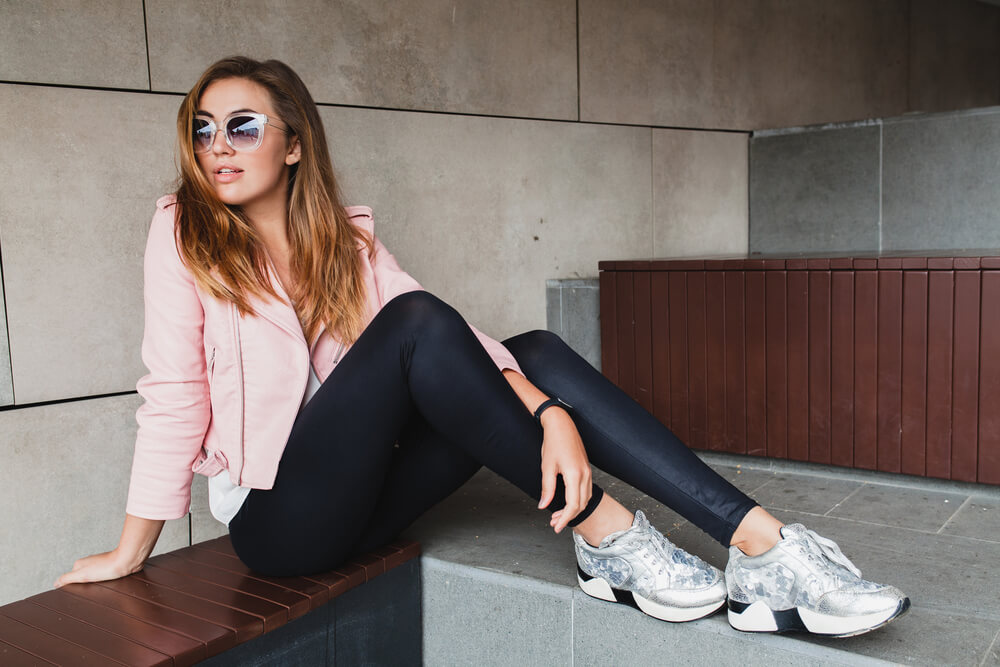 There's no doubt about it, high-quality leggings are a must-have for admirers of the sport-luxe trend. Pair them with your favorite blazer and running shoes, or opt for a casual t-shirt and heels to really mix things up and excitingly embrace the trend.
We recommend doing your research if you're looking for leggings that will look perfect for a sport-luxe ensemble. This is the best way to ensure you find the right fabrics and cut for your look and achieve the polished finish you desire. 
That said, we've also handpicked some options for you and recommend checking out the mid-rise Nike One Luxe leggings in black. Certainly, these leggings will see you through any workout in comfort and style, but, they will also look amazing styled up for a sport-luxe look! This is thanks to their silky soft fabric which is super lightweight and made from at least 50% recycled fabric. 
Additionally, we're also looking to Lulu Lemon and their Wunder Under High-Rise Tight 28" Full-On Luxtreme leggings in the color Dark Olive. This shade couldn't be more perfect for fall and will add a subtle hint of autumnal color to any outfit you wear them with.
Leggings And Heels
When we think of leggings, we think of comfort. We think of a laid back outfit that most likely consists of our trusty, stretchy pants, an oversized sweater, and some comfy sneakers. Now, whilst this is all well and good, we're here to tell you that this really needn't be the only way you style your leggings. That's right, you can even make the right pair of leggings work with heels for a night out. 
How, you ask?
Let us explain…
When it comes to leggings, there are so many styles and color options available these days that we're even stocking up on these beauties for our evening wear rotation. One of the best examples for night-out leggings we've seen to date, are the seamed Faux Leather Leggings by H&M. These stunning high waisted pants will look incredible with a cute top and heels for an evening look. We also suggest throwing a classic trench coat over your outfit for a chic fall touch.
Whether it's for a romantic date night or dinner drinks with friends, you're certain to have heads turning!
Autumn Winter Staple Leggings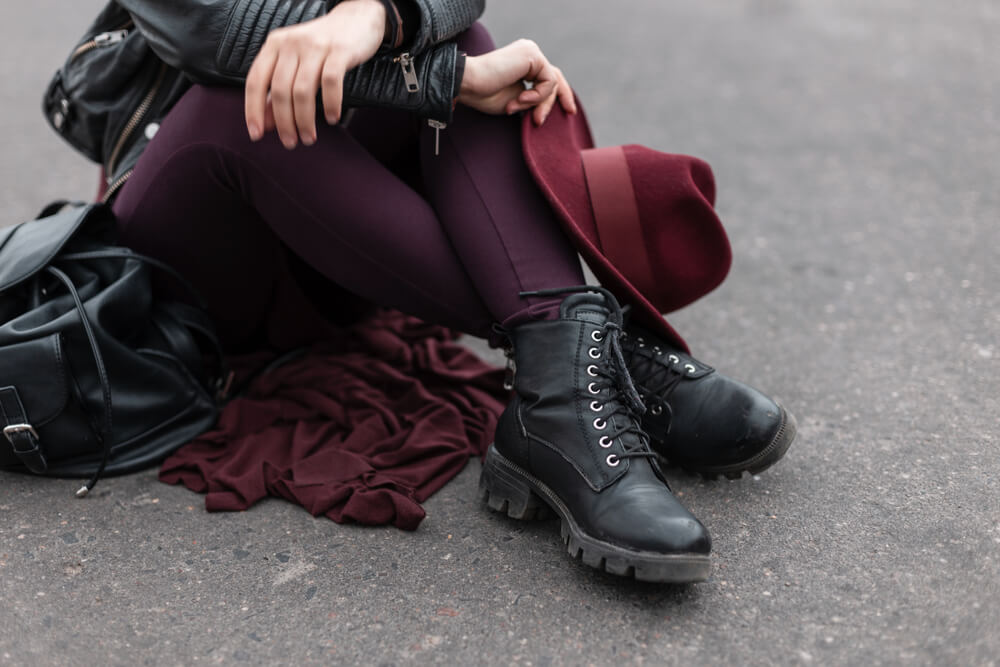 With so many of us spending more time and even working from home, 2020 style is all about comfort! Therefore, we're always on the lookout for staple leggings that we can throw on with ease yet still look great in. 
When it comes to the color of your leggings, think first of the shades you already have within your wardrobe. Then you can pick out colors that coordinate with the pieces you already own. For many of us, that means colors such as black, gray, navy, deep red, brown, deep orange, and burgundy, among others. 
These are the shades to look out for therefore when shopping for your new season leggings. We absolutely plan on adding the high waisted jersey leggings by Old Navy to our rotation this fall. Not only are they a great color for the season ahead, but they're also made from 96% cotton so they're super comfortable!
Classic Black Leggings
There's always room for classic pieces in our closets, especially when they're so easy to wear and go with literally everything. Cue the black leggings!
That's right, as much as we adore contemporary colors, faux leather looks, and adventurous prints, you can't beat the timeless appeal of simple black leggings. Style them with sweaters and sneakers, t-shirts and tennis shoes, even shirts and sandals. The options are endless and we say every girl needs a pair in their fall closet. 
We especially love black with other muted tones such as gray and beige. You can never go wrong with these simple and timeless colorways so make sure your fall closet is stocked with them. This will set you up for all the throw on and go looks you'll ever need!
Animal Print Leggings
For some, animal print leggings may seem a little (or a lot) outside of your comfort zone. However, animal print doesn't have to mean you're opting for garish leopard prints in vibrant shades or that you need to resemble a dalmatian in the name of style! 
Fall 2020 animal print leggings are all about chic lines and muted tones that bring a subtle yet definite edge of daring and personality to your look. Therefore, seek out muted snake prints or black and gray cheetah prints, for a stylish and subtle take. Pair these with simple black or white tops and you're all set!
Cute Gingham Leggings
As we all would have expected (alongside classic floral and polka dot prints), gingham made a re-appearance for spring and summer 2020. The surprising part was that instead of the regular black, blue, and pink plus white iterations we've grown so used to, we saw brighter greens, yellows, and even oranges appearing to give the print a fresh new update!
Now, as much as we've loved these unmissable shades throughout the warmer months, we can't help but reminisce. That's right, we're thinking about the tried, tested, and might we say, elegant black and white palette we've grown to know and love for fall and winter. If you feel as we do and are pining for a traditional take on the cutest print around this fall, treat yourself to a pair of black and white gingham leggings! 
This monochrome design will be an undoubtedly smart investment too since it pairs so perfectly with many fall colors. Mark our words, they'll be a staple item in your fall closet for years to come! 
Still on the hunt for your perfect pair?
We have you covered!
The Gingham Something To Talk About Fitted Pants by Nasty Gal are super cute and are available at an unbelievably low price!
Long Sweaters And Leggings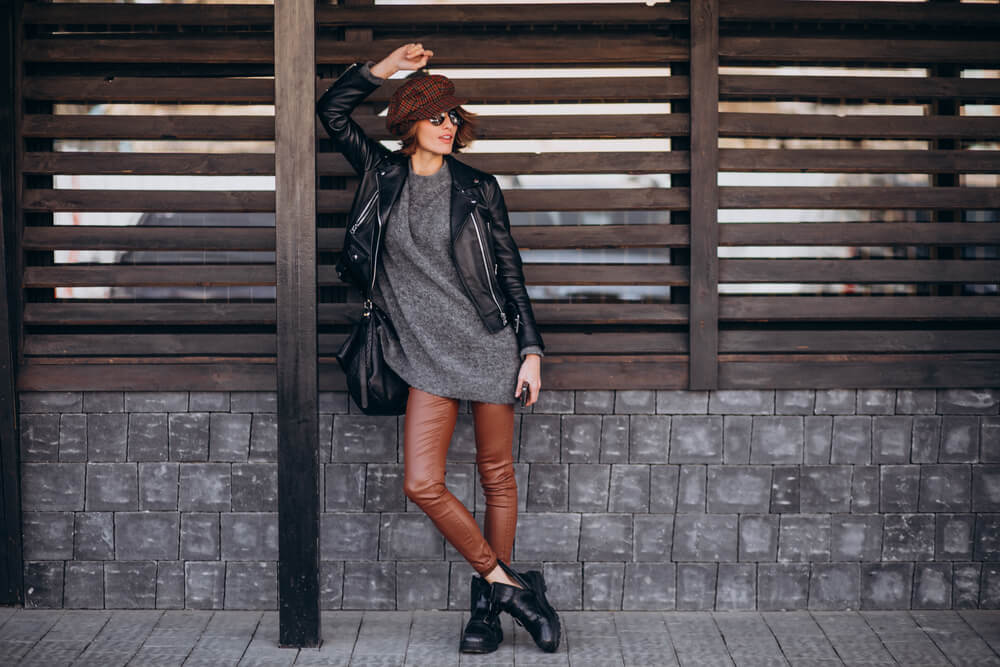 We're big fans of comfort and style combined and really can't imagine that fall dressing gets chicer or more simple than leggings and long sweaters. Throw in a pair of boots and a cute winter hat and we're set for the entire season!
Now, how you decide to wear these pieces is, of course, up to you. However, if you're asking our advice, we think the chicest way to wear this style is to think about the textures you're wearing and to mix them up. For example, try faux leather pants, and a knitted sweater to contrast. 
This will not only add dimension to your look but will also create contrast. This allows each piece to stand out on its own as well as making an impact on your outfit as a whole. 
The stunning high waisted faux leather tan leggings by Claire Christian Couture are a favorite of ours for pairing with sweaters. If yours allows for it, try tucking the sweater under at the front to reveal the flattering high waistband of these leggings. This will show off your figure and add shape to your outfit. 
Pro tip: use a thin belt around your waist then pull the excess of the jumper through to conceal the belt whilst mimicking the look of a french tuck. This will streamline your silhouette and ensure you've no lumps or bumps showing through at the front of your leggings!