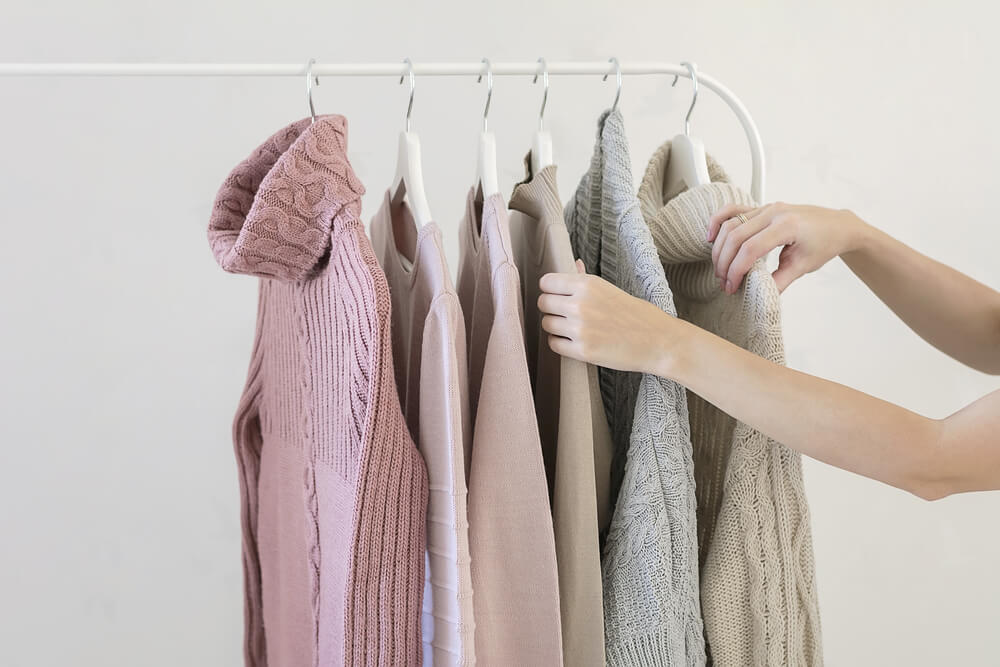 If you're wondering how everyone on your Insta seems to look flawless in beige and why you struggle to make it work for you, you've come the right place! It may seem like the least exciting color in your closet now, but we guarantee you'll love it after discovering all of our fabulous tips for wearing beige without looking drab! 
Excited to learn more?!
We thought so!
Experiment With Shades And Prints
A quick and easy way to add personality and style to an all beige outfit is to mix up your colors, prints, and textures. If you're going for a long coat with a soft, matte texture like the & Other Stories Oversized Tie Waist Coat, for example, opt for shoes that are patent. This will seamlessly contrast your textures whilst still coordinating your look. 
When it comes to prints, classic polka dots or stripes will go a long way in adding another layer of excitement to your outfit. Additionally, opting for simple spots or stripes ensures your beige ensemble remains timeless and chic. It's a perfect look for the office!
Want to mix things up even more?
The next tip is perfect for you!
Add An Accent Color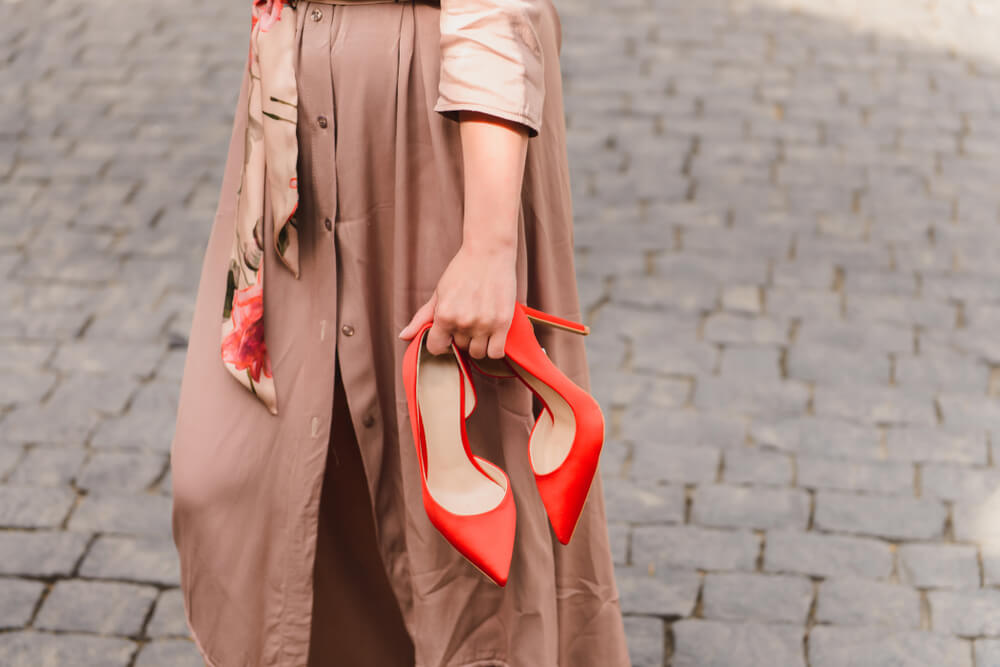 One sure-fire way to make any beige based outfit pop is to add in an accent color! Choose a great pair of brightly colored heels, a red lip, or even some colored jewelry. We adore red for this particular trick but blue, emerald green, and crisp white works super well too!
Of course, the color options here are endless and you'll certainly see the difference in your look just by adhering to this quick and easy styling trick.
For example, when it comes to a beautiful, beige work ensemble, why not elevate that beige dress and trench with some red-heeled pumps or a red faux-leather handbag! Or, during your free time, try jazzing up a cozy beige sweatsuit with a cool pair of sunglasses and a striking slick of red lipstick? One thing's for sure, whichever you choose, all eyes will be on you!
Wear Beige With Other Classic Staples 
When it comes to clothing, we all have our preferences on style. That said, there are a few items that it seems almost everyone in the world has in their closet. A simple white t-shirt, sneakers, and jeans for example. 
Well, it's time to put those pieces to good use! combining these classic items with beige pieces makes for a super stylish outfit that can be thrown together in a matter of minutes, yet looks incredibly stylish all day long!
What are our favorite combos you ask?
Here are just a few…
A classic white tee, cropped jeans, white sneakers, and a beige trench.

A classic white tee, beige wide-leg pants, white sneakers, and a denim jacket.

Blue jeans, white sneakers, and a beige sweater. 

Blue jeans, a black tee, a beige trench coat, and boots or white sneakers.

A crisp white shirt, cropped beige wide-leg pants, and flat leather sandals!
For extra style points, try giving your t-shirt or shirt a French tuck for a sleeker, more put-together finish!
Contrast Beige And Black Clothing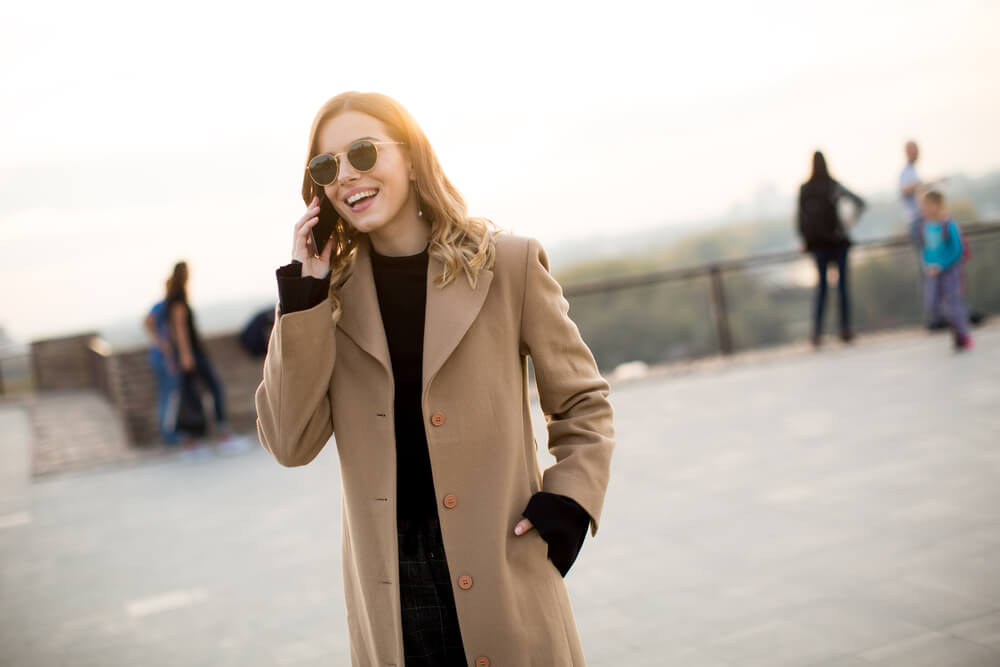 As much as we adore beige and white clothing together, there's something about combining beige and black pieces that offers a little more drama to a simple look! Try, for example, styling a long beige coat over a simple black t-shirt, jeans, and boots for a memorable smart/casual outfit. All that's left is to add a great pair of shades!
Additionally, we highly recommend wearing beige coats over black sweaters or sweater dresses in winter. It's a great cold-weather color palette that looks effortlessly chic all season long!
Pro tip: Gold jewelry looks incredible with a black and beige! We recommend subtle gold hoops like those in the Everyday hoop earring set by Urban Outfitters, or a delicate gold chain for a finishing touch!
Wear Varying Beige Shades In One Outfit
Much like we suggested with mixing up the textures in your beige outfits, mixing up the shades of beige you wear together is a great way to keep your look from fading into the background! Try a darker pair of pants, a lighter tee, and your trusty beige trench over the top!
Roll up your sleeves and finish off with white sneakers and a cute up-do to top it all off! This will make for a super-cute throw-on-and-go-look that showcases those beige tones at their best.
It's the ideal look for laid back weekend plans like shopping or grabbing a casual brunch with friends.
Embrace the Palette!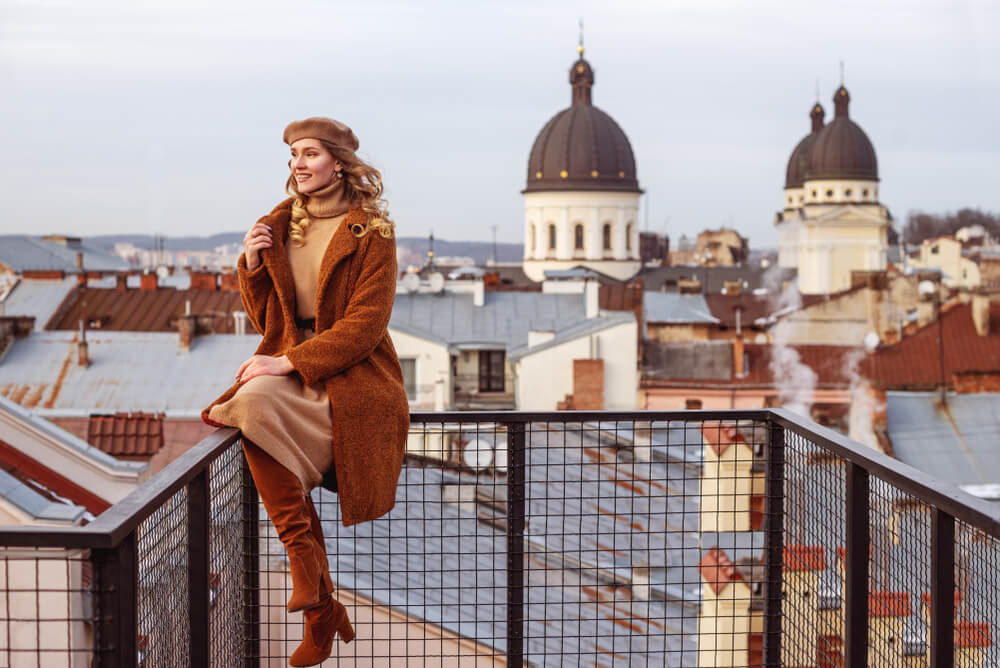 When you're working a beige outfit, or you want to wear one or two beige pieces together but aren't sure how to compliment them, this is a great option! Instead of going for brighter colors or those that will contrast, lean into the beige scheme and opt for neighboring shades such as browns, golds, and tans. 
This is an eternally chic way of dressing up your beige ensemble, especially when you incorporate shoes and accessories into the mix!
We particularly adore this color scheme for fall and winter. It seems to match so perfectly with the turning of the leaves and that early evening glow outside. Once again, adding gold jewelry to make the colors in your look stand out is highly recommended! 
You Can Never Go Wrong With A Beige Trench Coat
Don't own a beige trench coat yet?
Trust us, you're missing out!
Of all the beige clothing items we could suggest you invest in, a beige trench coat is most definitely top of the list! Why? It's super versatile, it looks incredibly chic over pretty much any outfit and it suits everybody! It's the ideal way to style up a plain t-shirt and jeans, it can be worn over a smart dress, or shirt and pants/skirt for the office, it even looks amazing over mini dresses for weekend nights out! 
The options are truly endless with a beige trench coat and we can assure you, you'll certainly never look drab wearing one.
If you're looking to invest in the perfect beige trench coat to complete your closet, we highly recommend the Classic Trench Coat With Houndstooth Lining by Massimo Dutti!
Make it Your Go-To Summer Shade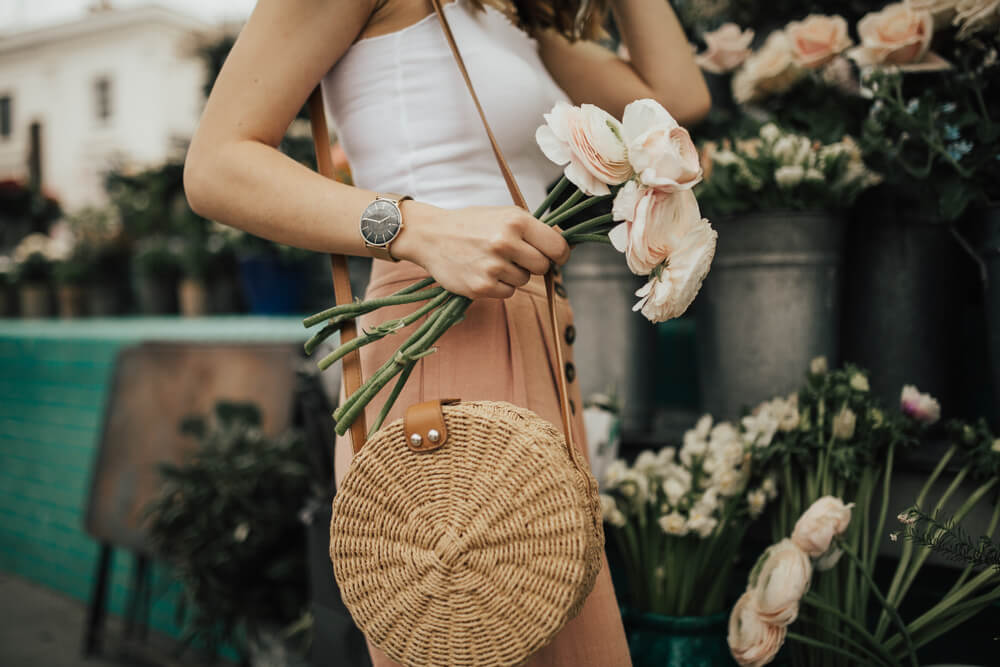 We, of course, love beige ensembles in the fall but honestly, they are just as perfect for summer! In the warmer months, we suggest going for lighter beige tones and using them throughout your outfit to create a soft, summer vibe! A light beige vest top tucked into a darker beige midi skirt, for example, is a winning combination!
To make your outfit stand out, select beige accessories with texture, such as a straw bag or hat. This will give your outfit depth and make it look expertly put together! For the shoes, strappy beige sandals or even a white pair of sneakers will top it off perfectly!
If you really want to go all out, go ahead and paint your finger and toenails in a complementary nude shade. This will look incredible next to the other beige tones in your outfit and makes for a seriously polished finish.
Beige Sweaters are a Must 
Whether you're searching for fall/winter staples or for a sweater to keep you warm on a brisk summer evening, do yourself a favor and choose one in beige! much like classic blue jeans, white t-shirts, Ray-Bans, and red lipstick, a slouchy beige sweater will never go out of style!
And, their versatility is just one of the many reasons they're so beloved! You can tuck them into jeans, skirts, or even a pair of tailored shorts! They can also be worn over dresses with sneakers or boots for a chic off-duty look.
If you do choose to invest in a beautiful beige sweater, choose the High collar knit sweater by Zara. It's incredibly cozy, eternally stylish, and will go with everything you own!
Opt for a Sporty Edge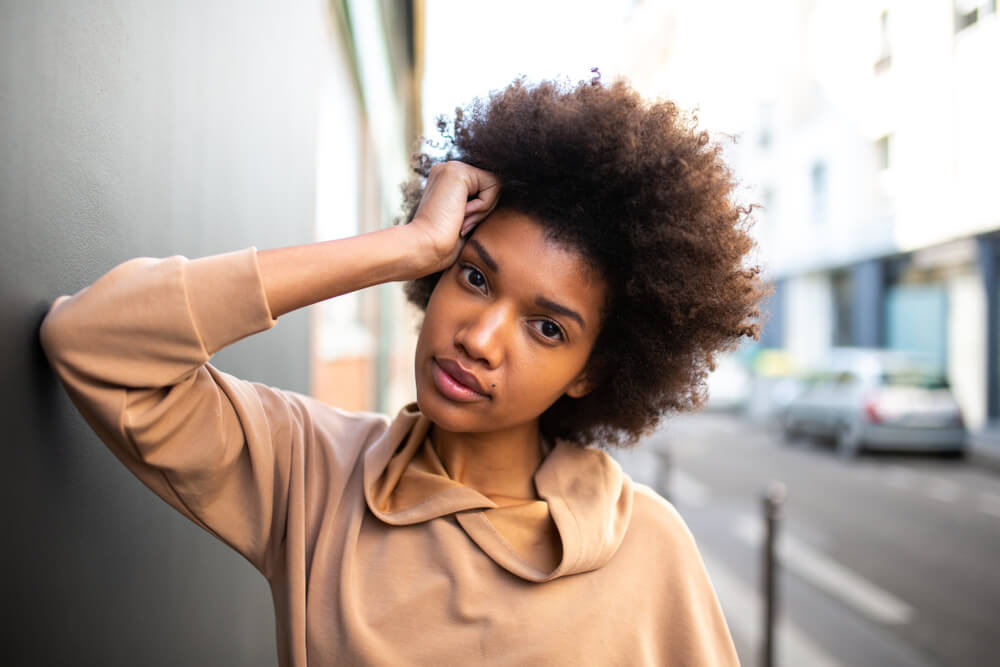 Discovering how to wear beige and make it look interesting can be tricky. As it's one of the plainer colors in our closet, we often end up styling it the same way over and over again! However, if you really want to mix things up and go for a gorgeous Street Style look, choosing to wear a sporty beige outfit is always a great idea for casual days! 
If you're searching for your perfect beige sweatsuit for laid back weekends, you'll adore the Lounge What I Was Looking For set by Nasty Gal!
Invest in Beige Staples 
When it comes to staple clothing, there are a few standout items always worth investing in!
These suggested beige items will not only make your closet more versatile, but they'll also make it look more effortlessly and chic with just a few pieces added in!
Which items are we talking about?
Here are our top recommendations!
A chic beige shirt dress can be dressed up or down for your free time or for work. It looks instantly put together making it seem like you've made a huge effort without really trying!

A beige trench coat, as we mentioned, is a must-have in every closet, much like a beige sweater.

Beige pants or a skirt will instantly add an element of elegance to a white tee or a sweater.

Heeled beige pumps will dress up even the most casual outfit whilst lengthening your legs! Our current favorites are the 

Freya Beige Court Shoes by Topshop!
You can take our word for it, you won't regret adding any of these items to your closet, and the moment you do, you'll wonder how you ever lived without them.
A Relaxed Fit From Head to Toe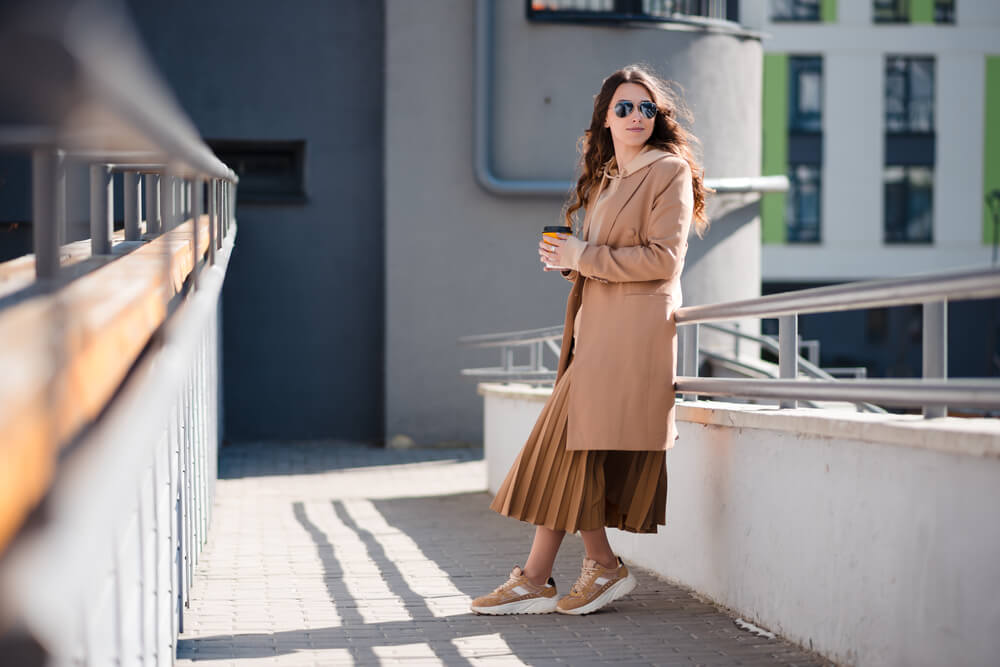 When in doubt, opt for clothing with a relaxed fit to radiate off-duty chic! A head to toe look in beige is made even more appealing when you choose varying shades and textures that seamless flow together owing to their laid-back fit. Opt for wide-leg pants, a slouchy tee, sneakers, and an oversized trench, or, mix things up with a floaty midi skirt, a slouchy sweater, and sneakers/boots. 
If you do choose to wear the latter style, we always recommend finding a sweater that comes with a hood attached. This will look great sitting atop the back of your trench and adds a sporty vibe to your already laid-back appearance!
Don't forget to add a pair of shades to let everyone know you're feeling your beige outfit just as much as they are!
Don't Forget the Accessories
We all know that the finishing touch of any look whether it's dressed up or casual is the accessories! So, next time you're styling up your beige look for the day ahead, make sure to include some coordinating beige accessories to go with it.
A cute beige beret, scarf, purse, or belt will do the trick to make your outfit look complete and switch it up instantly from drab to fab!
We currently have our eyes fixed on this dreamy Margaux Satchel by Kate Spade. This gorgeous beige purse will add a touch of class to any outfit whether you're rocking jeans and a vest top or a fitted dress for work!
Whichever combination you choose, we guarantee you'll never associate the words beige and drab ever again! Simply adopt these straight forward style tips and use this seemingly timid shade to boost the items you already own and to give new life, and a touch of timeless chic, to the outfits you've worn for years!