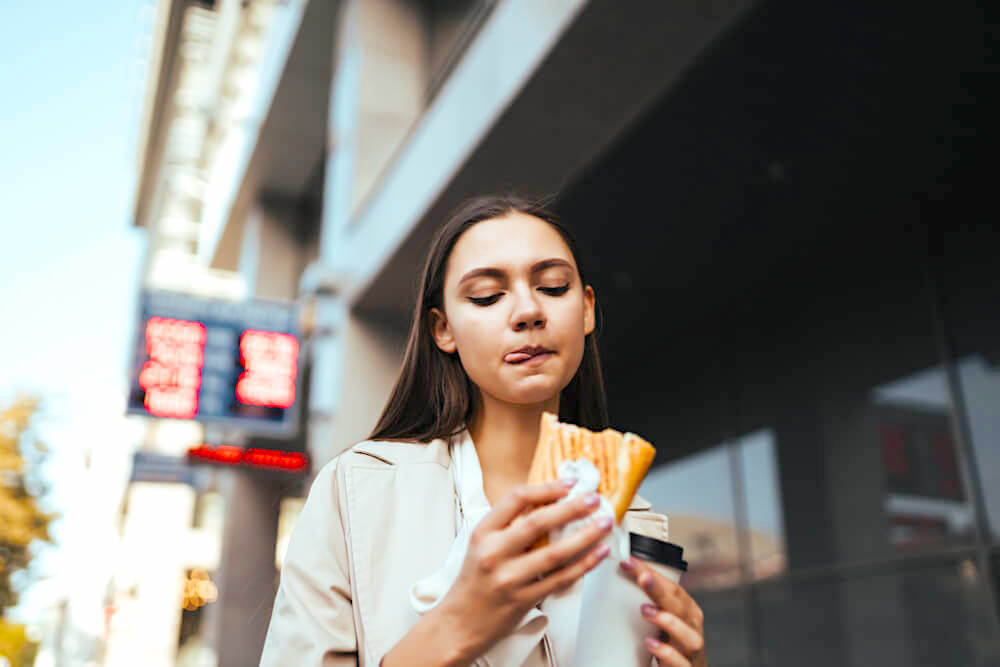 The good news is KFC is introducing their chicken and waffles sandwich and it tastes great. The bad news is that KFC is bringing their chicken and waffles and it tastes great.  For just $2.99, you can score a piece of the Colonel's own sandwiched between two fluffy waffles and smothered in syrup (Mrs. Butterworth's no less), 1020 calories included.
Novelty concoctions make it all too easy to digest thousands of calories in a matter of seconds. We need to arm ourselves against these weapons of mass gluttony. Like maybe a healthy sandwich or a bag of nuts.
The point is there are easy, delicious and healthy snacks that you can take with you to help you resist the siren's call of fast food. However, when you're when facing down a waffle sandwich, you're going have to pack some serious artillery. Here are some suggestions to help you drive right by the spinning bucket.
Banana Dog Bites
How can you succumb to temptation when you're packing a bag of banana dog bites. You've got the potassium, B6 and Vitamin C of the banana, the protein of peanut butter, and enough whole grain goodness that would make Elvis start singing. Banana dog bites are super easy to make and travel-friendly. Here's the recipe that will have McDonald's rethinking their apple slices.
Ingredients:
2 peeled bananas

¼ cup peanut butter, almond butter, or sunflower butter

2 whole wheat tortillas
Directions
Place tortilla on a flat surface. Use ½ of the peanut butter (2 tbsp). to coat completely and evenly.

Place one banana at edge of the tortilla and roll up.

Slice into ½ inch rounds and serve.
Gooey Cookie Dough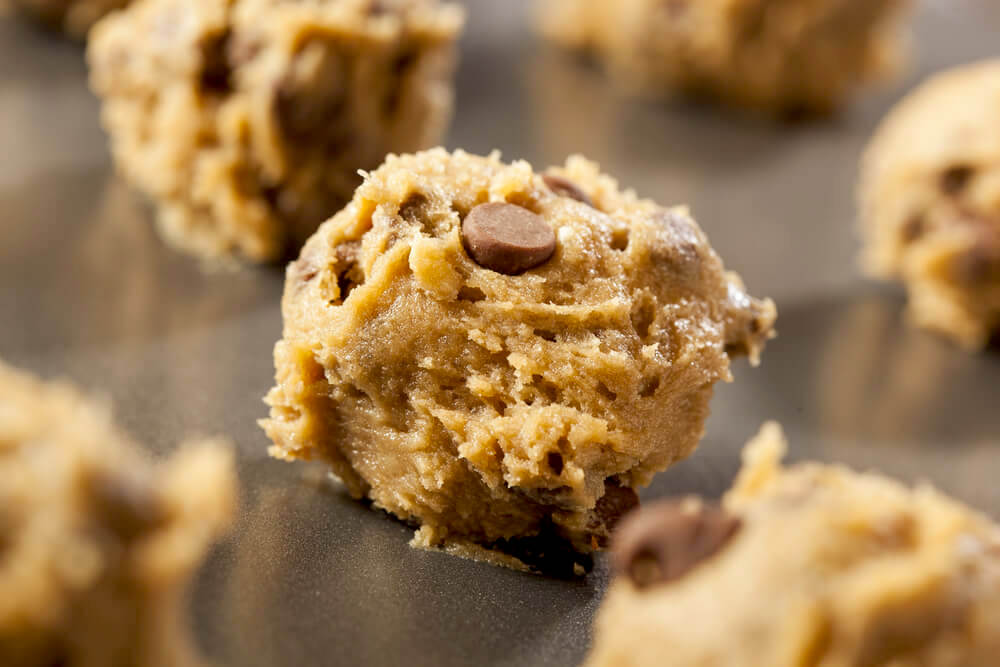 There's no way you're going to stop for a donut when you've got a jar of delicious cookie dough in your lunchbox. With Greek Yogurt and Peanut butter double team to provide a whopping 18 grams of protein (10 for the Greek Yogurt, 8 for the PB) you'll have enough strength to resist any Winchell's café. Add some honey for antioxidants and chocolate chips for fun and you've got gooey cookie dough that will make you one tough cookie.
Ingredients:
1 container Low-fat Greek yogurt

1 tbs peanut butter

2-4 packets Stevia or sweetener of choice

Vanilla extract

Almond extract

Chocolate chips
Directions:
Whisk all ingredients together in a small to medium bowl. Refrigerate, serve and enjoy. Add additional chocolate chips to top for extra fun.
Frozen Yogurt Covered Blueberries
Sour grapes for frozen grapes? Frozen grapes got nothing on these petrified blueberries. When it comes to antioxidant-rich fruits, blueberries take the prize. Cover them with protein-rich Greek yogurt for a bite-sized wealth of health.
Ingredients:
1 container of Blueberries

1 container nonfat blueberry Greek Yogurt
Directions:
Wash blueberries and line a baking sheet with wax paper

Use a toothpick to dip blueberry into yogurt. Swirl until well coated. Continue until every blueberry is covered.

Place on a baking sheet and freeze for one hour. Place in a ziplock bag for a berry cool snack.
Apple Butter Stacks
Think you can't find a triple decker for under 800 calories? You can if you make them out of organic apples, almond butter, and granola. With protein packed almond butter, and enough apple to keep the doctor away, these apple stackers make the perfect snackers for home and the office.
Ingredients:
2 organic apples

¼ cup creamy almond butter

¼ cup vanilla granola

¼ cup mini chocolate chips (optional)
Directions:
Slice each apple into rounds (about 4-6 per apple)

Spread each slice lightly with almond butter and sprinkle granola and chocolate chips.

Top with another apple slice and sandwich together. Add another layer for a triple decker that would put a Jewish deli out of business.
Mini Pizza For One
Sometimes Dominos just doesn't deliver. With white flour crusts and whole milk cheese, you're better off hand tossing that pizza out your car window. Luckily, there is a more "out of the cardboard pizza box solution."
The mini pizza uses whole wheat sandwich slims for the crust, reduced fat mozzarella cheese and it's topped with healthy things like zucchini and fresh tomato. It's also got 111 calories and three grams of fat. (Take that Ultimate Pepperoni!) You're also getting 4 grams of fiber and 7 grams of protein. Here's how to make a mini pizza with a 20-minute delivery time.
Ingredients:
½ whole wheat sandwich thin

1 tablespoon canned pizza sauce

¼ cup zucchini (thinly sliced)

¼ cup sliced Roma tomato

2 tablespoons shredded reduced-fat mozzarella cheese
Directions:
Preheat oven to 350 degrees.

Spread sandwich slim with half of the pizza sauce.

Sprinkle with cheese.

Bake 10-12 minutes until cooked through and cheese begins to melt.
Banana Tortilla Snack Wrap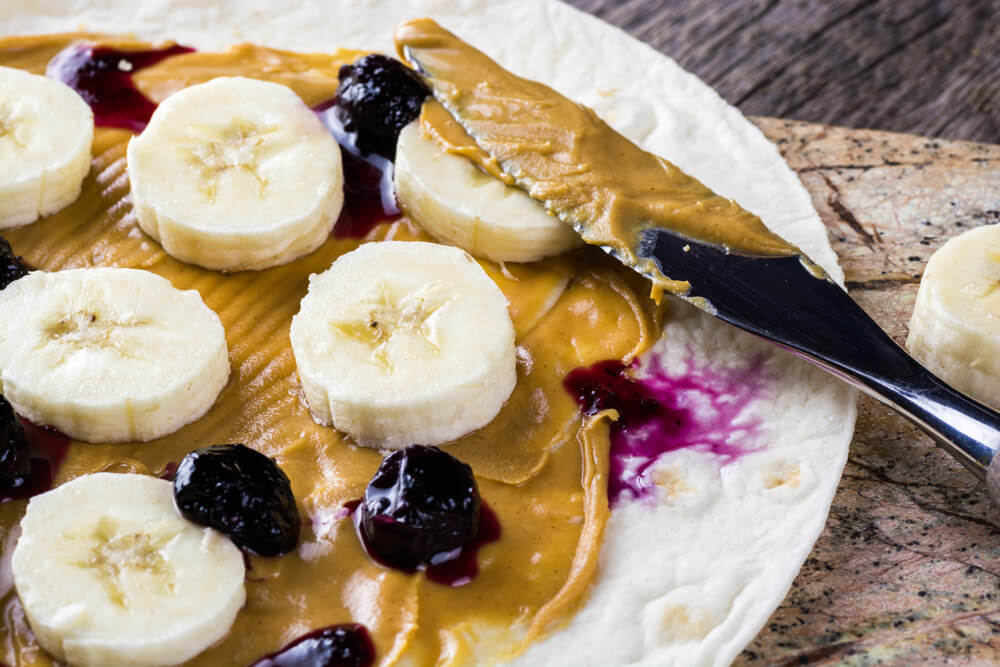 El Vez has finally gotten his just rewards. With a Latin spin on the classic Elvis, the banana tortilla wrap is a snack fit for a King. High in potassium, low in fat, and rich in protein, this wrap is sure to top the charts.
Ingredients:
1 6" flour tortilla

2 tablespoons peanut butter

1 tablespoon honey

1 banana

2 tablespoons raisins or 1 tablespoon blueberry jam
Directions:
Lay tortilla flat.

Spread with peanut butter and honey.

Place banana in the middle and sprinkle on raisins and/or spread blueberry jam.

Wrap and serve.
Hip Chips and Similar Snacks
It seems like only yesterday that we were eating potato chips happily, trying our best to make ourselves believe that the word potato qualified them as something close to a vegetable. Soon, it became clear that even if they had a trace amount of vegetables in them, there was way too much oil, salt, and saturated fat to have much I the way of nutritional content whatsoever. That's when the idea for a hipper chip came up. Food companies began experimenting with snacks bags that provided for hours of mindless munching without setting us up for heart disease. Here are some of the more successful ones.
Salted pretzels have been known as potato chips' kindler gentler cousin for years. Although they have practically no fat and a lot fewer calories per serving than potatoes, they also didn't have quite the kick. That's when food companies began to dress up their pretzels to make them a little more interesting and a little healthier as well. In fact, Good Health found a way to load five vegetables into them.
Each one of these delicious pretzel sticks contains healthy veggies such as broccoli, tomato, beets, spinach, and carrots. That means a dose of vitamins A, C, E and B6 to go.
Move over hummus! There's a new way to get your chickpea protein in these days.  At 130 calories per serving and only 5 grams of fat, these puffs will do anything but puff up your waistline. Take caution, though, these chickpea crunchers may be diet friendly, but they're not for the timid. Spiced with jalapeno and paprika, Hippeas may burn more than just calories.
It's time to break up with your M and M's. Sure, you've had good times together, but now you heart Keenwah Chocolate puffs. Face it, you've grown, your needs have changed. You need to move on from those candy-colored shells into some antioxidant-rich dark chocolate and heart-healthy quinoa (the seed that's a naturally complete protein with 9 essential amino acids). Topped with pink Himalaya Sea Salt, M and M's just can't compete. Maybe you'll meet again on top of ice cream sundae somewhere, but for now, you need to follow your heart.
Is America just going to sit back and let movie theater butter give popcorn a bad name?  Not on Angie's watch. Angie's taking back popcorn one kernel at a time. Can you believe you can actually eat three cups of this stuff and only set yourself back 120 calories? That's enough guilt-free munching to get you through at least two episodes of "Orange is the New Black." Non-GMO, gluten-free and made with the simplest of ingredients, Angie's is bag to grab for snacking.
Take two strawberries, 2 cherries, and ¾ of an apple and what do you get? The entire contents of one bag of Strawberry Cherry Apple Kind Fruit Bites. These bites are free from added sugar, fruit purees, preservatives and all that other stuff that never belonged on fruit in the first place. At 60 fat-free calories per bag, the only thing Kind Fruit bites are missing is the pits. Available in cherry apple and mango pineapple as well.
Simpler Snacks
Let's go back to a simpler time. A time when fruit was eaten whole and mixing veggies and brownies seemed counterintuitive. A time when seeds were seeds and nuts were nuts and GMO was just three letters in the alphabet. People didn't need superfoods and recipes to make a healthy snack. Here are some no-fuss old school snacks that are still keeping health food real.
Carrots and Hummus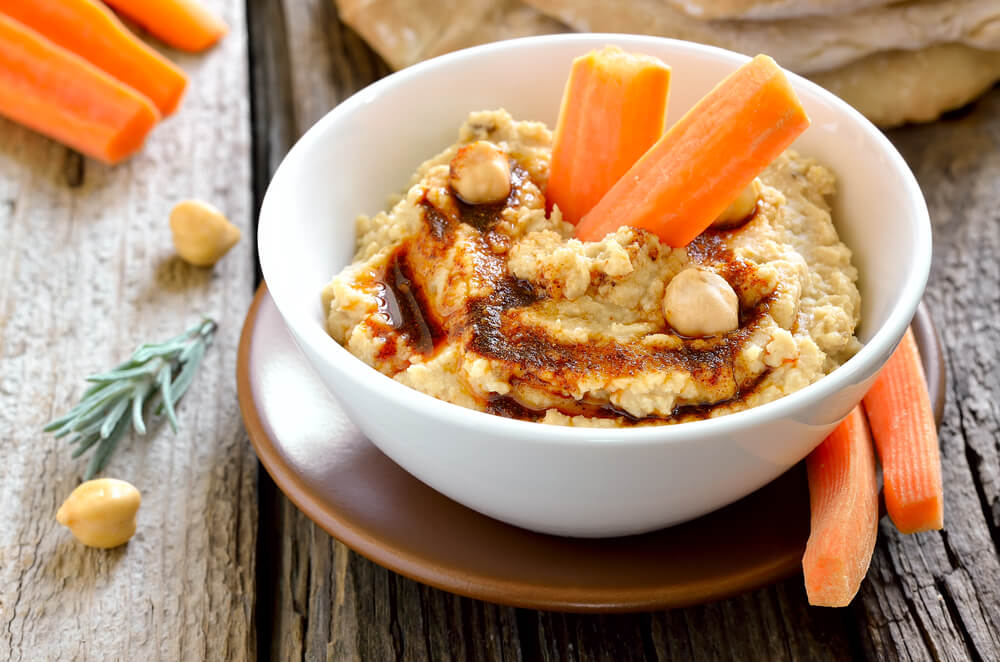 Still trying to wrap your head around the idea of chickpea puffs?  Hummus is made by combining sesame oil to chickpeas, so you've got high fiber and healthy fats without all the hot air. Dig a carrot in for a down to earth combo that keeps you satisfied all day long.
Jerky
So maybe dehydrated meat doesn't fit everyone's ideas of a healthy snack. Especially when it's called jerky and it's labeled with the words "king-sized." But actually, jerky is packed with protein and its surprisingly low in fat. And if you crave a more sophisticated jerky, check out the Krave gourmet Variety pack. With flavors like chipotle lime, sweet chipotle and black cherry barbecue, jerky may be changing its status from junk food to health food more quickly than you
Fruit and Yogurt
Are you lured to Menchie's Frozen Yogurt shop by the overflowing candy tray on the counter? Last we checked Oreos went with milk. If you've eaten an Oreo drenched in melted non-fat vanilla, you get the picture. Yogurt, on the other hand, goes with fruit. Yogurt and fruit have gone together like a horse and carriage for decades and make a simply wonderful snack choice.
Berries are usually the tops on the list, but mangoes and peaches also make great yogurt pairing. Use Greek yogurt for a protein boost and add some nuts and honey for flavor and essential fatty acids.
Crispbread
Welcome to the crispbread revolution. Talk about old school! Crispbread has been around for since 500 AD. It was only recently that the flat cracker made of rye flour became all the rage with the Hollywood crowd. Here are a few crispbread spread suggestions from the kitchen of celebrity chef Jessica Seinfeld to yours:
Apple with Honey Nut Butter: Spread your favorite nut butter onto the crispbread. Thinly slice apple and drizzle with honey.
Avocado and Mozzarella: Slice avocado. Top crispbread with mozzarella, add avocado slices.

 

Drizzle with olive oil and season with salt and pepper
Hummus, carrot, and Cucumber: Use a veggie peeler to make long strands of cucumber and carrots. Spread hummus on flatbread and top with veggies.
Egg white salad: Hard boil 2 eggs and allow them 12 minutes to cool. Peel the eggs and chop the whites into a small bowl. Add a teaspoon of Dijon mustard, a tablespoon of Greek yogurt, a teaspoon of fresh dill and a pinch of salt and pepper. Stir to combine and spread mixture over crispbread.
Strawberries and Spice: Slice fresh strawberries. Spread a tablespoon of cream cheese on crispbread and sprinkle with cinnamon nutmeg and vanilla salt. Layer strawberries over crispbread.