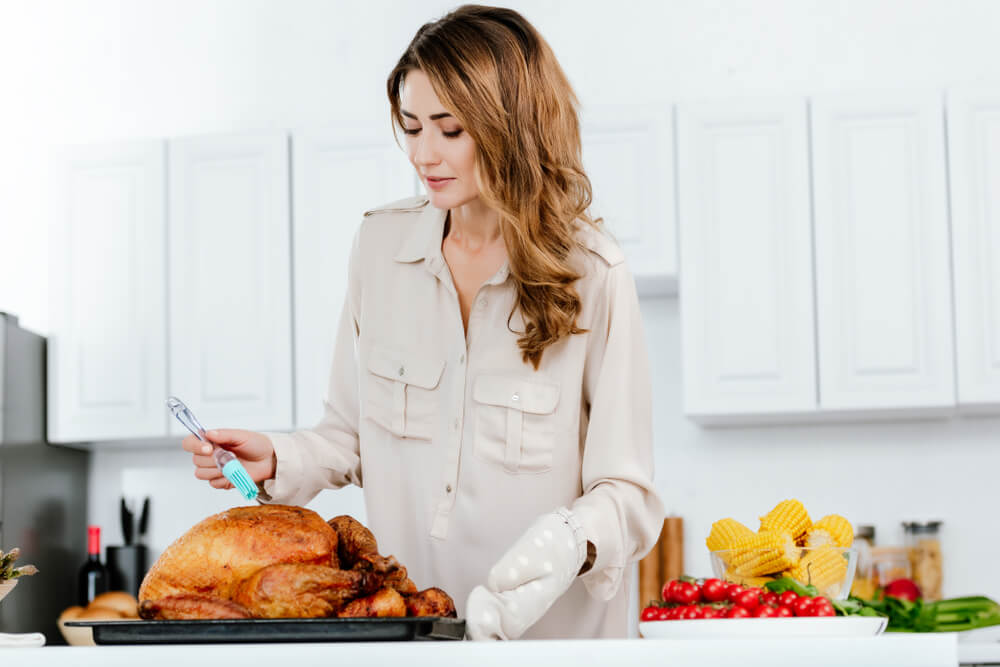 What are your plans for Thanksgiving dinner this year? Thanksgiving is always an exciting time of the year especially if you are already expecting to spend time with loved ones. The thrill is heightened even more when you have your outfit ready and can't wait to shine.
From time to time though, you may feel like you have exhausted your options on what to wear to a Thanksgiving dinner. Other times, you never realize how you can pair up your existing pieces for a great outfit until someone points it out.
If you need a little help figuring this out, we have compiled some ideas for your inspiration below. We have also included a few factors to consider before choosing your outfit for the day.
How to Choose the Perfect Thanksgiving Dinner Outfit
When it comes to making your choice for a thanksgiving dinner outfit, several factors come into play. This simply means that what works for someone else may not work for you. To narrow down your options to your needs and still have several to choose from, keep the factors below in mind.
The Weather
The weather affects what we wear all year round. With thanksgiving, the fall season can be colder or warmer from one place to another. This calls for outfits that cater to the weather to ensure that you stay comfortable.
Some materials like leather, fur, and wool are warmer compared to cooler ones like cotton, linen, and rayon. Silk, on the other hand, is a natural thermal regulator and works great in all weather.
Alternatively, you can dress in layers which you can remove or add accordingly. Smart and classy coats, jackets, and sweaters are great options to wear over your clothes when it is chilly and easy to remove if it gets too warm.
Traveling Versus Staying Indoors
Where is your thanksgiving celebration taking you? If you remain indoors, you might not have to make many changes as you are accustomed to your environment.
Traveling is a different story; you need to be sure that what you wear on your way will still work when you are at the venue. Will you be indoors, outdoors, at a restaurant?
Layered outfits feature greatly in such situations.
Your Audience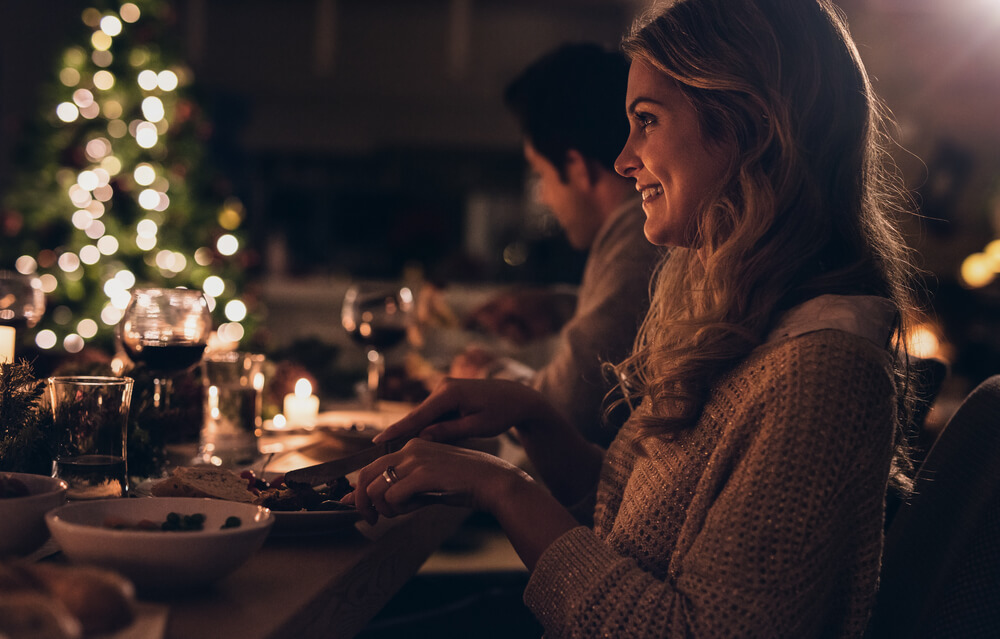 Your outfit should also be influenced by the kind of people that you are spending Thanksgiving with. This helps you to easily blend in.
For example, if you are having a romantic Thanksgiving dinner with your significant other, you will probably dress differently compared to having dinner with your besties.
Visiting Versus Hosting
As a guest, you will likely venture out and also dress to impress your host and other guests. You will also have to factor in driving or traveling using other means.
If you are hosting, besides looking the part, you will need to dress in a way that allows you free movement and comfort as you take care of the needs of your guests.
The Theme of the Dinner
Whether you are hosting or a guest, you have to consider if the dinner is themed. Some of the most common Thanksgiving dinner themes are inspired by the foliage colors of the fall season.
Such include various shades of orange, yellow, brown, and red. If the answer is yes, you can then go ahead and feature this in your outfit.
Setting the Mood
Thanksgiving falls on a month associated with dullness, November. If you go by the vibes, you may end up dressing in dull outfits that do nothing to brighten your mood or that of the people around you.
That said, you can totally change the narrative. Incorporate brighter shades of colors like red, pink, and purple into your outfit to add a pop of color and instantly lift the mood around you. 
What to Wear to a Thanksgiving Dinner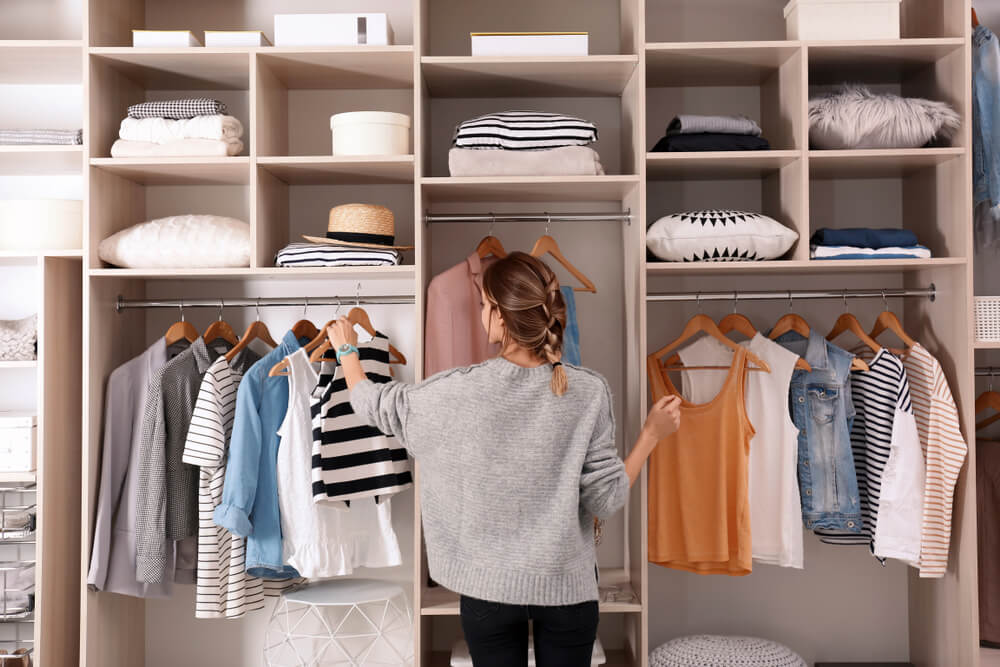 What you end up wearing for the dinner boils down to personal choice. Nevertheless, a few ideas at your fingertips can help you make a faster and better decision. So, are you rummaging through your wardrobe or going shopping?
Let's help you put together a Thanksgiving dinner look that you'll love, one piece at a time.
Sweaters
Sweaters are your best friend when it comes to dressing up for Thanksgiving. Whether you want to wear them as they are or as layers, you can always find the perfect sweater for every look.
How to Wear Sweaters
Sweater top with a skirt, pants, or leggings

Belted cardigan over a cute dress

Turtleneck under a sleeveless dress

Sweater layered under a blazer

Oversized sweater paired with leggings and a belt
Scarfs
The popularity of scarves is growing by the day. A scarf is a sure way to add not only extra warmth but also style to your outfit. Depending on how heavy you want it, scarfs range from chunky knit scarfs to light ones made from materials such as silk and cotton.
How to Wear your Scarf
Tied around your neck

Draped around your neck

Draped over your shoulders

One end draped on the back and another in front

Pinned with a brooch around your neck and over your shoulders

Around your neck and draping over your shoulders
Wool or Knit Dress
Wool or knit dresses are a staple in fall and winter. For this reason, they come in numerous styles making it easy for you to tailor your choice to suit your thanksgiving dinner. They are especially great if you are looking to combine style, comfort, and warmth.
Black, white, or a combination of both goes with everything but you can also stick with fall colors such as burgundy, orange, chocolate, and gold.
How to Wear Wool or Knit Dresses
Above-the-knee or mini dress with knee-high boots

Sweater dress with a belt and scarf

Cold shoulder sweater dress for warmer weather

Long dress with flats, sneakers, or booties

Bright mini sweater dress with black leggings

Finer knit sweater dress, tall elegant leather boots, and a scarf for a formal Thanksgiving dinner
Jeans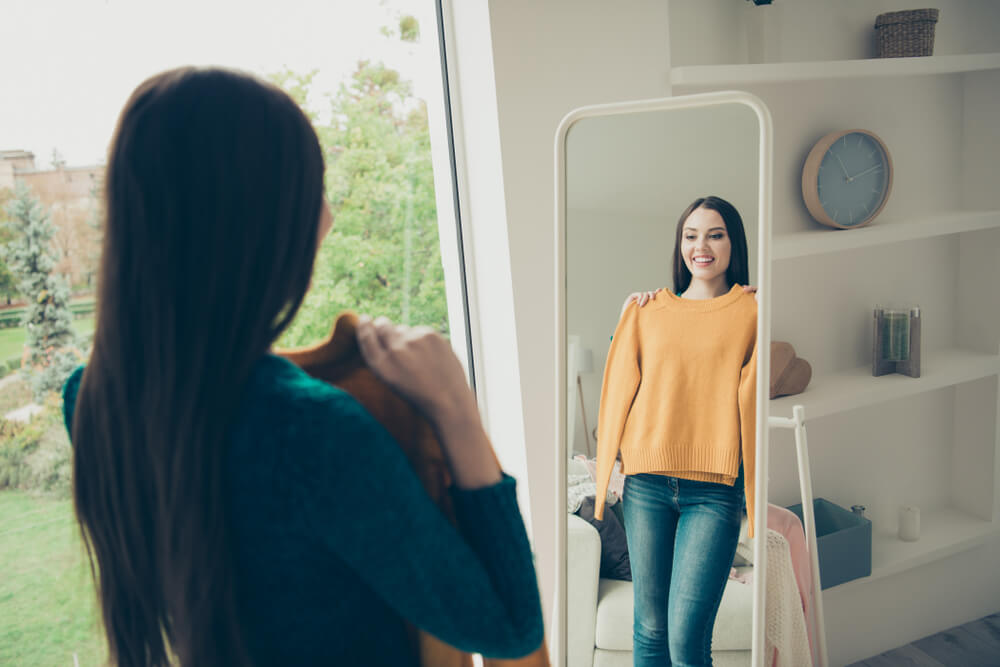 Nothing says casual like jeans! So, you better be sure that you only wear jeans when heading to a laid-back thanksgiving dinner preferably with close family or friends.
While at it, you want to have your fill of delicacies, right? Then, look for jeans with a hint of stretch to stay comfortable on your waist even when you are full. There's no limitation to what you can pair with jeans.
How to Wear Jeans
Skinny jeans, boots, and a sweater

Cardigan, hipster jeans, and strappy heels

Flared jeans and a tank

Knit turtleneck or long-sleeved t-shirt with jeans

Jeans and a pretty blouse

High-waisted jeans, a blazer, and tee or blouse

Jeans, sweater coat, and a long-sleeved tee

Blazer or denim jacket over a beautiful light-colored top

 

with jeans
Leggings
Leggings make some of the most comfortable outfits for a thanksgiving dinner. Here's the best part; you can pair them in many different ways to suit different thanksgiving occasions.
How to Wear Leggings
Leggings with a long shirt, sweater, cardigan, or tunic

Leggings paired with a favorite top

Leggings, a cami, and blazer for a formal look

Pullover sweater, leggings, and a long long coat for dinner at a restaurant

Leather or velvet leggings for a dressier look
Dresses
A dress makes your feminine warmth pop. For Thanksgiving, take advantage of the weather before everything freezes and show some leg with anything from a few inches above the knee down to midi length.
Besides style and color, dresses come with a million ways to make them fabulous. The best dress for you therefore depends on your taste and preference. What appeals to you most? Strategic cutouts, embellishments, or the material?
Whatever you choose, a dressy outfit requires heels. Again there's no limit to the kind of heels you choose; you can slip into peep-toes, strappy, pumps, or even dressy shoes as long as you feel fabulous.
How to Wear Dresses
T-shirt under a slip dress topped with an overcoat

Chunky long sweater over a short dress

Cropped sweater over a full skirt dress

A turtleneck over a sleeveless dress

Opaque tights under a mini-dress

A camel coat over a midi-length dress

Leather jacket over a floral dress

Belt with a loose baggy dress to emphasize the waist
Pants That Aren't Jeans
If you don't want to go the jeans way, there are plenty of pants that you can wear to pull off the perfect look. Awesome options for thanksgiving include corduroy, leather, and silk pants. Whether you prefer high or mid-rise, full-length, or cropped, it will look good with the right combinations.
A good idea is to go with solid colors like blue, black, burgundy, brown, or grey for pants and choose bright and shimmery, or embellished for the top.
How to Wear Pants
Matching pants and shirt

Neutral sweatpant with a matching top

Cropped pant 'cigarette' with a sweater or turtleneck

Wide-leg pant with a sweater

Fancy sweatpants with a turtleneck

Flayered yoga pant with a sweater or sweatshirt

Leather pants and a sweater or turtleneck

Silk pants with a loose blouse
Skirts
Skirts give a girly touch to your outfit. They are a great alternative to dresses when you are looking for a dressy outfit. Thankfully, skirts also come in numerous styles, hem lengths, and colors so you have enough to experiment with.
If the weather allows it, go ahead and show off some skin. If it is too cold, some tights can allow you to get away with a short skirt in cold weather.
The top that you pair your skirt with should also be weather-friendly. A sweater and skirt combination is a winner for chilly weather while cooler materials like chiffon, silk, or cotton will do when it is warm.
How to Wear Skirts
Pencil skirt with an untucked blouse

Layer pantyhose or tights under a mini-skirt for added warmth

A-line skirt with a tucked top to define your waist

A-line skirt with a knotted top to emphasize shape and structure

Skirt with a knit top or cardigan

Skirt paired with silk knit tops or cashmere sweaters for warmth

Skater skirt with a fitted top

Trumpet skirt with a top that closely fits at the waist

Maxi-skirt with a sweater

High-waist midi skirt with a tucked blouse

Mini-skirt with a loose top to balance the look
Jumpsuit
The jumpsuit has carved its place in the modern woman's wardrobe. Its versatility makes it one piece that would suit both a guest and a hostess in a Thanksgiving dinner. It is comfortable enough for you to move about in yet so fabulous and figure-flattering. If you've got a figure to show off, this is your opportunity.
For an elegant look, slip into a pair of slim heels. Otherwise, you can wear contrasting flat shoes for comfort and ease of movement especially if you are hosting. Don't worry about the cold either; you can layer your jumpsuit with other clothes and still look great.
How to Wear a Jumpsuit
Jumpsuit with a chunky scarf to complete the look and give extra warmth

Turtleneck or sweater under a jumpsuit for warmth

A cardigan or jumper over a sleeveless jumpsuit

Long-sleeved jumpsuit when you don't want to wear anything over it

Sleeveless jumpsuit for warmer weather

Flowy jumpsuit in silk for elegance and sophistication
Boots
One trend that starts in fall and lasts through winter is the wearing of boots, and for a good reason; they are adaptable to any outfit you can think of. Do you already have a pair of boots or do you need the inspiration to buy one? Let's dive in:
How to Wear Boots
Short dress with over the knee boots

Knee-length dress paired with riding boots

Ankle boots with a light flowy dress

Short fitted dress with slouch boots

Ankle boots with skinny jeans or pants

Knee-high boots with a flirty short dress

Thigh-high boots with jeans

Riding boots with jeans or leggings

Mid-calf boots with a short dress

Thigh-high boots with a mini-skirt
So, what is the perfect outfit for you? You probably already have several pieces that you can combine and if not, you now know where to start up.  When you do, let us know all about it.