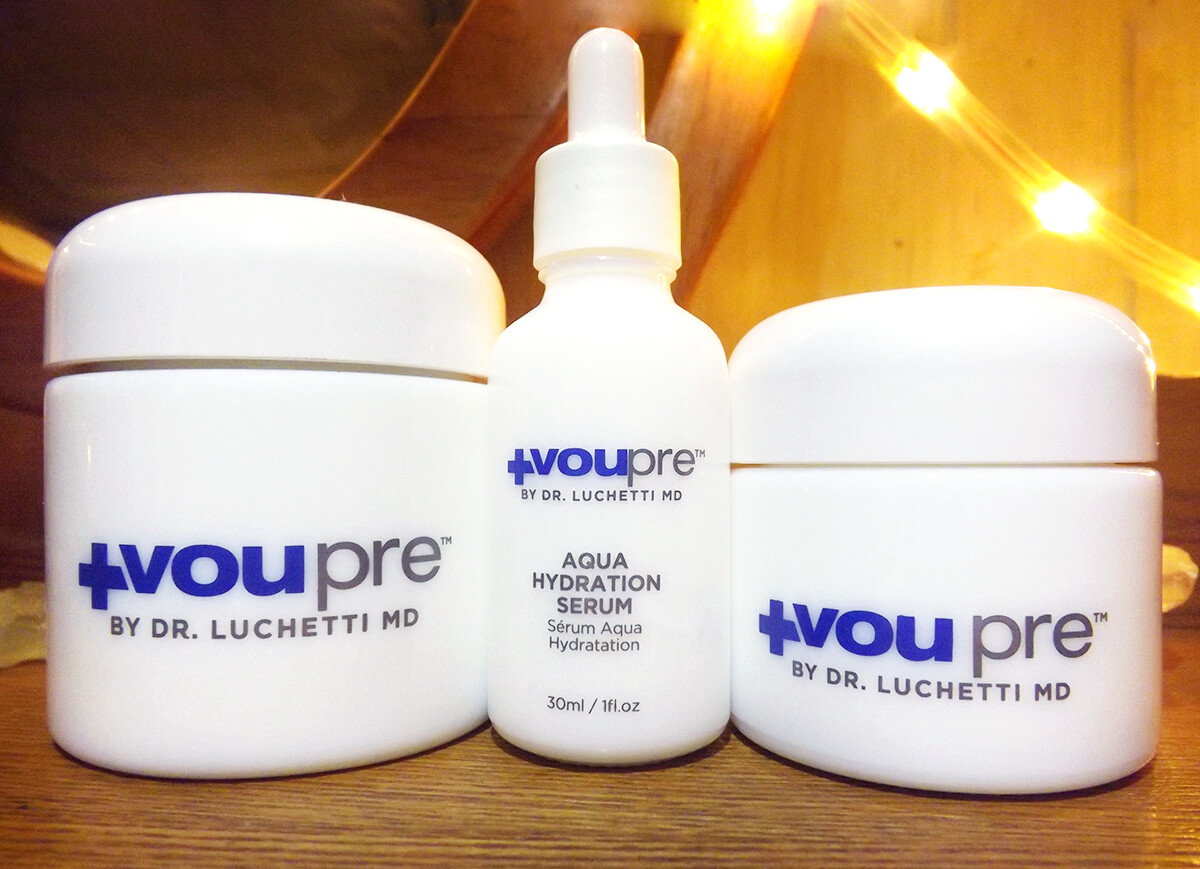 Review by Catarena VanAusdall
Vou Pre is a brand created by Dr. Luchetti, incorporating unique ingredients together to make complete, effective regimens. I was lucky enough to receive the Aqua Collection by Vou Pre, and today I'll be giving a full truthful review of this 3-step set of goodies (plus a derma roller and mask applicator tool)!  
About the Brand – VouPre 
As mentioned briefly, the brand Vou Pre was created by Dr. Luchetti MD. The goal of this brand is to make use of Luchetti's important knowledge and pair ingredients that work the best together. According to their website, Vou Pre aims to deliver the highest quality skincare possible. Through extensive research, they've been able to create multiple beneficial lines with ingredients perfected to achieve the desired end result. 
Vou Pre always uses beneficial ingredients without any parabens. They also never test on animals, which is extremely important to me and many people I know. Plus, they are dermatologist approved! In other words, their experience and values speak for their somewhat expensive price tags. 
Vou Pre has four different collections as of right now:
The Intro Collection

The Aqua Collection

The Cannabis Collection

The Thermal Collection
Each one is designed for a specific purpose, so if you'll be looking into Vou Pre, make sure to choose the right collection for you!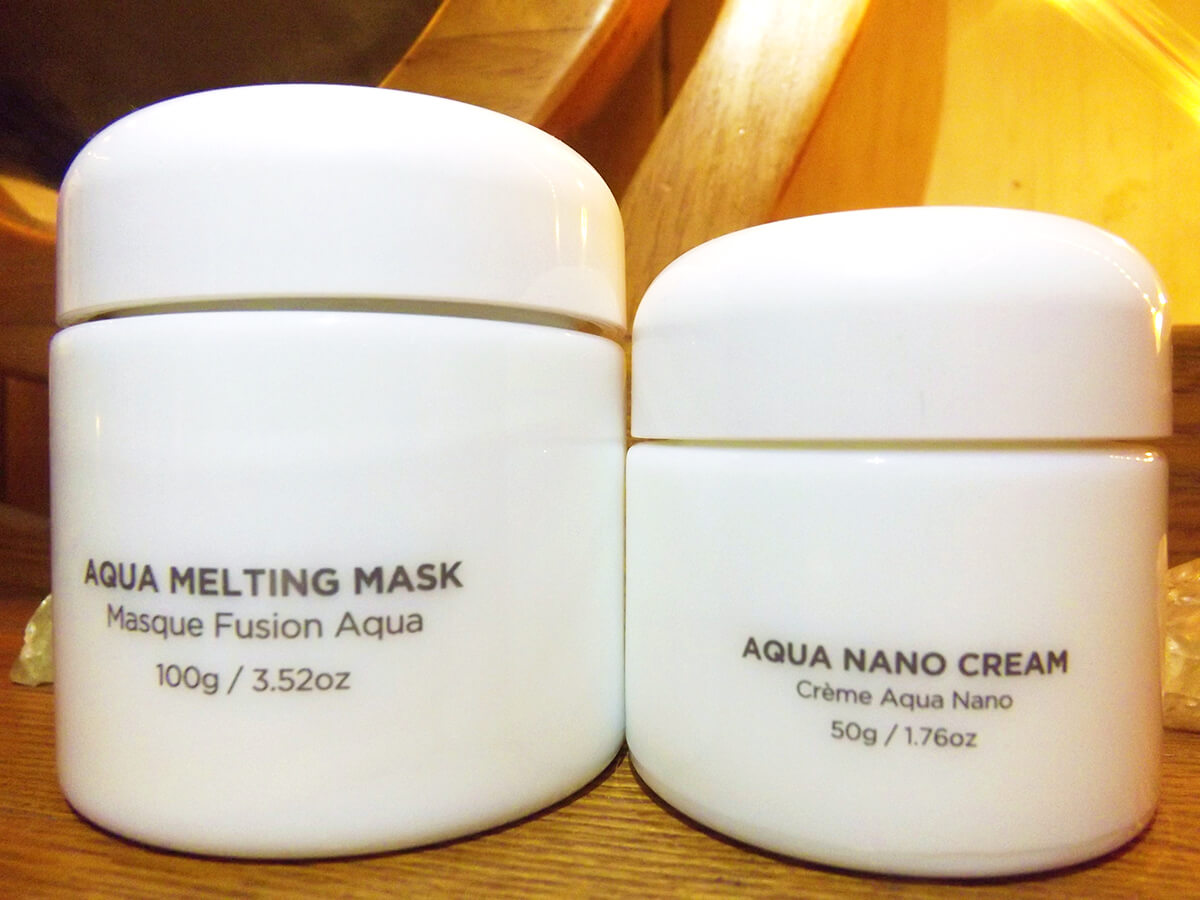 About The Aqua Collection 
This set of three products was designed primarily to hydrate the skin, as well as soften and smooth texture. In addition to being moisturizing, collagen is added to promote firmness and decrease fine lines. Moisture and collagen are both well-needed for the best, healthiest skin possible. According to Vou Pre, visible results will happen with a month of use. 
Apart from the included serum, cream, and face mask, Vou Pre added a microneedle roller to the collection. I believe they do that with the other collections, as well! I will explain how to use it later for those who may not know. 
This collection seemed perfect for me as I have pretty dry skin. In fact, right before receiving the collection, I started getting a few bothersome dry patches because of winter. So, to put these products to the real test, I went quite a few days without using any other serums, oils, or any products I knew would give enough hydration for my skin. 
Below, I will go into more detail about each product's benefits and how to use them.
Ultra Hydration Serum 
Vou Pre claims the Aqua Hydrating Serum is exactly what you need when your skin is feeling tired and/or dull. After using the serum, I can agree. 
Some of the most beneficial ingredients of this serum include: 
Glycerin – soothes dry skin; hydrating
Dimethicone – keeps skin moisturized by creating a barrier that holds in moisture 
Collagen

– promotes firmness and elasticity; aids in preventing wrinkles 

DMAE – promotes elasticity, as well as brighter and more even complexion
Retinyl Palmitate – encourages growth of skin cells, leading to anti-aging effects
Soybean Oil – contains vitamins and antioxidants, keeping skin strong and healthy; prevents loss of elasticity and keeps skin hydrated and smooth
Coconut Oil – naturally moisturizing and anti-bacterial; keeps skin hydrating and healthy 
Meteorite Powder – contains minerals that promote luminous skin and anti-aging; nourishes skin 
How-To
Before applying any skincare, always cleanse the face (and neck) first! Apply around two or three drops of the serum onto your face and neck area. Then, massage it until it is completely absorbed, and you're done! 
My Thoughts 
Serums and masks are always my two favorite steps of skincare, and this serum lived up to all that I expected. To me, there was not too much of a scent, and I cannot complain about that. It has a dropper for the applicator which is nice, but the product is pretty thick compared to typical serums so you wouldn't have to use it as a dropper if you didn't want to. I used the applicator tool from the set a few times, and that works well, too! It absorbed really quickly into my skin with no greasiness.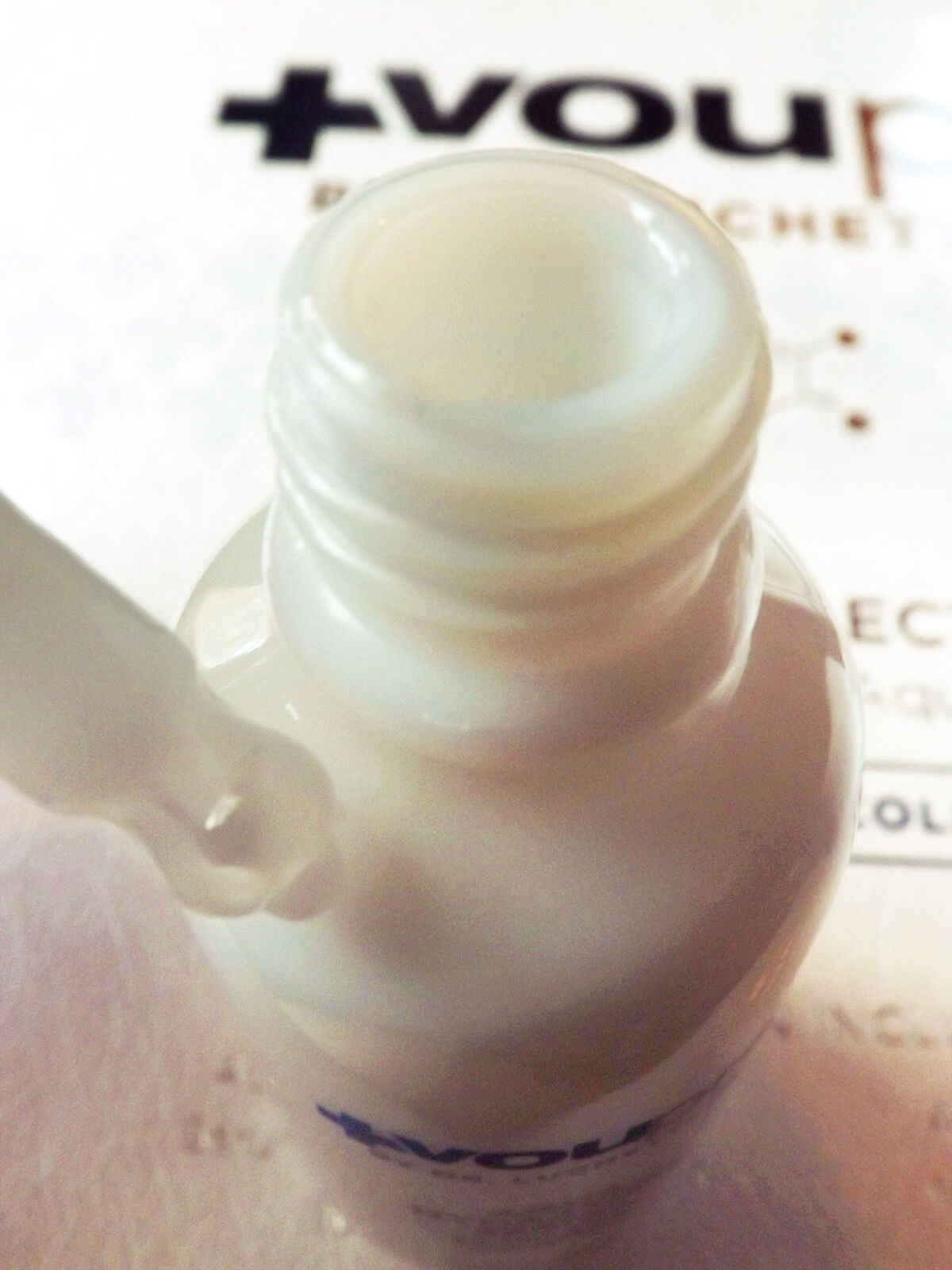 The most important question to me would be if it felt moisturizing to the skin, which it definitely did. For people with normal to oily skin, you likely would only need a very small amount of moisturizer after using the Ultra Hydration Serum, if that.
Aqua Melting Mask
The Aqua Melting Mask was created to give users an enjoyable selfcare experience when in need of a hydrating boost. Leave-on masks are always some of my favorite products, so I was excited about this!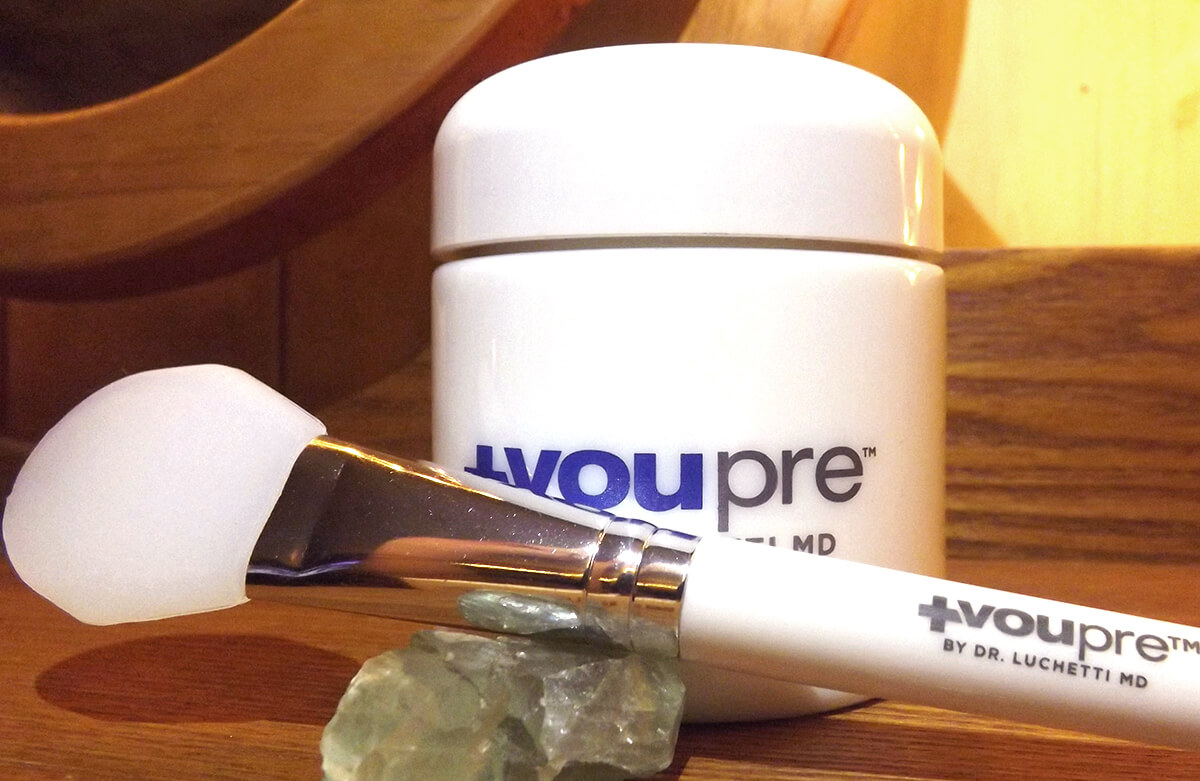 A few important ingredients of the mask include: 
Vitamin E – incredibly moisturizing 
Glycerin – soothes dry skin; hydrating
Dimethicone – keeps skin moisturized by creating a barrier that holds in moisture 
Collagen – promotes firmness and elasticity; aids in preventing wrinkles
Organic Aloe Barbadensis Leaf Extract – antioxidants; soothing and anti-inflammatory properties
Bilberry Fruit Extract – full of antioxidants; nourishes while cleansing; aids in firm skin
Acai Berry Fruit Extract 

– relieves dry skin; helps keep elasticity; anti-aging properties 

Goji Extract – great for correcting hyperpigmentation or uneven complexion; aids in reducing environmental damage to skin
Maqui Fruit Extract – antioxidants; helps to protect skin from UV
Chokeberry Fruit Extract – helps to even skin tone or hyperpigmentation; anti-aging properties 
Mangosteen Fruit Extract – calms inflammation; full of antioxidants
Pomegranate Fruit Extract – packed with vitamins and minerals; gives a youthful complexion 
Noni Fruit Extract – full of minerals, vitamins A and C; helps to heal and restore skin 
How-To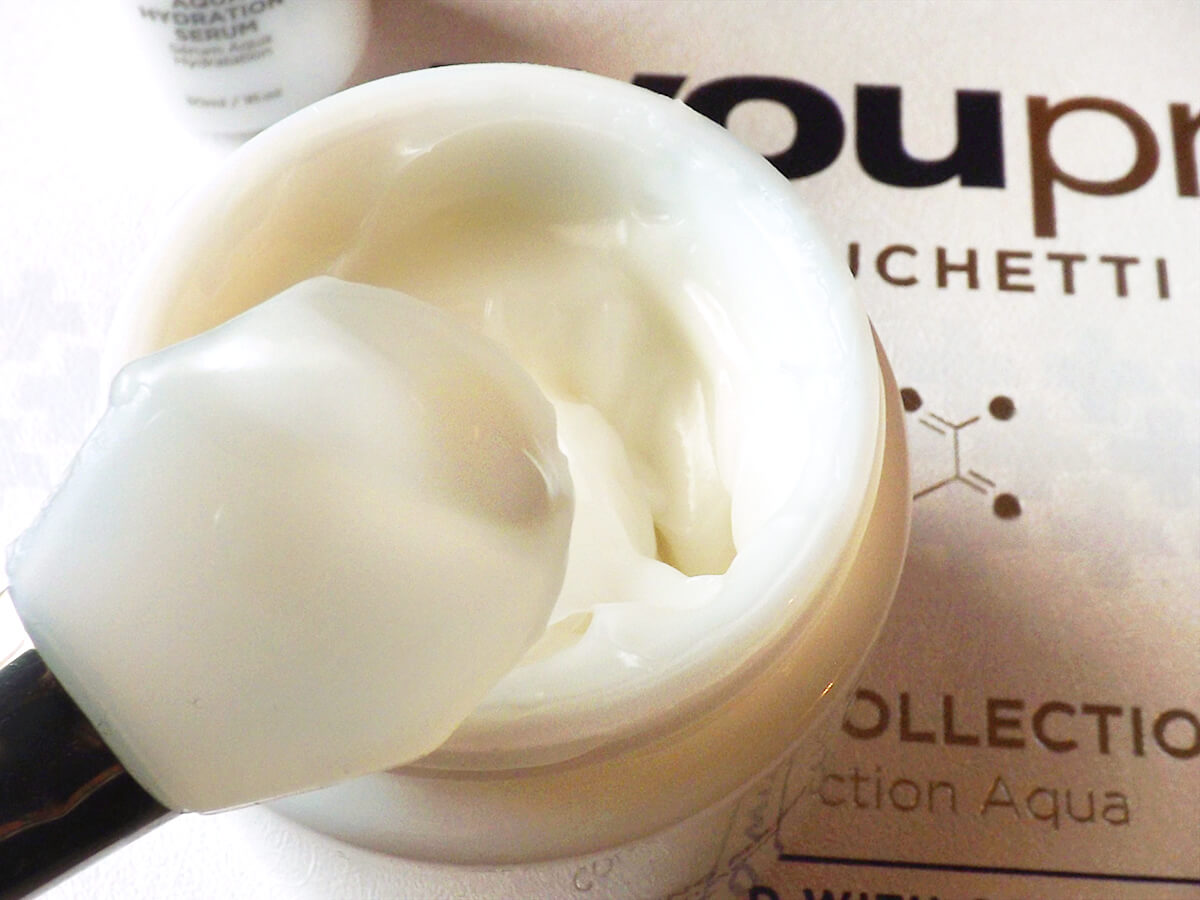 This mask is a bit different than any I have used before, but, as always, have a clean face. Apply a decent amount of the mask to your face and leave it on for ten minutes. Once time is up, begin massaging it into the skin. When "droplets" begin to form, Vou Pre says to let the droplets absorb. 
This sounds cool, right? I was hoping for more of a droplet effect, but it only seemed to happen slightly when I used the Aqua Melting Mask. Others may have better luck, though. 
Vou Pre's information never states how often to use this mask, so I'm not sure if it is meant to be daily. I've been using it about every three days as of now. Just go for it anytime you need the extra boost.
My Thoughts
Vou Pre's Aqua Melting Mask is honestly an incredible product. The initial smell is faint but pleasant, which is always preferred. Upon feeling the texture of the mask, I was pleased. It's silky smooth, lightweight, and glides right onto the skin. Once I had done the whole process of the mask, my skin felt just like the mask itself did – silky smooth. Even with having very dry skin, the Aqua Melting Mask kept my face super hydrated! 
I did a swipe test after allowing the mask to completely soak in for a while, and there was no greasiness and absolutely no residue. I could barely believe that my skin almost felt as if it had a soft product on it but it was completely absorbed. 
Aqua Nano Cream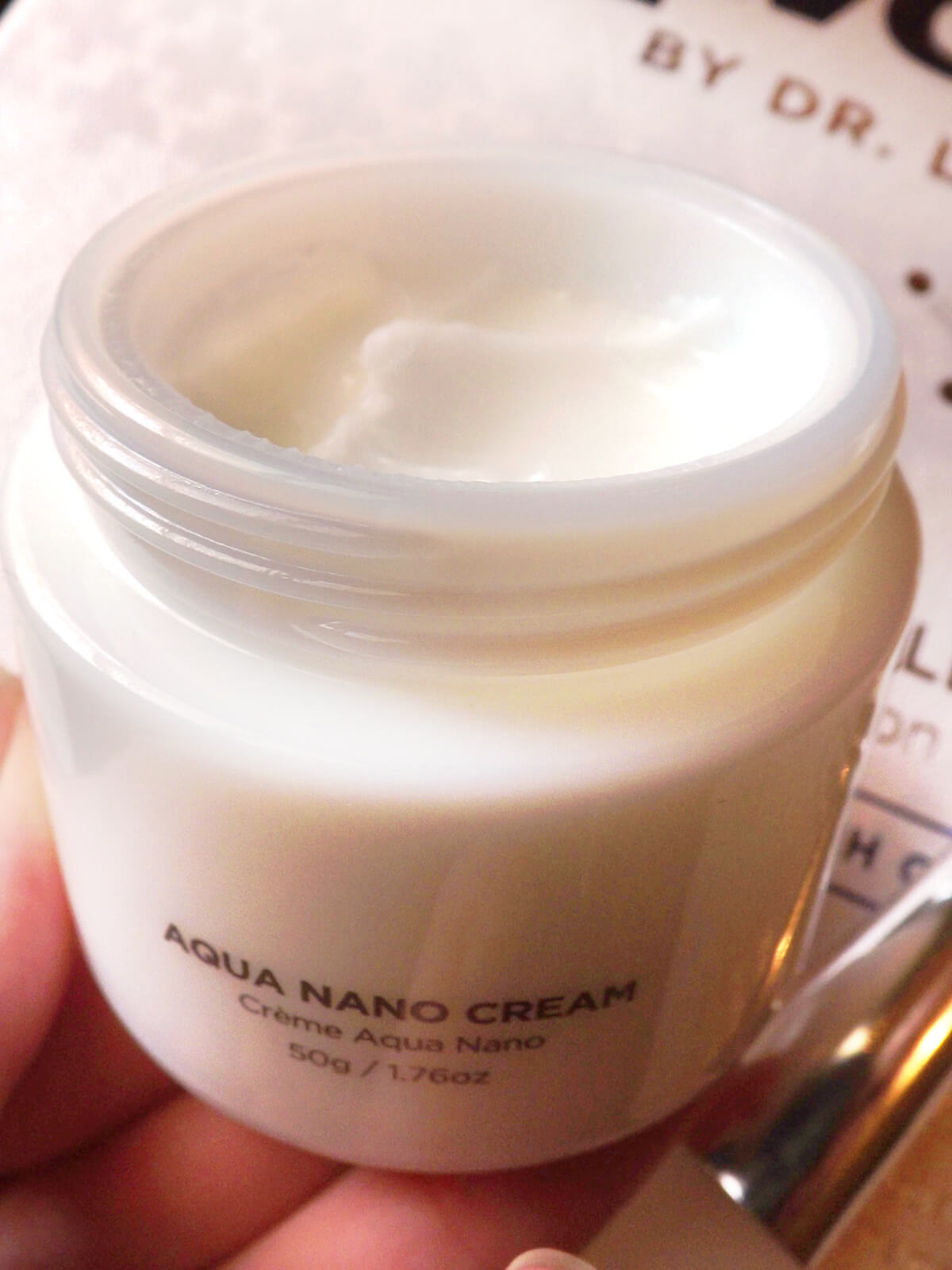 Vou Pre's Aqua Nano Cream is the last step of the regiment, being thicker than the Aqua Melting Mask, but just as lightweight and feathery. The cream is supposed to provide a silky-smooth finish on the skin. 
Some notable ingredients that will benefit you include:
Glycerin – soothes dry skin; hydrating
Dimethicone – keeps skin moisturized by creating a barrier that holds in moisture 
Collagen

– promotes firmness and elasticity; aids in preventing wrinkles

Sunflower Seed Oil – promote the regeneration of cells; hydrating; antioxidant
Avocado Oil – full of nourishing ingredients; moisturizing
Soybean Oil – contains vitamins and antioxidants; prevents loss of elasticity and keeps skin hydrated and smooth
Coconut Oil – naturally moisturizing and anti-bacterial; keeps skin hydrating and healthy
Seaweed Extract – full of vitamins and minerals; moisturizes and soothes the skin 
Lime Fruit Extract – antibacterial, disinfectant, and antioxidant properties; contains Vitamin C, promoting newer, brighter complexion 
How-To
On clean skin, apply the Aqua Nano Cream to the face and then massage into the skin with circular motions. That's it! I personally also like using the applicator tool in the set as opposed to my fingers typically. 
My Thoughts
This cream is very hydrating and smoothly-textured, just as the rest of the products also are. For each product in the set, a little goes a long way. The cream smells pleasant and soft in my opinion. After using the Aqua Nano Cream, my face feels super smooth and definitely moisturized, but because my skin is so dry, it isn't quite enough on its own. I occasionally used a basic moisturizer on top of this due to the cold.
Again, people with oily skin probably won't need to use a different moisturizer after using this collection. I believe that after the first month of use, maybe I won't either. According to dermatologists, SPF still should be taken into account when spending time outdoors, though. 
Microneedle Roller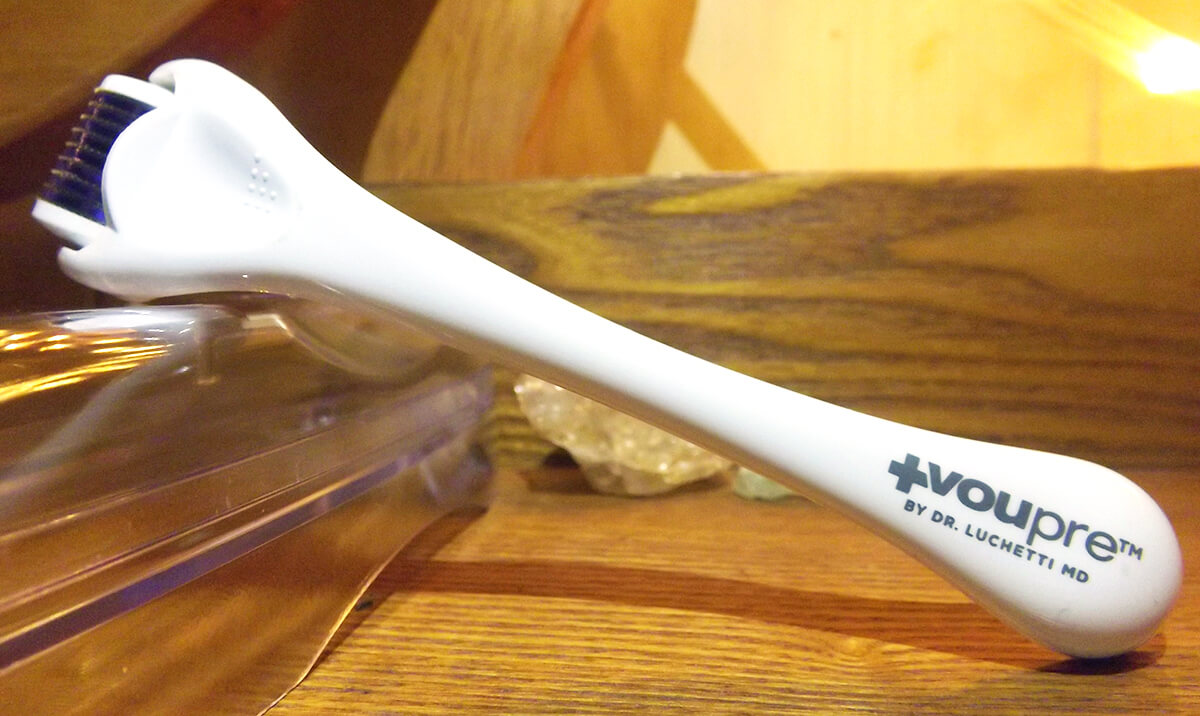 Along with the other three products, Vou Pre included one of their microneedle rollers, or a "derma roller" in the collection. The roller's needles are only 0.3mm and created to softly puncture the skin without any real damage. This is to promote the natural healing process, leading to restored skin and a clearer complexion. 
I've had a derma roller for a while now, and at first Vou Pre's roller seemed to be almost exactly the same as my cheaper one, just made more professional looking. The thing is, though, I stopped using my old roller due to it actually hurting/burning my skin. That being explained, I have now used my new Vou Pre microneedle roller more than once without any pain! In fact, it almost feels nice; that is the difference between the two.
The benefits of microneedling are huge. Vou Pre's site mentions many of them, including:
Increasing collagen production in the skin, leading to anti-aging effects such as a reduction of fine lines, wrinkles, and/or loose skin 

Aids in minimizing the appearance of pores due to the collagen "plumping" your skin

Reducing blemishes on the skin by replacing blemished cells

Helps with both reducing and preventing scarring 

Reducing hyperpigmentation

Better absorption of products into the skin
How-To
Here is exactly how to use a microneedle roller as stated by Vou Pre:
"Clean face. Glide roller across targeted areas, taking care not to apply too much pressure. Roll across each targeted area for 60 seconds, for a total of 4-10 minutes. You may wish to pay extra attention and time to work on stubborn areas with more wrinkles or more enlarged pores."
My Thoughts 
Having sensitive skin plays a huge part in how I judge any product, and I can say that the quality difference makes it worth buying a more expensive microneedle roller! I now realize my old roller should not have hurt my face the way it did. Luckily after months of thinking I could never use microneedling again, Vou Pre's derma roller came into my life. Honestly, I am excited to see the changes in my skin in the next few weeks/months. 
Overall Opinion
Vou Pre's Aqua Collection is a bit pricey for some of us, but, if you have dry skin and are looking for something that does exactly what it claims to do, this may be the best choice for you. Because a little goes such a long way, it will last quite a bit of time and will be worth it in the long run. 
The Ultra Hydration Serum, Aqua Melting Mask, and Aqua Nano Cream all have incredible textures to them and all glide on smooth. I can't stand greasy products or products that are too thick, so these are just perfect for application. The mask is definitely my favorite from this set, but each product feels hydrating and is packed full of nourishing ingredients to completely restore your skin. What more could I have wanted? Plus, in the short time I've been using it, my dry spots have disappeared. The microneedle roller and mask applicator are both quality, too. 
There are quite a few more products to enjoy by Vou Pre for those interested. Personally, I've struggled for ages to find a product that truly helps my under-eyes. From being too dry to use concealers, to being dark and discolored to be covered by most concealers, I've tried many different brands and treatments. After using some of Vou Pre's products, I have hope that their Advanced Gold Eye Serum may be my under-eye hero. 
Look into the brand Vou Pre and their outstanding, dermatologist-approved collections next time you're looking for a legitimate product that does what it should.