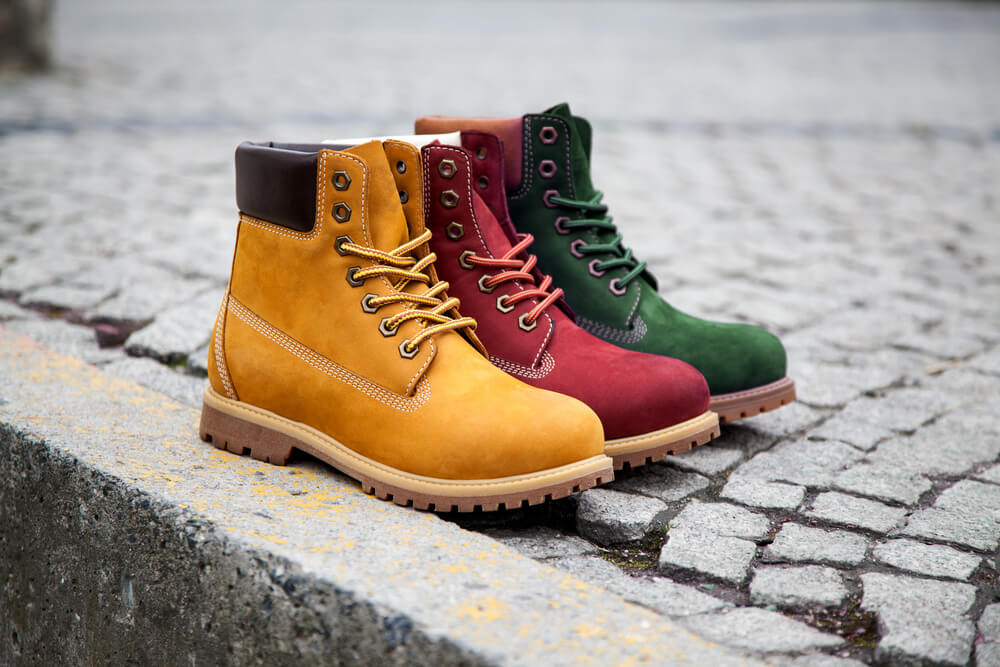 Now that it's clear that the last roses of summer have truly bowed their lovely heads, it is also clear that it is time to relegate our delightful, strappy, carefree, colorful, summertime sandals to the doldrums of our winter storage facilities. No longer will our pedicures have the chance to be fully appreciated, no longer will be able to swear off our socks, no longer will we be able to slip on our shoes casually without using our hands. Now, we must face the facts and accept that wearing sandals for the next few months will not only be an impractical move, but also a major fashion faux pas. 
So, what do we have to look forward to now? Months of Timberland hiking boots? Galoshes? Uggs? Perish the thought. Two major fashion faux pas do not make a right. Thankfully, there are several practical and fashionable winter footwear selections that will keep your feet comfy, cozy and looking as smart as you feel. 
Sorel Joan of Arctic Wedge II Zip Boot
https://www.instagram.com/p/B3frabThQLV/
Thinking of owning a Joan? To be clear,  Joan of Arctic is the name of the new, (and improved) series of hidden wedge boot by Sorel. During our efforts to keep up with the Joans, we happened to come across the Joan of Arctic Wedge II Zip Boot– and we sort of starting joansing for them. 
For these, think Chelsea boot wrapped in waterproof leather, hence the hidden wedge. They come in several colors, which we say get one in every. You'll fall in love with the two-toned purple sage and the red carnelian, but the monotones once have it when it comes to versatility. (Available in navy, black, tan, and several shades of brown). 
If you are familiar with the Sorel brand, the Joans are the new Leas. Now crafted with a sleeker, more well-rounded upper made of a rich water-resistant leather upper, a high comfort footbed, a soft synthetic lining, and a molded outsole, the Joans are city chic with gorgeous detail that makes for a stunning silhouette. 
But if the wedge puts you on edge, these may not be for you.  These do have a three-inch wedge heel and are recommended for light rain, so you might want to consider buying a sturdier snow boot besides.   
Pros:
Stylish

Well made

Warm 

Water-resistant leather

Zip up for easy on and off
Cons:
Not recommended for all-weather

Heels may be challenging to walk in
L.L. Bean Women's Small Batch Boots Chelsea 7"
For all those who love the L.L. Bean classic winter boot, the L.L. Bean Small Batch is the new black. Really. 
Unless you've been hibernating for the last few decades (lucky you), you've probably seen the iconic Bean duck boot, in some form or another. You know, those preppy look boots with the water-resistant rubber bottoms and the soft pre-broken in leather uppers? The ones that you put on and they make you feel as if you've been wearing them for years?
Yeah, you know the ones. You also probably know that they're usually two-toned – most often the bottoms are brown, and the tops are tan (which are so L.L. Bean signature, but don't go with your black legging look?).  Well, now that they've gone and made them in black, we can keep our lines uninterrupted and our socks dry simultaneously.
 Believe us, on those chilly winter mornings, these are the only things that your feet will want to trade their slippers for. The moment you pull them on, (with the help of stretch side goring and leather loops) you will be cradled in soft leather, with a toasty cambrelle lining, and a durable rubber matte-finished bootie.  A perfect combo of show and go, these Chelsea boots will have you sloshing through the rain or snow like Fred Astaire without a care. Or, almost without a care.
One downside of these boots is that the leather uppers are not waterproof. They also pull on, and although they do have stretch side panels and bootstraps, they may take a bit of schlepping. 
Pros:
Go with everything 

High quality 

Very comfortable

Good traction in wet weather

Affordable

Lightweight
Cons:
Leather uppers are not waterproof

May be hard to pull on
Bos & Co. Madrid Waterproof Insulated Bootie
https://www.instagram.com/p/Bq2jH8inTij/
When we first these shoes we thought, snowboots?  Where are they hiding the insulation? It turns out that Bos & Co has been doing this for years and they know exactly how to hide the insulation.  The boots feature the brand's proprietary Aquastop, a breathable, water repellant membrane to keep feet dry and comfy. In other words- waterproof leather- yes, please.
Smart and good looking? Let us count the ways. First of all, they're made of dark red leather -you know that sexy deep red color that's sort of the new black- they have two-inch heels, think chunky and square, not pointy and hazardous, and just the right of slouch to make them business casual – perfect for the office.
And comfy? Where should we start? Let's start with the zip-up side, which makes them so much easier than schlepping on our pull-ons. There's 4mm foam cushion footbed – the souls of our feet have gone to heaven, and then there's the leather upper, synthetic lining, and the aforementioned rubber bottom. The negatives here are the two-inch heel, which may be difficult to walk on and also adds weight to the boot. 
Pros: 
Well-made

Sleek and stylish
100% waterproof
Leather upper
Cons:
The heel may be a little high to walk in comfortably

A bit heavier than other snowshoes
Cole Haan Zerogrand Explore Hiking Boots
https://www.instagram.com/p/BqJDsXeg8M3/
As the great Marilyn Monroe once famously said, "Give a girl the right pair of shoes and she conquers the world." Never has that saying been truer than when applied to hiking boots. When we hit the trails, we know we can keep calm and Cole Haan on. 
Why do we believe the Cole Haan Zerogrand Explore Hiking Boots would get the Marilyn stamp of approval?  Mainly because of the posh shearling padded collar and supple new buck upper and the gorge color selection. The twilight mauve dove shearling looks as good as it sounds and the pumice stone has snow bunny Marilyn written all over them.  (They also come in a sensible black and an adorable Brit blue and tan). 
As for conquering the world (of the great outdoors), Cole Haan has got it down to a science. Made of waterproof leather with suede uppers, with a luxuriously cushioned proprietary GRANDFOAM footbed, leather welt, and EVA midsole and outsole with rubber pods for fashion and durability, these shoes bring an explorer level of performance to winter comfort with seam-sealed construction to keep the boots warm and dry. 
Great for hiking any commute, from the great outdoors to the city streets, these boots are bold as well as beautiful. The only complaint here is from the several reviewers who claimed the boots were a bit narrow, downgrading them from 5 stars to 4.7. 
Pros:
Stylish 

Solid Construction

100% water-proof

Excellent traction in wet weather

Comfy footbed
Cons:
Several reviewers claimed the boots were a bit narrow.
Tamara Mellon Easy Rider Mid Calf
For those of you who don't let the bad weather interfere with your badass attitudes, the Easy Rider Biker Mid Calf is the way to roll.  
Riding a motorcycle in the winter? Not the best idea. Looking like you ride a motorcycle in the winter? A wonderful idea. The Tamara Mellon Easy Rider Mid Calfs are all-weather calfskin leather motorcycle boots with a chunky bit of sole. Standout features on these boots include the 1.38″ cleated heels. They give enough height to give you authority, and enough traction to keep you from falling on your behind; you will feel tough in these shoes.
But as tough as the shoes may make you feel, there may be nothing more tender than the buttery soft calfskin (Italian) leather they're made of. These boots break in with ease for the perfect I don't care/wear and tear look, and the leather is luxurious as well as wonderfully flexible.   
Other notable features are the pull-on tabs at the top, "for pulling yourself up by your bootstraps" (if necessary). The boots are also made with Tender Lovin' Shoe Care which means they're guaranteed for repairs in the first two years. On the downside, they're not quite as lightweight as snowshoes with a less pronounced soul and may also be difficult to pull on despite the bootstraps. 
Pros:
Stylish

Luxurious

Well-made

Good traction in wet weather
Cons:
The leather is not water-proof

Pricey

Heavy 
Everlane The Rain Boot
https://www.instagram.com/p/BtdtSdhHUg1/?hl=en
OMGalosh!  Start wishing for rainy days. These Everlane Stylish Rain Boots bring with them a rainbow of color and a comfy dry interior.
While Everlane humbly claims that its main goal was to design a simple and comfortable rain boot, when you see these boots, that's not exactly the description that comes to mind.  We guess the fact that they're also so drop-dead gorgeous goes without saying. 
However, if Everlane won't say it, we will. Since we can't seem to save the best for last, we're going to tell you right out: these come in pink. They also come in black, stone, toffee, and surplus (army green), but the pink are the real showstoppers. Another good thing about these boots is that they have a lot of black on them (the soles, the side stretch panels, the toe, and bootstraps are all black), so even the colorful ones go with dark clothes. 
The boots feature a versatile ankle height, a capable tread, and a cushy insole.  Plus, the stretch side panels and easy to grab pull tabs mean you can slide in and go. The uppers are 100% rubber, so you can wipe and clean.  They're made to be worn with thick winter socks, so the manufacturers advise ordering a size down if thin socks are more your thing. Mostly stellar reviews on these, the most common complaint was that they weren't as easy to slide in and go as the manufacturer suggested.
Pros:
Stylish

Well made

Easy to clean

A lot of black detail

Affordable
Cons:
Some reviewers claimed they had trouble putting them on
Columbia Women's Heavenly Omni Heat Lace-Up Boot
Some days are so cold that anything warm looks good, but it's always nice if it just plain looks good too. Aesthetically pleasing as they are anti-feet freezing, the Women's Heavenly Omni Heat Lace Up Boots are knee-high quilted lace-up snow boots featuring patented thermal reflective lining to keep you toasty while you're looking tasty. 
Put simply, they're made of breathable material with little silver dots to reflect body heat, so you're producing your own warmth. They also feature a waterproof seam-sealed membrane bootie construction, a contoured PU footbed, and a non-marking traction rubber for keeping your feet dry and comfortable and your grip firm.
As for looks, we'd wear these to the beach if we wouldn't be sweating our booties off. The faux fur collar and tongue lining are hard to resist, plus they come in three classic hues. Turn on the heat in more ways than one with the Red Wine Daredevil, choose the Quarry Dove Grey for a gentler boot, or the kettle black if you're a pot. Most reviews are positive with reviewers claiming that the boots kept their feet warm and comfortable and that they were able to wear them all day.
Pros:
Warm 

Stylish 

Waterproof

Well-constructed

Excellent traction

Comfortable
Cons: