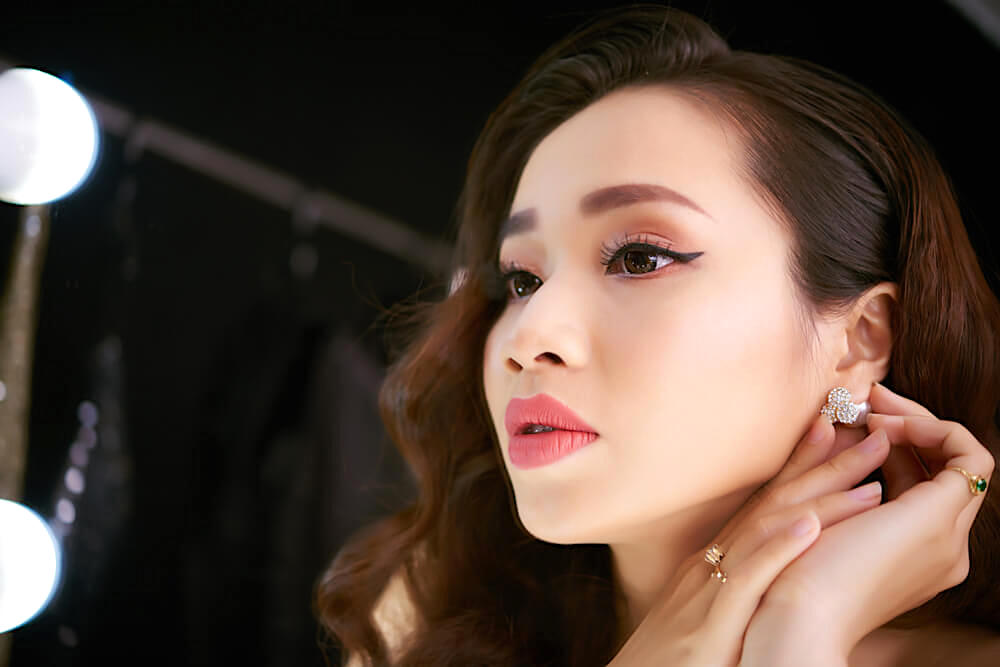 The New Year is finally here! This means that the countdown is already on for the resolutions you made. Your image shouldn't be left behind either; it should go hand in hand with everything you have mapped out for the year. Makeup is an integral part of your image and fortunately, a new year comes packed with dauntlessness and energy that allows you to try out incredible ideas.
Whether you are looking to steal the limelight, blend in, or retain a natural fresh look, there is no look that the right makeup can't help you achieve. We have rounded up all the help you need and compiled a list of 9 New Year makeup ideas to try. Indulge yourself below to keep up with the trends.
Notch It Up with Smoky Eyes
Smoky eyes come in handy when you want to create a provocative or edgy look. It can be a perfect look for a romantic outing, a girls' night out or a special occasion in which you want to stand out.
The smoky look is best achieved by carefully smudging and blending darker shades of black, steel and brown. You can also play with other colors such as charcoal grey, navy blue and deep plum but be sure to complete the look with a little highlight.
Glow with Some Glitter
You are probably wondering if there are exceptions to using glitter in your makeup and the answer is yes and no. Yes because you can't just wear glitter anyhow and for every occasion and no because everyone can wear glitter regardless of age. Let me explain.
Glitter is usually associated with a youthful carefree attitude. Using too much of it or putting it in the wrong places might bring you out as immature or someone who is trying too hard to relive her teenage years and failing miserably. On the other hand, strategically placed glitter used in the right amount can add instant glam and totally transform your look.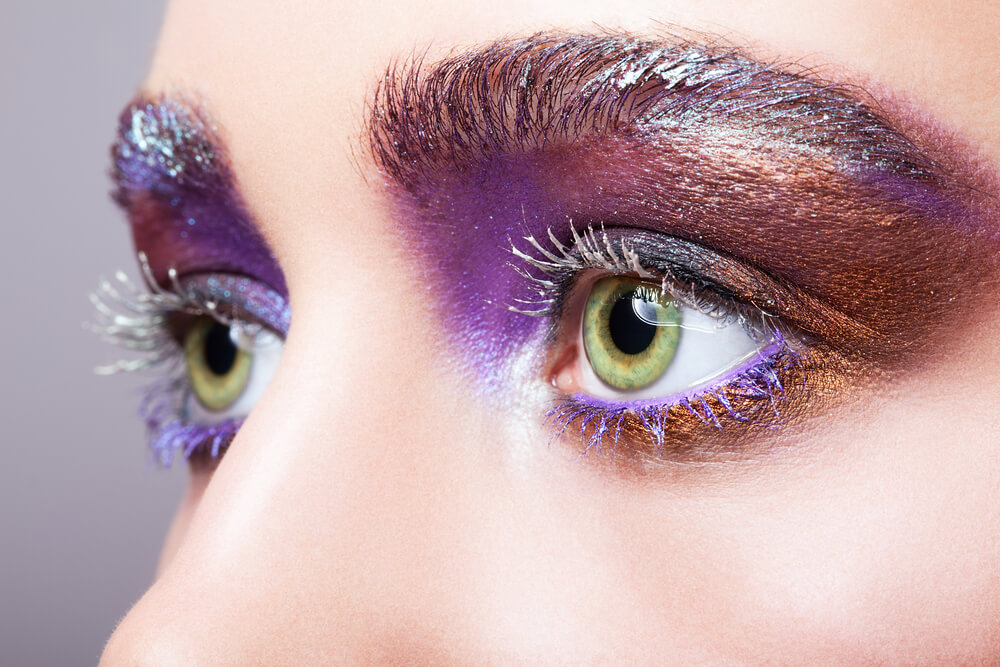 Here are a few tips on how to use glitter in your makeup:
Use eyeshadow, lip gloss, eyeliner or mascara infused with micro-fine glitter
Only use glitter on smooth, exfoliated and moisturized lips
Wear glitter for celebrations and special occasions but avoid placing it on places with fine lines; fortunately, you cannot go wrong with lips
Go wild with glitter on Halloween and costume parties
Use glitter in the absence of bright lights like a date, dinner with friends or club parties
Opt for sophisticated glitter and keep off cheap stuff
Foy your glitter to hold, use base makeup before and setting products afterwards
Comb a little glitter through your brows to give them a shimmer
Keep Your Eyes Waterlined
As simple as it may sound, waterlined eyes are actually trendy especially if you are looking to stand out in minimal makeup. The choice of color and the style you decide to use can give your face different looks without trying too hard. Eyeliner can make your eyes smaller, poppy, bigger or even brighter. Here is how you can waterline your eyes to create a variety of looks.
Use dark eyeliner to draw a thin line on your lid and a flesh-toned pencil on your waterline to make small eyes appear bigger
Use brown eyeliner on your lid and waterline to define large eyes and to create a soft natural look
Use a blue, purple or green liner to enhance the warmth in brown or hazel eyes
If you have blue or green eyes, use copper or gold liner to compliment the tone
Awaken and brighten your eyes with a white or cream liner on the waterline and a peachy shade on the lid
Wing it with Cat Eyes
Cat eyes are timeless. Despite being in existence for several decades, this eye makeup is still an eye turner. Depending on where you put the liner, the length, shape and thickness of the wings, you can create different looks ranging from rebellious, delicate, classic, sexy and bold among others.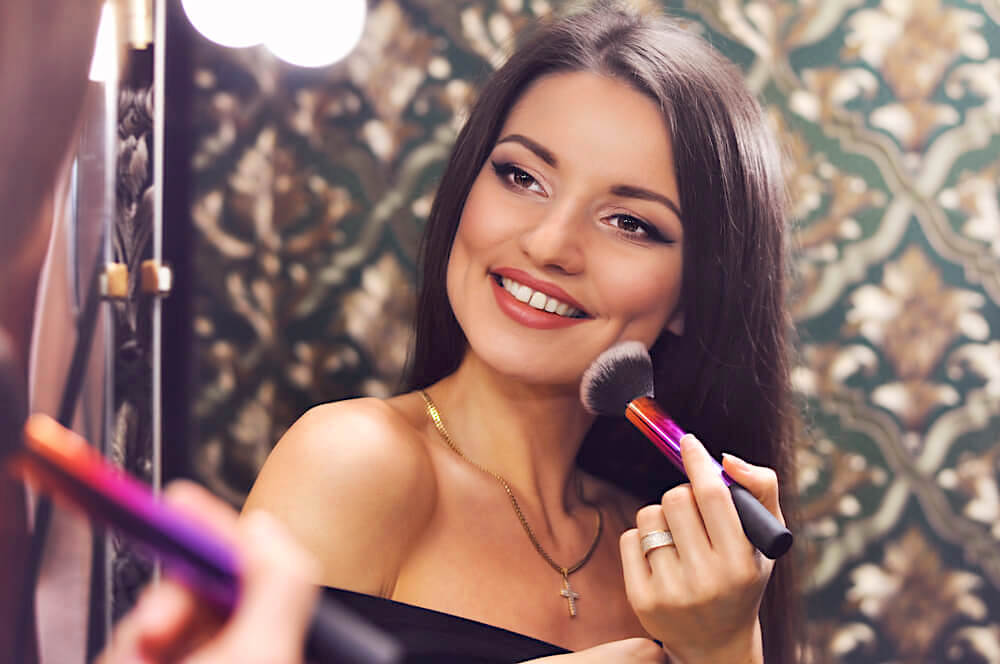 Most cat eyes are done using dark colors such as black or brown but who says you can't go wild with color? If you are feeling up to it, try pairing white and black liners for extra thickness, do a neon ombre or even a confetti cat eye. There is no limitation to how wildly feline you can go.
Christine Mio is an esthetician who keeps recommending this tip to anyone.
Go Super Dark with Lipstick
Have you ever tried wearing dark lipstick? If your answer is no, it is understandable. The vampy lipstick as it is popularly known can be quite intimidating. On the other hand, when you have mastered the art of doing it, it can be quite empowering.
Some of the shades that you can play with include wine red, brick red, burgundy, rich violet, deep plum, and shades with brown and blue undertones among others.
If you are still hesitant on trying it, check out how celebs pull off the vampy lipstick look and get some inspiration. The idea of the super dark lip is to draw attention to your lips and to keep it there. It is therefore important to limit activity in other areas of your face so that you don't look over-done.
The vampy lips look is high maintenance, but it is not anything that these few tips can't handle:
Apply the lipstick on exfoliated lips; dark lipstick is unforgiving on flaky lips!
Dark lipsticks tend to be more drying that lighter ones, for this reason, apply a moisturizer with a thick consistency to protect your lips.
Use a lip liner to keep your lipstick in line, preferably one that is invisible or that matches the shade of your lipstick
For a little adventure, you can use a lip liner that is a few shades lighter or darker to create an ombre effect
Fill in your lips with a layer of lip liner if you want to keep the look for a longer time; lip liner doesn't wear off as fast as lipstick
Apply lipstick on taut lips to ensure even distribution, blot then reapply and clean the edges
Dark lipstick can make your skin look paler, be sure to add a little color to your face using a bronzer or blush
Try the No-Makeup Look
After all the makeup that comes with the festivities, you can actually change up to a no makeup look. This look is meant to highlight your even and flawless skin without looking too made-up. To achieve this, you need to cleanse your skin and then moisturize. It would also be a good idea to avoid an exfoliant because it may cause redness that will show.
If your skin is flawless, you can use a tinted moisturizer and skip foundation. Where you need to use foundation, pick a light one and use it sparingly on areas that are flawed. Apply a concealer that is a perfect match for your skin tone. A semi matte foundation can help you with this without giving you a glow.
With mascara and a touch of light lip color, you are good to go. You can however dub some powder if you usually suffer from shine.
Wear Red Lipstick
If you think your red lipstick is outdated, think again! Red lipstick helps you to create an aura of beauty, mystery, alertness and even deviousness all in one sweep. It makes your smile seem brighter and creates the look of whiter teeth. The best part is that it compliments any makeup choices.
Wear red lipstick with polished makeup to give it a classic look or with a low-key makeup to give it an instant lift for any occasion.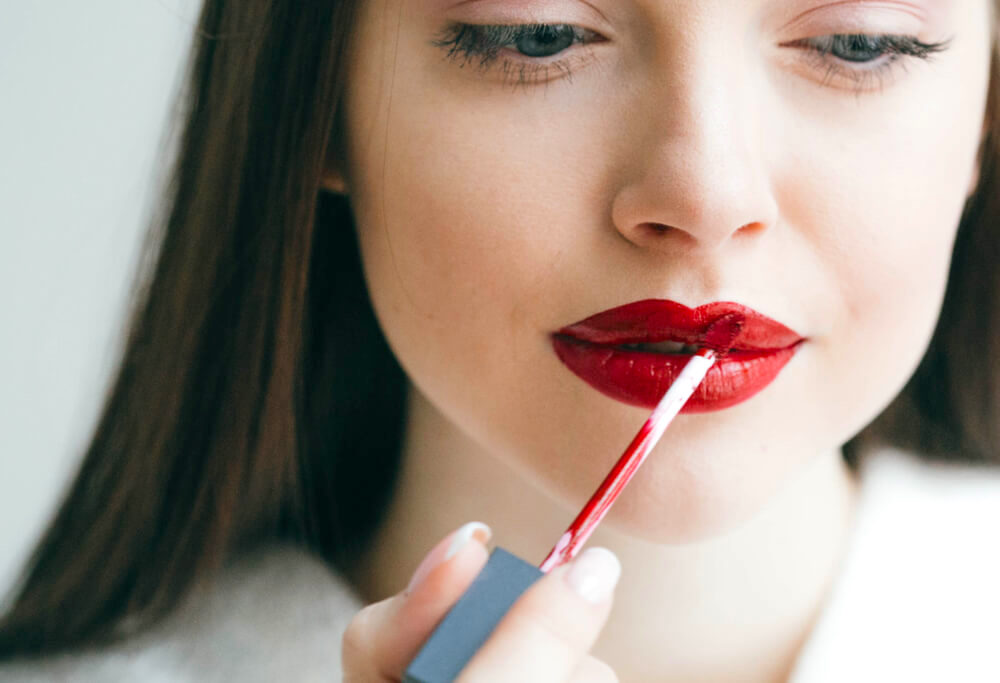 Another great way to wear red lips is pairing it with a bare face. The no-makeup face created with some foundation and concealer and paired with matte or glossy red lips is a definite winner.
Put On Some Eyeshadow
When it comes to choosing eyeshadow, your options are limitless. Whether you want to create a neutral and sophisticated look, a bold and glamorous one or the outright rainbow of adventures, there is always something to work with.
Different eyeshadows flatter different skin tones but whichever yours is, these tips remain true;
For your eyes to pop, choose a color that contrasts your eye color
Take advantage of your beauty store staff to help you choose the right color
Be careful with shimmer if you have heavy eyelids, lines and wrinkles because it tends to highlight them
You can use the darkest color in your palette as eyeliner
Set your eyeshadow with a primer to make it last longer; it works even with cheaper palettes
Use light eyeshadow into the inside corner of the eye, preferably the lightest in your palette to brighten and awaken your eyes
If you are pairing your eyeshadow with the trendy red lips, keep it light and neutral to give your lips all the attention
Notch Up the Lash Volume
Thicker and longer lashes are timeless. If you have not been naturally endowed with the coveted pieces, you probably go green with envy, every time your favorite celeb shows off hers. Thankfully, makeup provides solutions to so many flaws that you can easily achieve similar or even better lashes.
Among the options that you have include using mascara to add volume to your natural lashes, putting on some false ones, or using products and remedies meant to grow them thicker. False lashes and mascara are the fastest fixes to your eye lash woes.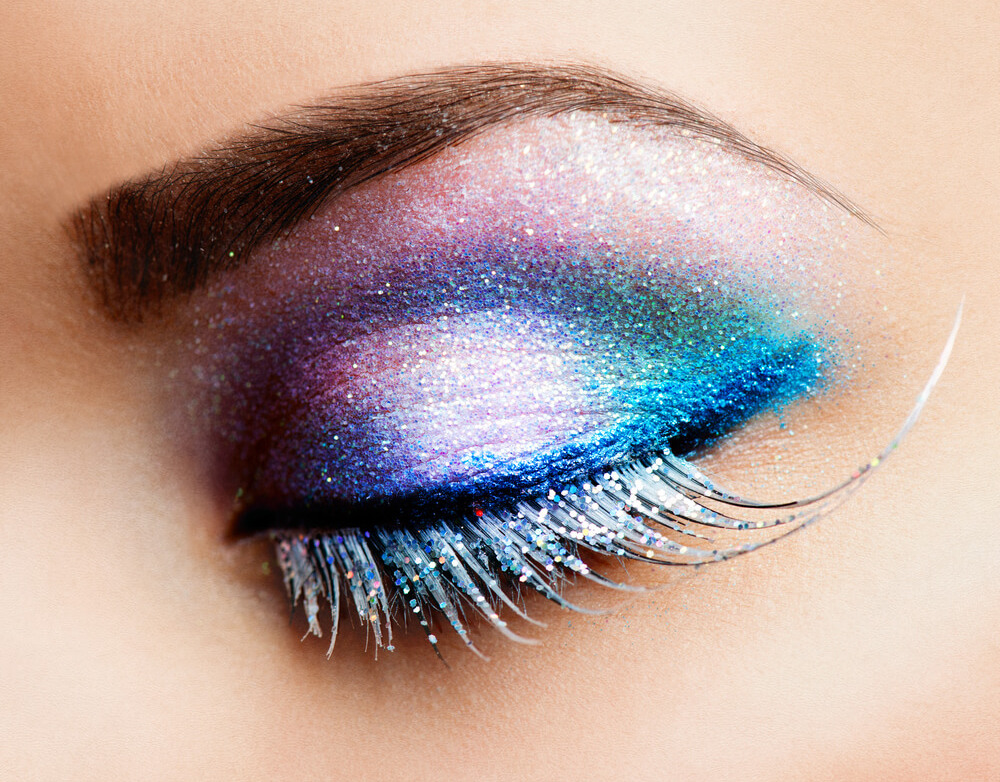 With these few hacks, you will get the perfect lashes in a jiffy:
Use liquid concealer on your lashes before using mascara to add volume
Cheaper false lashes can instantly look classy if fluffed with a spoolie
Use liquid liner to blend in the strip and the real lashes
When lash strips are cut into halves or thirds, they are easier to attach
Apply mascara while using the eyelash curler to keep them curled longer
Use powder to plump your lashes before the second coat of mascara
Use mascara on both sides of your lashes for a thicker effect
Carefully apply several lash strips for extra thickness and glam
Apply false lashes on the underside to hide the point of contact
Tips to Help your Makeup Last All Day
Applying makeup and even doing it perfectly is not enough if it is not going to last you as long as you need it. This calls on you to do a few extra things to ensure that this happens. There are numerous ways to increase the life span of your makeup. Here are several pointers.
Exfoliate your skin at least twice weekly to get rid of dead skin. This ensures that the surface of your skin is smooth enough to hold your makeup longer
Hydrate your skin using a hydrating mask and moisturize to balance out your skin. This prevents unevenness when hydration and sebum levels fluctuate during the day
Use a primer to set your skin and 'seal-in' your moisturizer. The primer contains silicone which keeps your skin oil intact and creates a seamless surface for makeup. This also prevents absorption of the makeup by the skin. For oily skin, try an oil free primer to keep your makeup from 'slipping off' and hydrating primer for dry skin. Also, use a different primer for eyelids
Opt for long-wear makeup when you need it for longer periods.
For your base, eye makeup and lipstick, opt for a few light layers instead of one thick layer to create a natural long lasting look
Seal off your makeup with translucent powder. Only use a little of it to avoid a chalky appearance and concentrate on the nose, chin and forehead where you are likely to lose makeup fast
Always use setting spray as a last step to keep your makeup intact
Avoid touching your; besides ruining your makeup, you may end up spreading germs and allergens onto your face
Resist the urge to reapply your makeup to avoid build up and eventual caking
The Bottom line
The New Year presents an opportunity for new experiences in the various aspects of your life. This should also reflect in the way you do your makeup. The above ideas are just but a few ways in which you can change up your look by trying new makeup ideas. While there are so many other ideas, these give you a place to start. Have a new year full of new looks and exciting experiences!