Christmas comes but once a year and that's all the more reason to celebrate it as many times as possible. In fact, there are 12 days of Christmas just for that purpose, and we think you should be making the most of every one of them.
That's why we bring you the twelve drinks of Christmas. With one for every night, we think you'll have plenty of reasons to be jolly! Here's to the warmth of winter. We toast to you all!
On the twelfth day of Christmas, my true love gave to me…
Twelve-Twelve Egg Eggnogs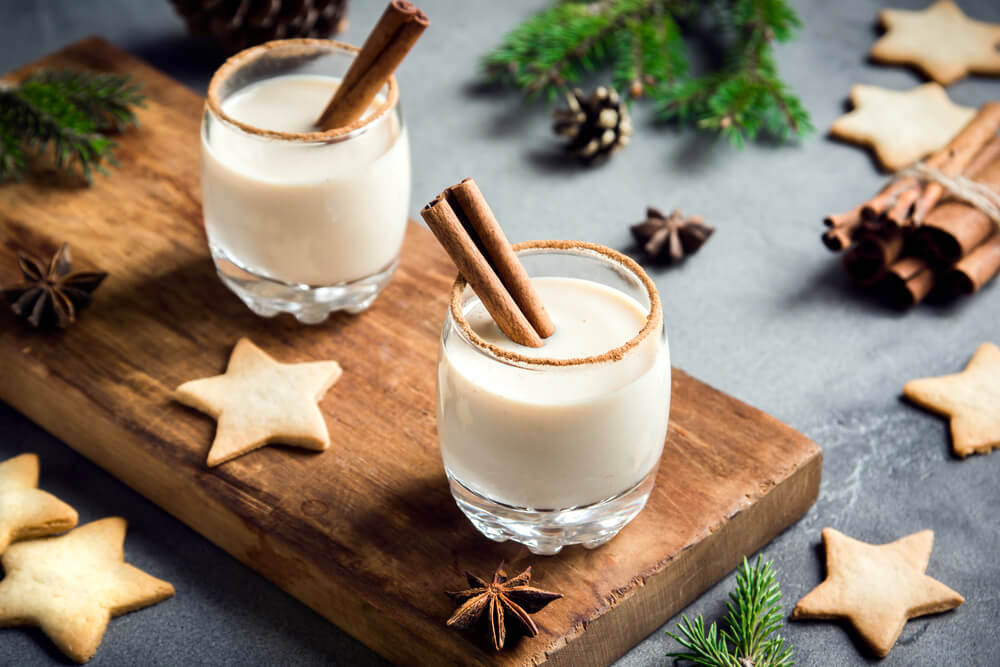 Eggnog literally means eggs inside a cup. Nog is a word derived from the old English dialect used to describe strong beer. While eggs beaten with sugar, milk, and cream are staples of the eggy concoction, there have been different spins on it to adapt to local tastes of cultures around the world. Here is a twelve-egg spin that we think is the perfect way to kick off your twelve nights of Christmas.
Ingredients:
12 eggs
¾ cup superfine sugar
1-pint cognac
½ pint dark rum
1-pint milk
½ pint heavy cream
Nutmeg
Directions:
Separate the eggs. Put the whites aside. Beat yolks while slowly adding sugar until sugar is dissolved.
Slowly add cognac while stirring, then add rum.
Stir in milk and heavy cream.
Beat whites until they are stiff; fold into mixture.
Stir in grated nutmeg and serve.
On the eleventh night of Christmas, my true love gave to me…
Eleven Pink G and Ts
International Gin and Tonic Day may be celebrated on October 19, worldwide, but we don't think that's any reason not to drink it on December 14. Here's a recipe for a pink G and T you can drink on the eleventh night of Christmas.
Ingredients:
1 ½ oz. London dry gin
Aromatic Tonic
Directions:
Fill a highball glass with ice cubes, add gin, top with tonic, garnish with lemon peel
On the tenth day of Christmas, my true love gave to me…
Ten Hot Buttered Rums (Low Maintenance, Highly Festive)
Thank you, baby. That really hits the spot. For those of you who never knew, but were too scared to ask, yes, Hot Buttered Rum really is made with butter, as opposed to peanut butter, which is not, so stock up on a stick or two if you're planning to serve this classic at your shindig.
Ingredients:
1 cup unsalted butter
1 sixteen ounce package sifted confectioner's sugar
1 pound light brown sugar, packed
! quart softened vanilla ice cream
Directions:
Cream the butter and sugar together until smooth. Add softened ice cream until creamy. Place in freezer container with tight-fitting lid. Let harden.
Place two heaping tablespoons of the mix in coffee mugs of highball glasses
Add one or two tablespoons dark rum.
Pour six ounces of boiling water over mix until it is melted.
Garnish with cinnamon and nutmeg.
On the ninth day of Christmas, my true love gave to me…
Nine Mulled Wines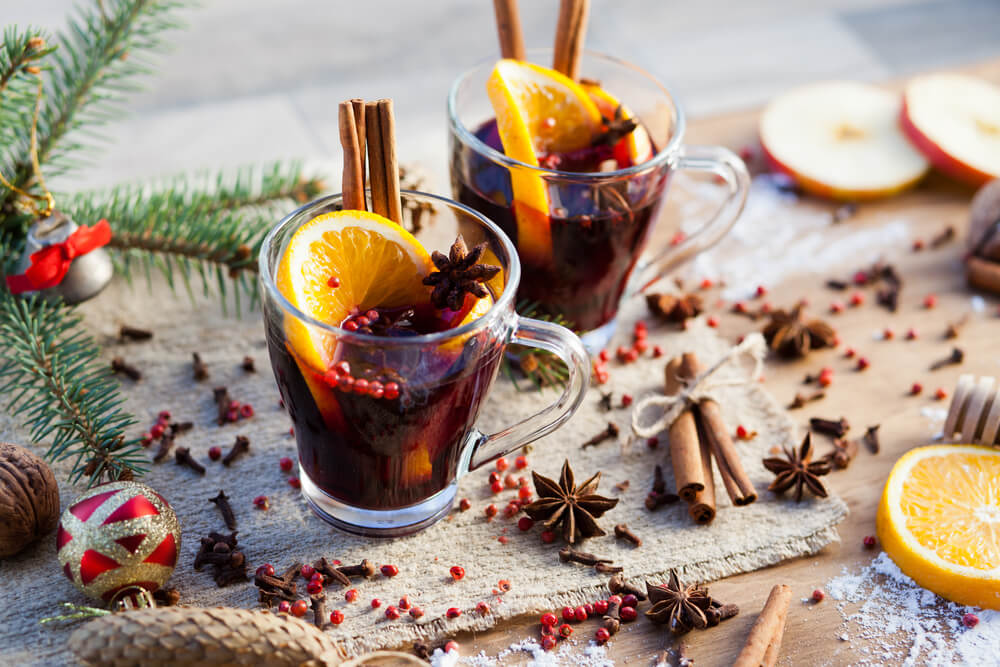 If you're mulling over what drink to make this Christmas, mull no further than mulled wine. Mulled wine was first introduced in Rome in the 2nd century by Romans who believed that drinking heated wine would defend their bodies against the cold winter. Try this recipe to see if mulled wine turns up your body heat this Christmas.
Ingredients: 
2 bottles dry red wine
½ cup sugar
2-star anise
3 whole cloves
3 cinnamon sticks
1 peeled lemon
! juiced and peeled orange
Grated nutmeg
Directions:
Bring all ingredients (except wine) to a boil. Turn down to a simmer after 45 minutes.
Add wine and turn to low heat.
Serve in glass mugs and garnish with orange peel and nutmeg
On the eighth day of Christmas, my true love poured for me…
Eight Christmas Rum Punches
When we think of Christmas, we often think of drinking hot drinks around the fireplace, but with this drink, the fireplace is not the only thing that's going to be on fire. This Christmas Rum Punch recipe requires you to light an actual fire in the punch. Proceed with caution – this may not be for the amateur but it's sure to make for one smokin' party!
Ingredients:
1 bottle rum
6 oranges
Cloves
1 ½ cup superfine sugar
½ gallon sweet apple cider
Directions:
Stud oranges with cloves and bake until soft.
Place oranges in a punch bowl, add rum and sugar. Set fire to rum. After a few minutes, begin slowly adding cider to extinguish the flames.
Stir in cinnamon and nutmeg.
On the Seventh day of Christmas, my true love poured for me…
Seven Winter Margaritas
When the snow is falling, margaritas are usually not flowing, which is all the more reason to think of your winter margarita as a Christmas miracle! It doesn't have to be summer to enjoy margaritas. Here's a winterized version that even the Grinch would be hard pressed not to like.
Ingredients:
1 oz reposado tequila
1 oz. mezcal
1 oz lime juice
¾ oz. simple syrup
1 egg white
Directions:
Combine ingredients
Shake once without ice
Shake again with ice
Strain into glasses and top off with salted rims.
On the sixth day of Christmas, my true love poured for me…
Six Champagne Cocktails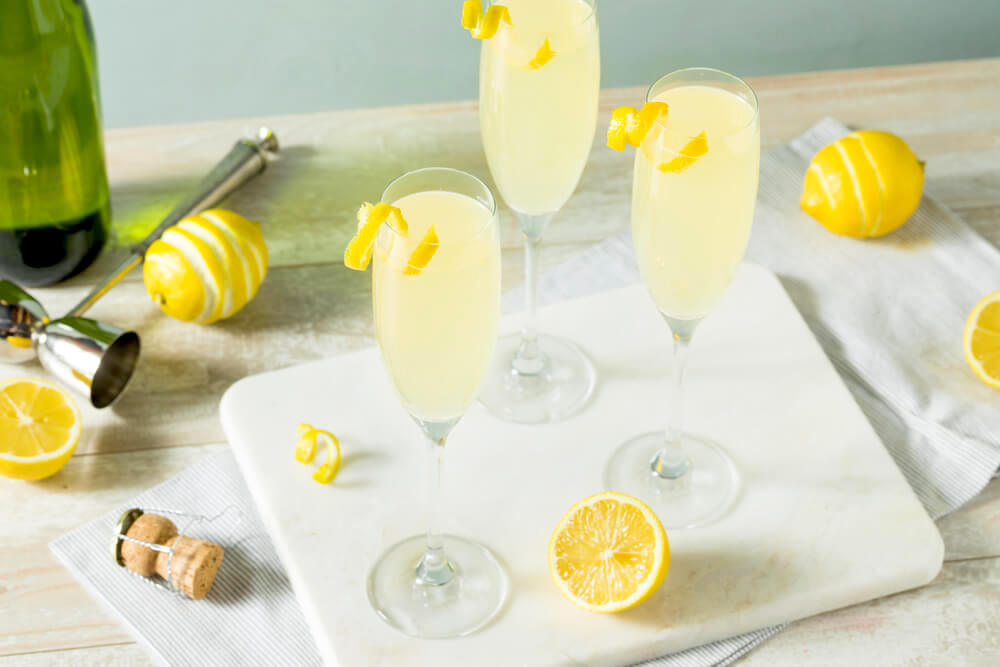 After all those hot buttered rums and glasses of eggnog, you may be looking for something a little lighter to toast your sixth day of Christmas. How about a bit of the bubbly? Not only is champagne celebratory, at 90 calories a glass, it's also very slimming. Plus, the long-fluted glasses can be a very slenderizing accessory, and who doesn't look great holding a glass of champagne?
Ingredients:
1 sugar cube
2-3 dashes bitters
Brut champagne
Directions: 
Place a sugar cube in a chilled champagne flute.
Squeeze a lemon twist on top and serve.
On the fifth day of Christmas, my true love gave to me…
Five Grand Royals
If you think your champagne flute could use some legs to stand on, add some gin and make it a Grand Royal.  In this fruity blend, notes of gin are cut by citrus flavors and rounded out with sugar. The cherry liqueur and cream add a velvety richness that pops when the champagne bubbles.
Ingredients: 
2 oz. orange juice
1 oz. lemon juice
1 tsp. sugar
2 oz. gin
½ teaspoon Maraschino liqueur
2 tsp. heavy cream or half and half seltzer water
Directions:
Shake all ingredients together except for water, add ice and strain into a highball glass
Top with seltzer water and garnish with maraschino cherries.
On the fourth day of Christmas, my true love poured for me….
Four Hot Cinnamon Brandy Apple Ciders
We can thank Mexico for the Margaritas, the Brits for the Eggnog, and the French for the champagne, but nothing says Christmas in America quite like hot apple pie and hot apple cider. This spicy cider is spiked with just enough brandy to bring the right amount of warmth to this already hot beverage. With nutmeg, ginger, and cinnamon, this drink may just turn out to be the apple of your eye this Christmas.
Ingredients: 
5 cups fresh apple cider
½  cup apple brandy
1 whole clove
1 (3 inch) cinnamon stick
1 ( ½ inch thick) orange slice
1 ( ½ inch thick) lemon slice
6 (3 inch) cinnamon sticks
¾ teaspoon ground ginger
Directions: 
Combine cider, clove, orange and lemon slice in medium saucepan and bring to a boil.
Cover and let simmer on low heat for 30 minutes
Strain cider into a bowl
Stir in brandy
Serve warm
Garnish each serving with cinnamon stick.
On the third day of Christmas, my true love poured for me…
Three Rudolph-Tinis
Don't show this one to the kids. This drink may look like Rudolph, but if it really was, he'd be a bit too tipsy to steer. In the case of the Rudolph-Tini, cinnamon sticks are used for antlers and a cherry is poised at the edge of the glass for the reindeer nose, but there's nothing childlike about what's inside this Christmas treat. Hang on Santa! With this reindeer at the helm, you just might be in for a crash landing.
Ingredients:
2 fluid ounces vodka
1 fluid ounce hazelnut liqueur
1 fluid ounce coconut flavored rum
1 fluid ounce half and half cream
2 (4 inch) cinnamon sticks
1 maraschino cherry
Directions:
Pour the rum, vodka, hazelnut liqueur and half and half into a cocktail shaker with ice
Cover and shake until the outside of the shaker looks frosted.
Strain into chilled martini glass.
Garnish with cinnamon sticks to look like antlers and cherry on the edge of the glass to look like a nose.
On the second day of Christmas, my true love poured for me…
Two Kahlua Hot Chocolates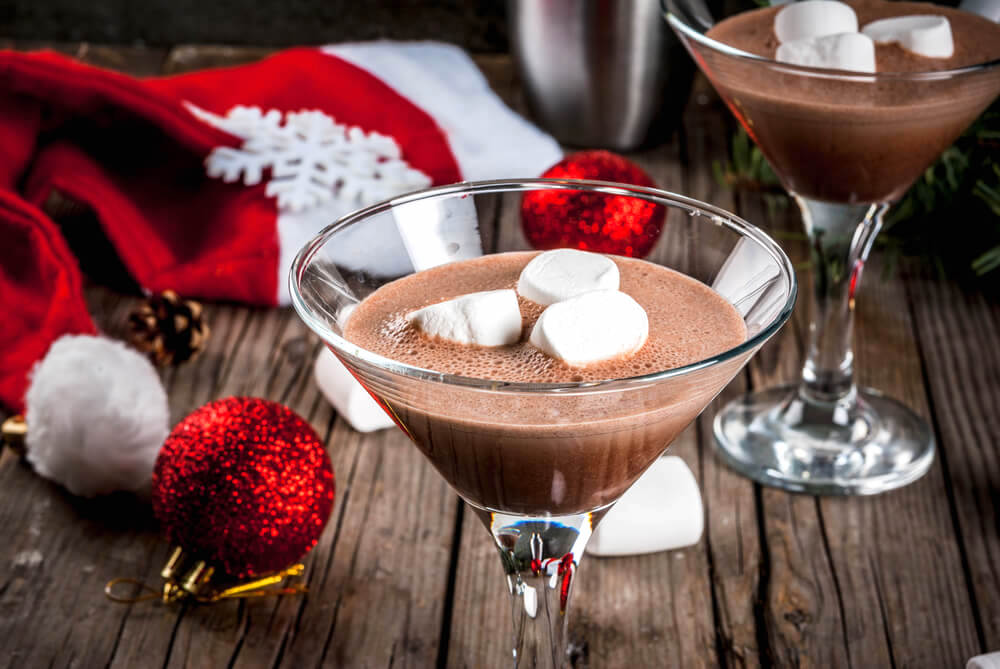 When Christmas is upon us, so too are the Starbucks Christmas drinks, but with the early start to the season, you may have already had enough espresso-spiked Toasted White Chocolates to keep you wired until New Year's Eve. How about a coffee flavored drink with a little different sort of kick to it? You don't have to have the skills of a barista or a bartender to make Kahlua Hot Chocolate. In fact, you can even use an instant hot chocolate mix! Here's our simple recipe for one of the coolest coffee drinks this side of Starbucks.
Ingredients:
2 cups milk
2 tablespoons sugar
1 ½ tablespoon Dutch-processed unsweetened cocoa powder
2 cups milk
¼ teaspoon cinnamon
1 oz. Kahlua coffee liqueur
Pinch of nutmeg
Salted caramel
Mini Marshmallows
Chocolate Syrup
Directions: 
Combine cocoa powder, milk, sugar, cinnamon, and nutmeg over medium heat for about two to three minutes or until heated through.
Stir in Kahlua.
Serve while hot, garnish with salted caramel, mini marshmallows, and chocolate syrup.
Yum!
On the first day of Christmas, my true love poured for me…
Are you ready for it?
One Holiday Punch Bowl
Be prepared, because we really saved the best for last here. This one may take a bit more effort, but we think it's more than worth it.
Ingredients:
1 cup sugar
4 lemons
1 cup lemon juice
4 tea bags
1 ½ cup dark rum
2 ½ cups cognac
Fresh nutmeg
Directions: 
The night before (while you're still relatively sober, we hope) place a 2quart bowl of water in the freezer.
Use a vegetable peeler to skin the lemons, leaving off the white pith, and put the peels in a heatproof bowl.
Add sugar to the peels and mash together using a muddler.
Bring a quart of water to a boil. Remove from heat and add tea bags.
Let tea bags steep for 5 minutes, and then pour the tea onto the sugar and peels.
Add lemon juice.
Add cognac and rum.
Stir well and let cool in the fridge for about an hour.
Pour the punch into a punch bowl, add your block of ice from the night before, and grate fresh nutmeg over the top.
And on the day after Christmas, my true love gave to me…
A big hangover (LOL). 
Please note, that while it is our intention to keep your holidays festive, it is not our intention to harm your health or hamper your decision making. We trust you to know your limits and drink responsibly. Have a happy, healthy and safe Christmas and New Year.