Natural products for skincare are becoming more and more popular and there definitely are some universal products, being super-useful for just anything from health in general, to skin care and beauty tips in particular. One of them is pomegranate, which has been a real ancient wonder since unmemorable times. This wonderful key to freshness is an irreplaceable tool for you to acquire glowy skin, healthy nails, and hair and for feeling good in general. It's namely due to the antioxidants it contains, that are the best protectors for your healthy looks. Also this product is popular with its hydrating functions, which is secured with the 82% of water involved here. Vitamin C is the next natural advantage pomegranate has, with the help of which your skin will be tight and nicely toned, too. Thus, you can include its seeds into your daily diet and enjoy the youthful looks all day long. So here, we also have three DIY pomegranate beauty recipes for helping you to use the maximum good qualities of this wonderful natural product.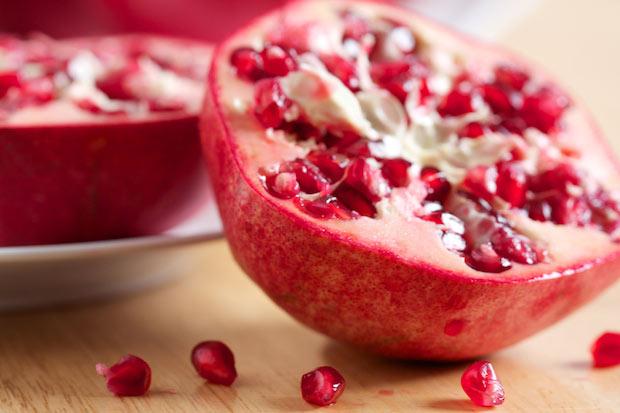 The Cutie-Pie Looks Start Here: Amazingly Refreshing Pomegranate Recipe
What you need to have for this recipe, is:
1 Haas avocado
1/2 small minced shallot
1–2 again minced jalapenos
1/2 cup red grapes necessary to be cut into quarters
1/3 cup cubed mango
1/4 cup pomegranate seeds
1 tbsp. chopped cilantro
1 juiced lime
Salt and pepper to taste
Preparation: First of all you need to peel off the avocado and to mash it. You can do that with a fork. All that you need to do next is mixing the rest of ingredients and serve with some veggies to have a healthy and cool snack. The results won't be disappointing for sure!
Here Comes Another Delicacy: Barley and Wild Rice Pilaf with Pomegranate Seeds
For preparing this awesome dish, you need:
2 tsp olive oil
1 medium finely chopped onion
1/2 cup rinsed wild rice
1/2 cup pearl barley
3 cups reduced-sodium chicken (vegetable broth will also do)
1/3 cup pine nuts
1 cup pomegranate seeds
2 tsp lemon zest
2 tbsps. chopped flat-leaf parsley
Preparation: First of all you need to heat the saucepan on medium heat. Then add the onion and cook until it gets softer. Add the rice and barley and sauté all for just a few seconds. Add the broth and get it to boiling. Next, you need to reduce the heat and let all the ingredients simmer until getting softer. This will take for almost 40-45 minutes. Use the time of simmering to toast the pine nuts in a dry skillet over medium-low heat until they become golden and fragrant, which will last for about 2–3 minutes. Later, combine toasted pine nuts, pomegranate seeds, lemon zest, and parsley and add all that to the rice and barley and mix with a fork. Healthy and yummy!
A readymade Antioxidant Salad: Pomegranate with Spinach
For this awesome salad, you need:
4 slices bacon
4 cups baby spinach
1 tart apple, which you need to cut into small bites
1/3 cup pomegranate seeds
1/3 cup toasted walnuts
2 oz. bleu cheese
For the dressing:
3 tbsps. olive oil
2 tbsps. red-wine vinegar
2 tbsps. pomegranate juice
1/2 tsp honey
1/2 tsp Dijon mustard
Salt and pepper to taste
Preparation: First, brown the bacon and cut into small pieces. Next, mix it with the baby spinach, apple, pomegranate seeds, walnuts, and bleu cheese using a large bowl. Whip together all of the ingredients for dressing and pour them over the salad, stirring to coat. And here you go with the efficient and tasty salad!
So here were the most useful recipes for your healthy and cute looks. What you should always remember is that the beauty and the glow come from the inside and in order to have them, you need to secure the healthy condition of your body and your organism. So one of the best ways to do that is combining pleasure with usefulness including pomegranate into your diet and enjoying the delicious dishes having it in, too!
See also: Tasty Foods To Eat With Rice