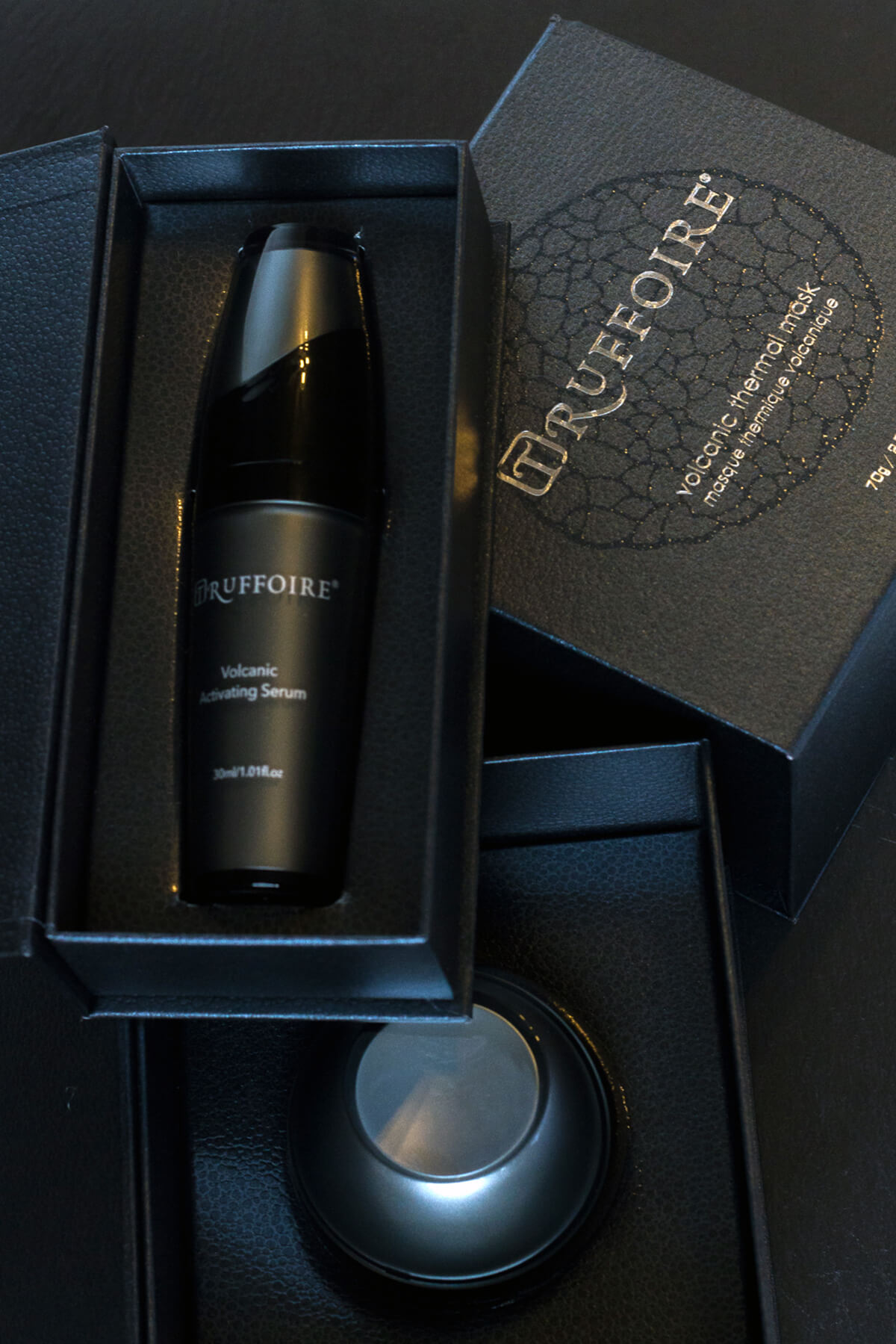 Review by Marissa Carabin 
I don't know about you, but I'm ALWAYS in the market for decadent skincare that works. I tire of seeing the same ingredients combined in the same formats to create the same old marketing gimmicks. It can be challenging to find unique products that transform your skin. 
Truffoire is a luxury skincare brand for the refined skin palette. 
I was so excited to find Truffoire's "Volcanic" line. It is made up of three different products – the Volcanic Activating Serum, Volcanic Thermal Mask, and Volcanic Perfecting Cream. I liked using all three products during the same routine, but you can mix and match them with other Truffoire lines to create your dream team. 
First Impressions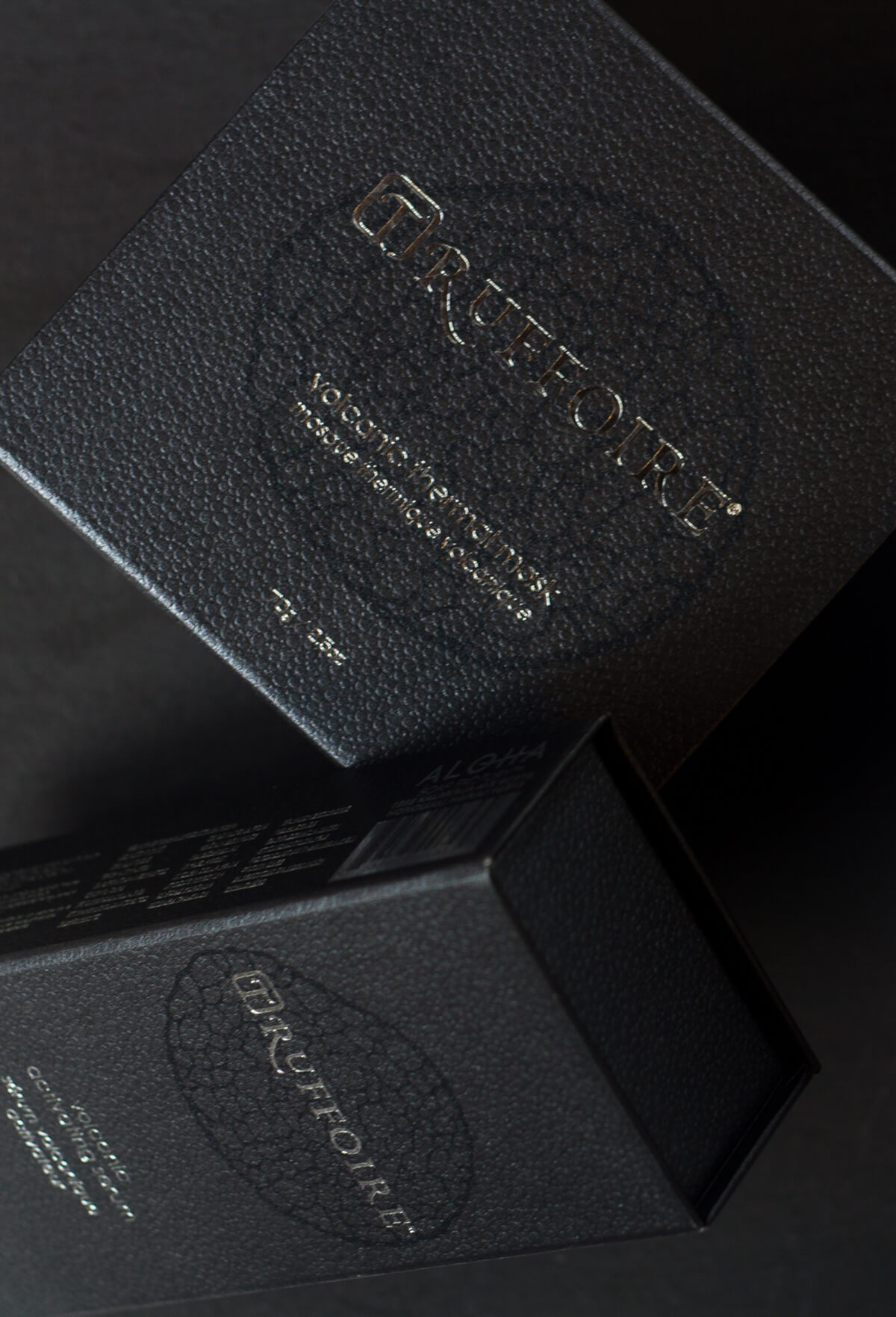 Upon arrival, I instantly fell in love with Truffoire's packaging. I know they say you shouldn't judge a book by its cover, but let's face it, a gorgeous cover sure does help. Each product comes in a sturdy gift-ready box adorned with silver lettering laid over a textured, matte finish box. You'll find the product carefully nestled inside the box for safe transportation. The jars (cream and mask) and bottle (serum) are quite heavy, which means they'll be durable. I also appreciated the applicator that came with the Thermal Mask so that my hands won't get dirty and the mask won't become contaminated by bacteria. 
One side of the box has a lot of safety information such as shelf life, where the product is manufactured, the company's location, and other details. The bottom of each box tells you more about the product itself. You'll be able to read a short description of the product, how to use it, and…
My favorite part…
The ingredient listing!
I'll make sure to give you all a rundown of some of the ingredients in each product. It's vital to make informed decisions about what you put into your skin, so I want to make sure you feel empowered to make the best choices. 
What Is Volcanic Water? Wait – Truffles? Why Am I Putting This On My Skin?!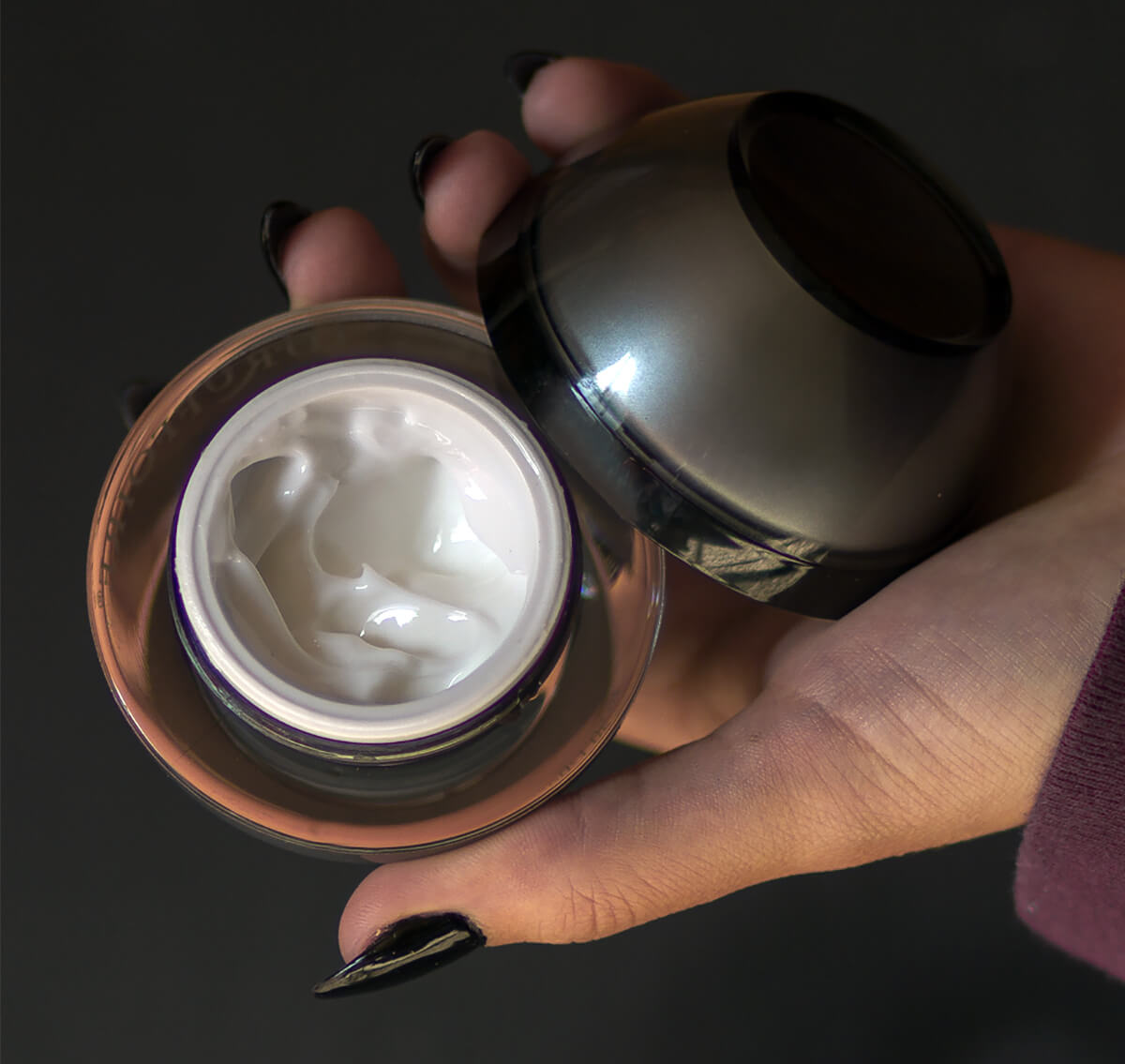 If Volcanic Water sounds a little intense to you, rest assured that it's actually an awe-inspiring take on the cosmetic industry's most commonly used ingredient. Volcanic Water contains silica which is well known for increasing skin elasticity. If your skin is lacking in youthful bounce and seems to be sagging, a boost in elasticity can help rectify that youth-stealing issue. Volcanic Water is also sometimes used as a facial mist to aid in balancing skin pH-levels. Ensuring that your skin's pH levels are balanced is essential for a healthy moisture barrier! 
Of course, we couldn't discuss Truffoire without getting to the topic of TRUFFLES! Truffles have been used in the culinary arts as a delicacy for centuries. Truffoire is bringing this powerful ingredient to the world of skincare. Truffles contain a heaping load of naturally beneficial essential fatty acids, vitamins, and ceramides that work together to give you a bright, fresh, healthy-looking complexion.
Volcanic Thermal Mask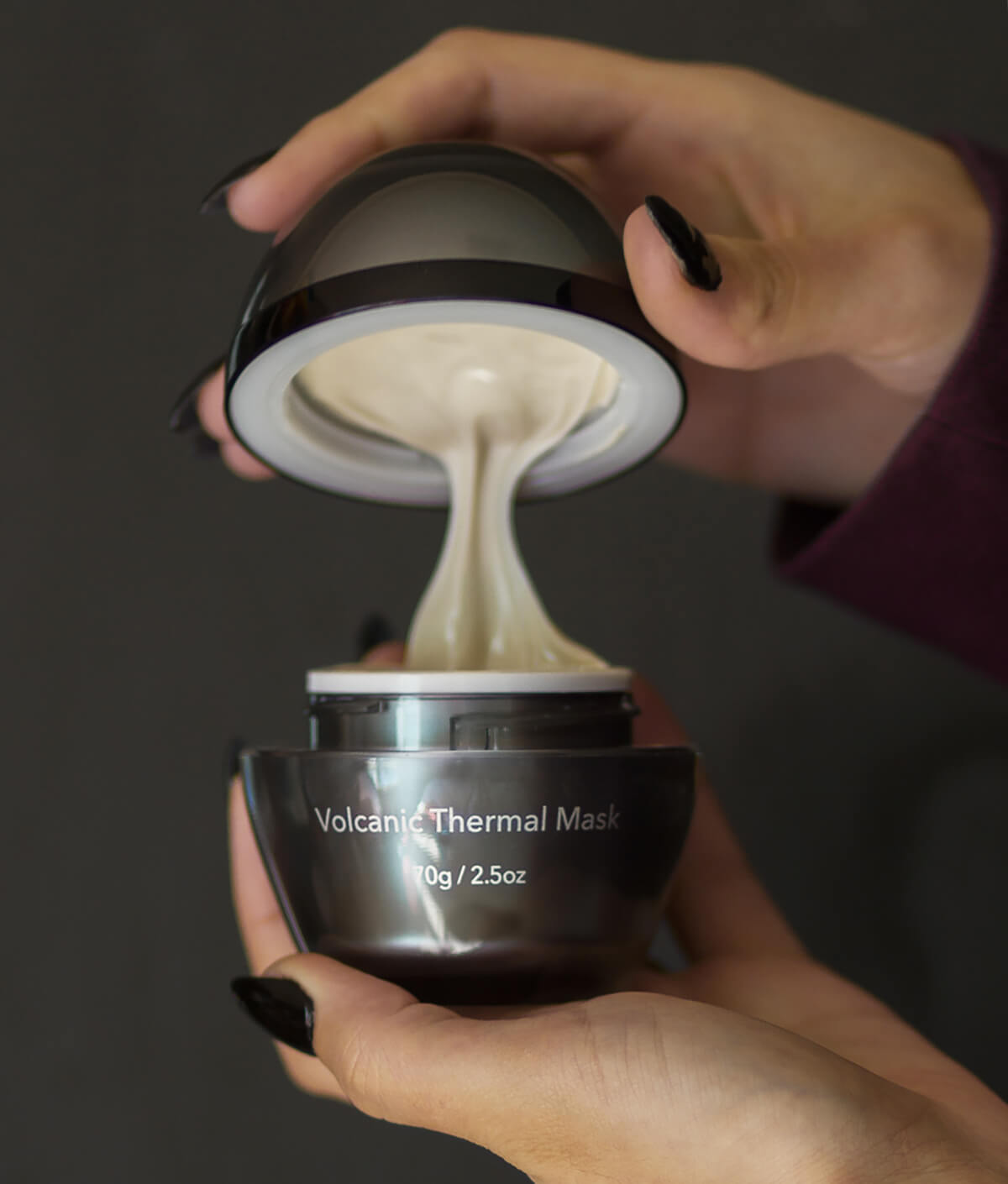 After adequately cleansing skin, you can follow up with a face mask for extra pampering. While most people instantly equate face mask to moisturizing, there are also some gentle cleansing masks available. A good mask cleanser effectively draws out impurities to leave your pores feeling squeaky clean and ready to absorb your serums and moisturizers. 
Truffoire's Volcanic Thermal Mask has a pretty…hot…asset that you won't find frequently. When applying the mask, it has a warming effect that can stimulate blood flow for increased skin healing values. The first time I used it, it was nice to lie back in the bathtub and enjoy the soothing warmth. On my second try, I decided to amp up the heat a little by massaging some of the Volcanic Activating Serum (review below) on top of the mask. The relaxing facial massage combined with the increasing heat intensity was a blissful experience that I recommend on especially stressful days! 
The mask easily washes away with cool water. I, personally, use this mask twice a week. Despite the warming sensation, the mask didn't cause any irritation and could probably be used a little more frequently. I feel like this mask would be great for couples that like to set up at-home spa days!
While the main superstar ingredients are Volcanic Water and Black Truffles, here are a few more ingredients you'll want to notice:
Kaolin Clay

Arnica Montana Flower Extract

Coffee Arabica Seed Extract

Kaolin Clay
This very fine clay gives skin a light buff and polish without drying out the pores (unlike its popular competitor – Bentonite Clay). By pulling excess oil from the skin, it will balance sebum production and may reduce the chances of acne development.
Arnica Montana Flower Extract
This anti-inflammatory ingredient is suitable for dry, sensitive, and damaged skin. It's incredibly moisturizing and can help calm irritated and flaking skin. It is also said that this extract can increase blood circulation, so combining it into the Volcanic Thermal Mask formula means a boost in collagen and elastin production.
Coffee Arabica Seed Extract
Derived from coffee beans, this source of caffeine is shockingly GOOD for your complexion. It can diminish dark undereye circles and plump up the skin so that you can shed away the years. As an anti-oxidant, it also creates a shield to help your skin against damage from the environment. 
Volcanic Activating Serum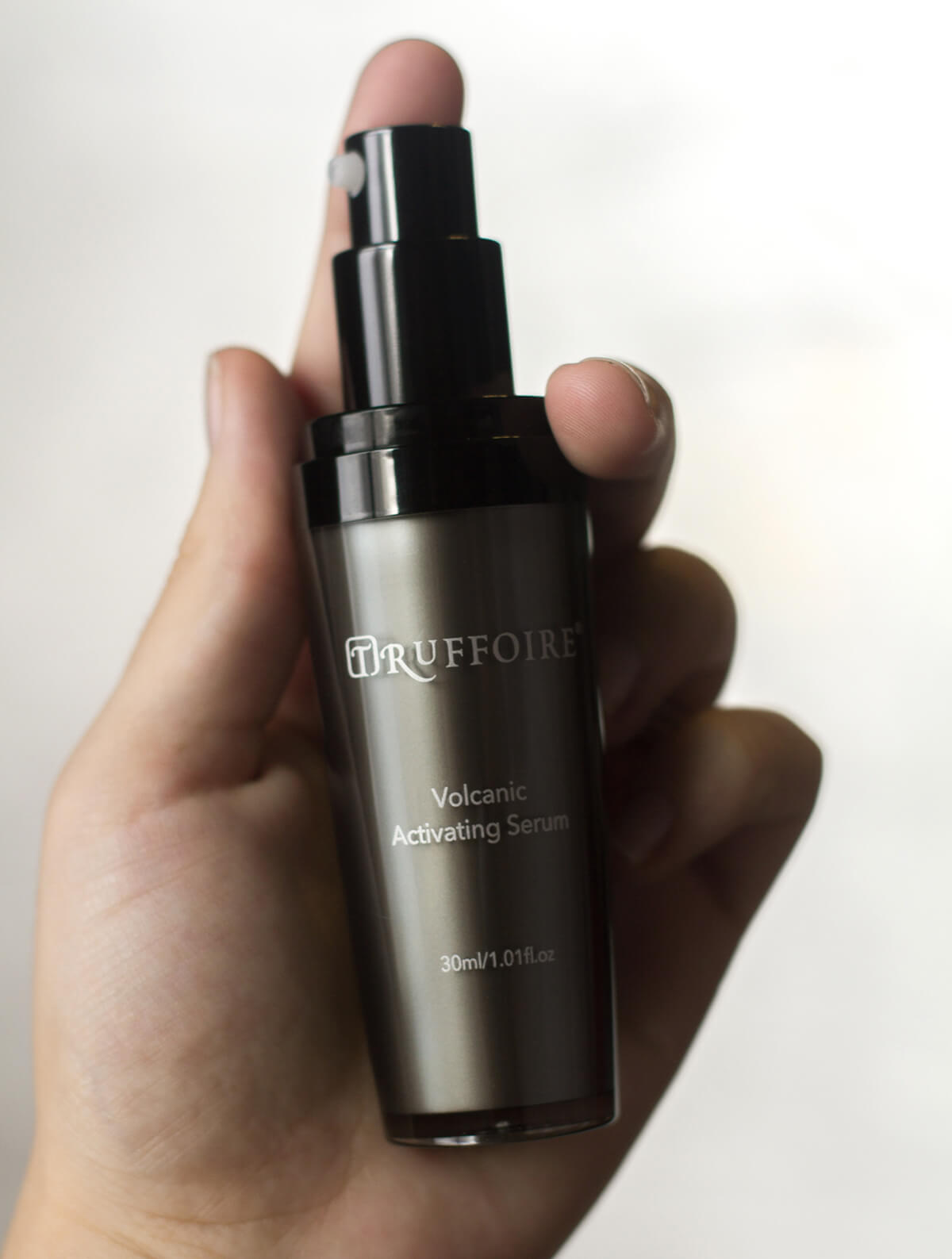 Serums are probably my favorite part of a skincare routine. They're such a potent source of skin-loving vitamins that carry amazing anti-aging benefits. Many serums can be a bit bland and only have a couple of useful ingredients, but Truffoire made their Volcanic Activating Serum into a powerhouse problem-solving experience.  
The bottle pump dispenses a pea-sized amount of serum that is the ideal amount for targeting areas like your undereye. If you want a full-face treatment, you'll need about three pumps. The serum itself seems a little bit thick at first, but it quickly smooths into your skin and disappears without a trace of sticky residue. It has a light fragrance that reminds me of soft florals and bamboo.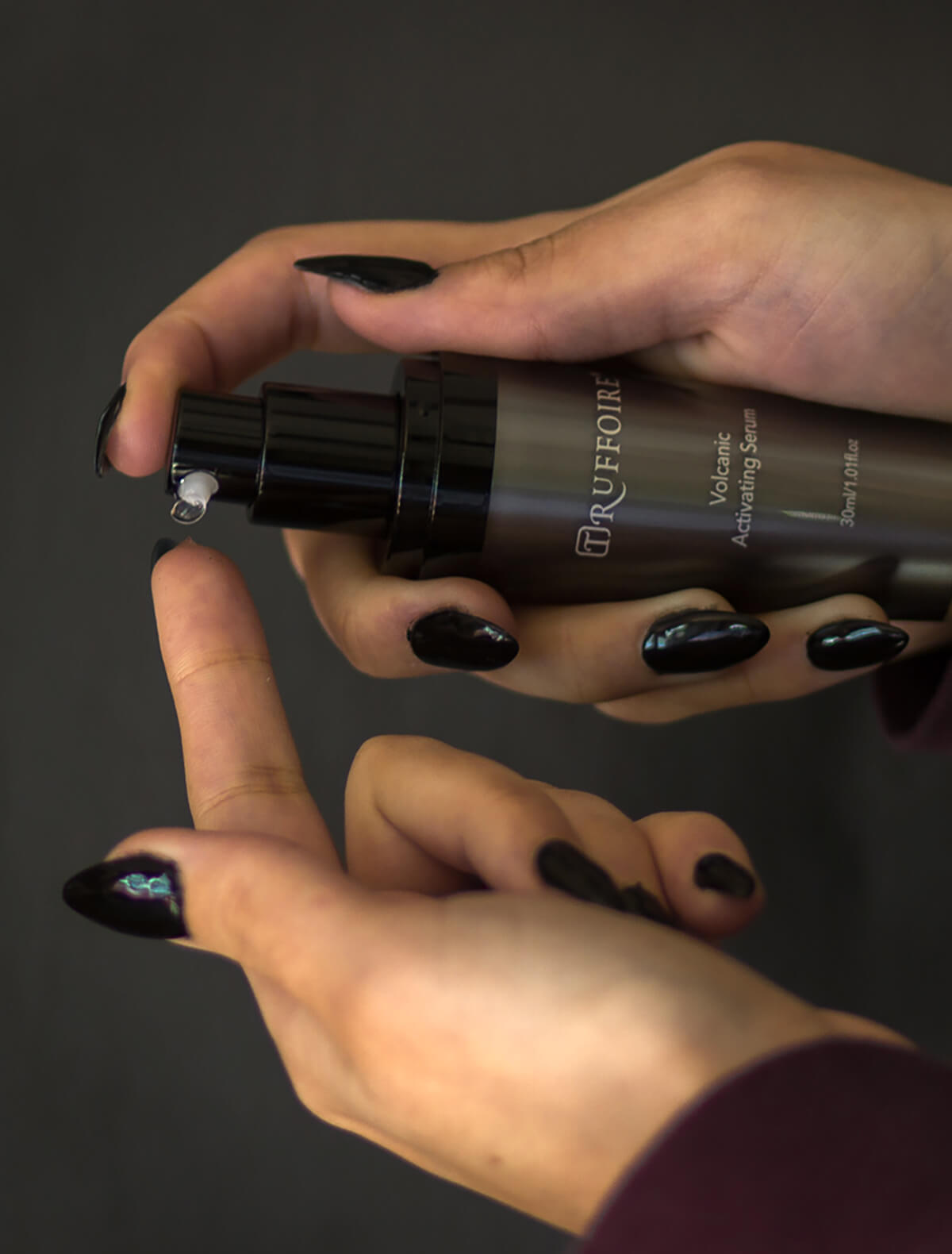 The bottle contains a little over 1oz of serum. I suspect that since I'm mainly using this to target the areas where I have fine lines developing, it'll take me 3-4 months to use the entire bottle! Not having to continually repurchase my skincare staples put this serum into a winning category for me. 
Here are the ingredients that you'll love the most:
Ceramide-2

Soluble Collagen

Camellia Sinensis Leaf Extract

Laminaria Japonica
Ceramide-2
Ceramides are an essential ingredient for protecting your skin's moisture barrier. If you find your skin in a constant state of dryness despite all the creams and serums you use, you need to strongly consider the addition of ceramides. This ingredient is known as a lipid and it holds tight onto moisture to prevent evaporation. It also creates a protective layer on the skin to stop environmental damage from occurring. While your body does naturally produce its own source of ceramides, aging does slow this process. 
Soluble Collagen
You've probably heard of collagen in reference to skin. Collagen is your first line of defense against the appearance of wrinkles and fine lines. Infusing a potent dose of collagen into your skin will increase elasticity which prevents signs of premature aging. This is ideal for areas on your face, such as underneath eyes and around your mouth. 
Camellia Sinensis Leaf Extract
Also known as Green Tea Leaf Extract, you'll find that this extract does a great job at reducing irritation. It's skin conditioning, as well as a proven antioxidant. You'll find that it can help even out skin tones while reversing the damage of harmful UV-rays. 
Laminaria Japonica
Think of this ingredient as your very own soothing seaweed wrap. Laminaria Japonica is a natural moisturizer made from a type of Japanese seaweed. It may reduce facial redness caused by inflammation and can also help your skin have a youthful suppleness.
Volcanic Perfecting Cream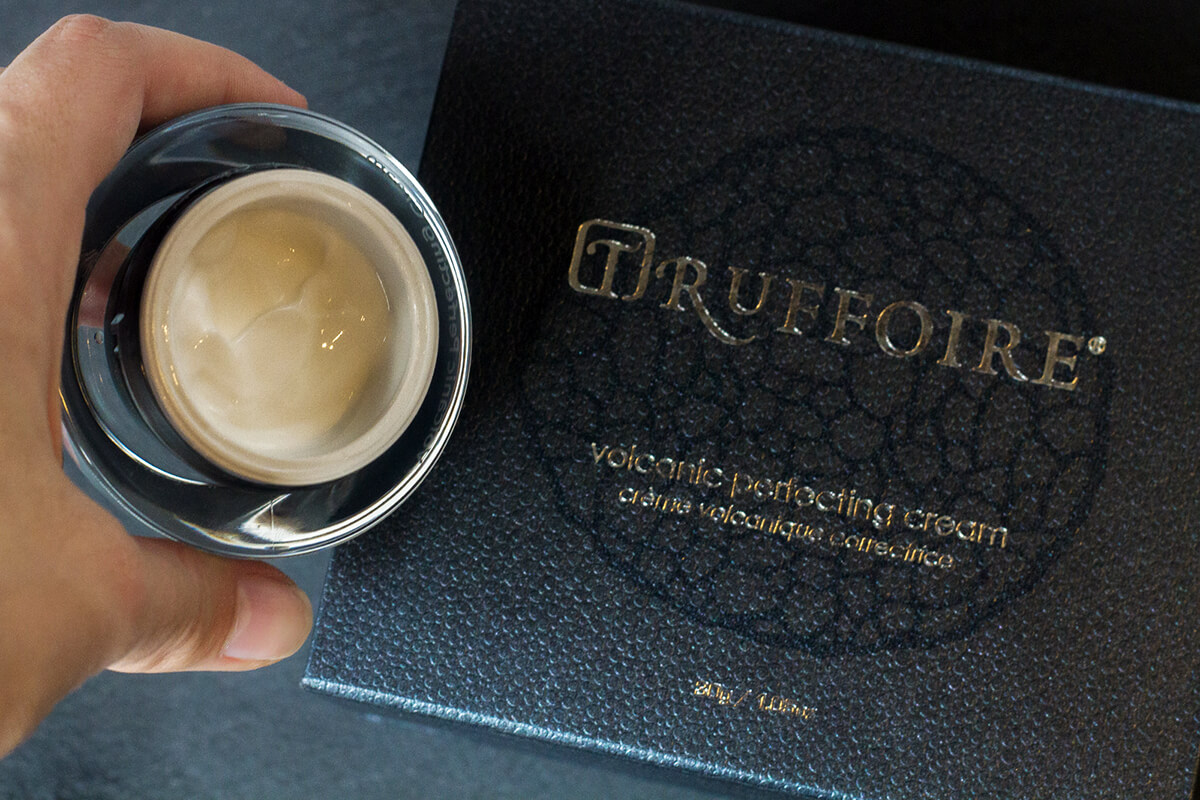 I have a critical requirement of a cream – it needs to be a moisturizing cream that does NOT make me feel oily. That may seem pretty straightforward, but there are plenty of ways to do this wrong and only a few ways to do it right. 
When I say moisturize, I don't mean…
Slather me in oil
Make it impossible to wear makeup afterward
Keep my skin hydrated for 10 minutes and then dry off
Thank goodness that Truffoire understands face cream.
Calling their cream "Perfecting" suits their formulation, well, perfectly.  In the jar, it's a nice milky white and has a lovely feminine aroma. It is a buttery smooth thickness and the texture thins out delicately over the skin for rapid absorption. It made my face feel so soft that it was somewhat difficult to stop stroking my face in sheer admiration of the difference! Due to the fact that it does thin out upon application, it doesn't take much cream to cover your entire face (yes – another win for this product lasting longer than just a week or two). 
I also noticed that this cream works well under makeup. I switch between two different foundations depending on the type of look I'm going for. I either go for a full-coverage matte formula for glam days OR a sheer dewy foundation for casual outings. The problem with full-coverage matte foundations is that they're typically VERY drying. Wearing the Volcanic Perfecting Cream under my foundation helped to prevent my face from feeling dry and stopped my makeup from instantly creasing. Used under my sheer foundation, it gave my complexion a sweet boost in glow. It's an excellent moisturizer for dry skin types.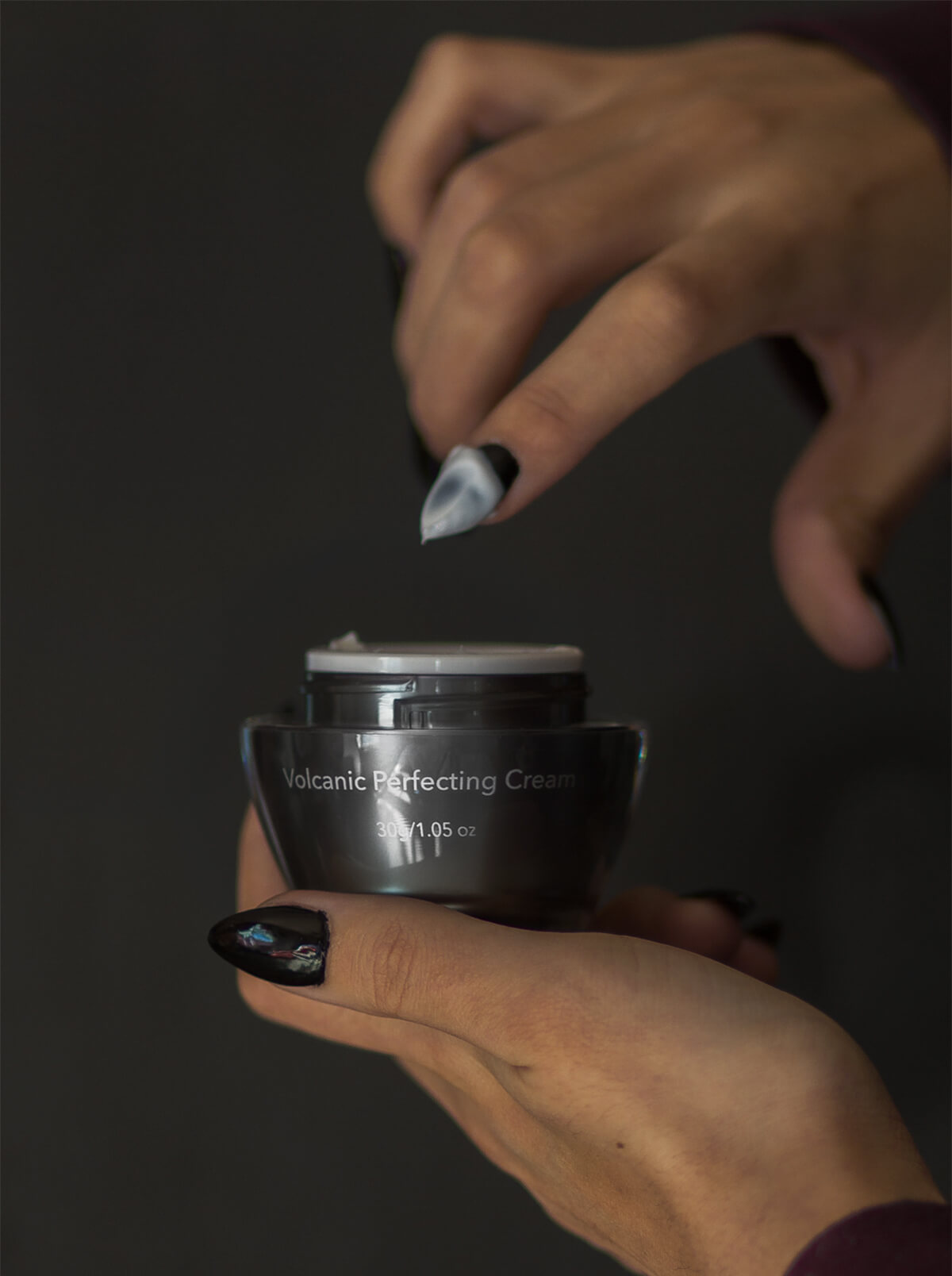 In addition to the Volcanic Water, I also found these ingredients in the listing:
Safflower Seed Oil

Retinyl Palmitate

Calendula Officinalis Flower Extract

Lactic Acid

Sodium Hyaluronate
Safflower Seed Oil
I love this emollient oil because it's nourishing and safe for acne-prone skin. Since it's a non-comedogenic oil and has anti-inflammatory properties, it can aid in clearing up blemishes while moisturizing dry skin. 
Retinyl Palmitate
This ingredient is a very mild form of Retinol (Vitamin A) that is suitable for sensitive skin. When used in conjunction with sunscreen, you'll find that your skin has a great defense against harmful UV-rays that cause wrinkles, fine lines, dark spots, and dryness. Retinyl Palmitate can also stimulate collagen production and cell turnover rate for a healthier complexion. 
Calendula Officinalis Flower Extract
Dry and irritated skin will benefit from Marigold extract. It soothes irritation by conditioning the skin and eliminating irritating bacteria. Marigold Extract also has a natural fragrance that aids in crafting a delightful aroma!
Lactic Acid
While it may seem odd to have an exfoliating acid in a cream, it's a revolutionary advancement. Lactic acid is a gentle AHA (Alpha Hydroxy Acid) that dissolves the bonds that keeps dead skin attached to your face. You'll gain smoother skin and fade dark spots over time. Lactic Acid provides an excellent solution for skin types that cannot handle intense peeling treatments from medspas. 
Sodium Hyaluronate
Sodium Hyaluronate is a form of Hyaluronic Acid – the famous skin hydrator that can carry up to 1000x its weight in water. The way that it differs is that Sodium Hyaluronate is comprised of much smaller molecules that allow deeper skin penetration. This results in better hydration delivery for bouncy skin that defies time. 
Final Thoughts
Truffoire is the sexy skincare brand that you're going to fall in love with. From packaging and formulation to ease-of-use and results, Truffoire is the next step in skincare evolution.  I had never thought to seek out such an opulent idea as truffle-infused skincare, so I'm thrilled to know that Truffoire has done all the research and development necessary to provide this complexion asset. I'm now a committed fan of their Volcanic product line, but I'm definitely going to be exploring their full range of offerings. Whether you're shopping for yourself, a friend, or your favorite chef, Truffoire is a must-have skincare brand to satisfy your illustrious tastes.