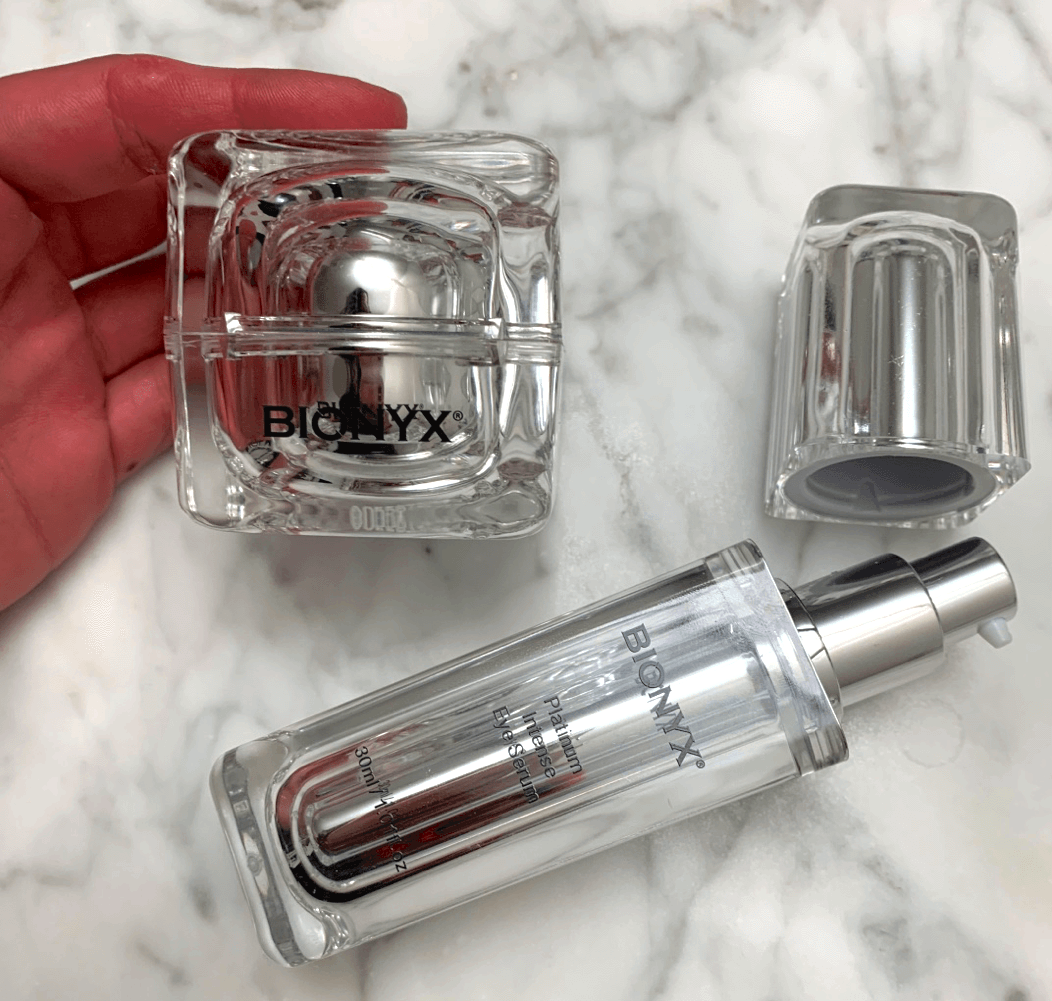 When you take your skincare as seriously as I do, you're always on the hunt for the best of the best products. As someone who makes skin care a priority I love trying new products, especially anti-aging products.The older I get, the more eager I am to find products that truly yield results to my skin. I've grown to appreciate high -nd skin care products for the same reason. I can face the fact that I'm not getting any younger and our skin is the largest organ in our body – it needs as much care as possible!
In an effort to maintain a healthy and productive skin care routine I've found some of the best results have come from treatment and area-specific products. Of course, cleansing and moisturizing are important to every skin care routine, but as I get older and my skin has different needs I've definitely noticed that I need some of those 'extras' in my routine. The truth is as we get older our skin has different needs, it really isn't enough to only cleanse and moisturize your skin. As I've grown to realize this my skin's overall health and appearance has improved drastically which is why I've made it such a big focus.
Face masks have been one of my favorite trends in the beauty industry for the past couple of years. I can admit I've tried a TON of face masks since they've become so popular. As with any skin care products some masks have provided results and some haven't. Regardless I love the fact that face masks offer a way to get an instant refresh to your skin. Instant gratification is incredibly satisfying, especially with skin! I know I'm not the only one who feels that way. When I tell you I've tried a lot of different face masks, I'm really not kidding. At any given time I can look through my cabinets and find 5-10 different masks. You may say I'm slightly addicted. I just love them!
Recently, I had an opportunity to try the BIONYX platinum facial & eye mask routine. To be transparent with you I wasn't sure what to expect. I use face masks often and I've found that most product similar results. Generally, my skin gets a nice boost of moisture when I use a sheet or gel mask. I'm all about added moisture for my skin, especially during the winter months but honestly I haven't used a mask and was WOW'ed immediately.
But as a skin care junkie, I try to keep an open mind any time I try something new. My skin was struggling a bit prior to the first mask use. It's the middle of winter in Chicago which means the weather is wreaking havoc on my skin. Not to mention I've been under a lot of stress (who isn't though?). That combination was enough to get me excited to try a new mask! That being said, the first time I used one of the platinum masks from BIONYX I was stunned. No really – I was speechless. I can honestly say that I've never experienced results the way I did with these masks.
The BIONYX Facial & Eye Mask Routine
The BIONYX platinum mask routine comes in a box of 14 facial masks and 12 eye masks. They're all individually wrapped, as most gel masks are. The masks have been formulated with collagen, hyaluronic acid, colloidal platinum, and lavender oil – just to name a few of the powerful ingredients. The directions on the packaging suggests to cleanse your skin thoroughly, prior to applying the mask, and to massage the mask for a few minutes upon application. As someone who uses face masks often, I always make it a point to follow directions provided to get the full experience with the product.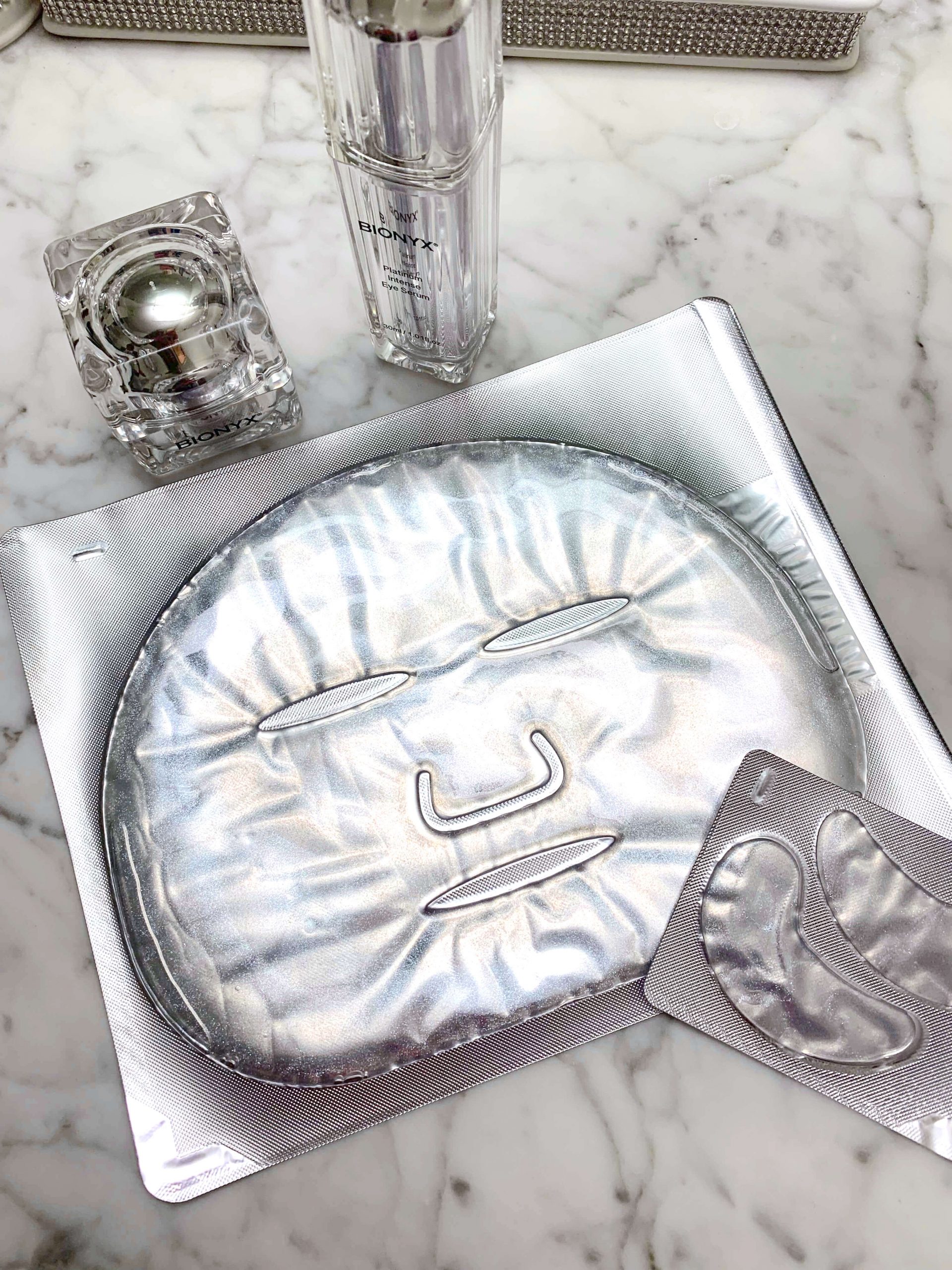 While I was applying the mask for the first time I was impressed at how easily it stayed on the skin. If you've tried gel masks in the past you know as well as I do that they tend to slide around the skin quite a bit. I found massaging the mask for a few minutes was a crucial step to the mask application, I think it really helped keep the mask in place and help work the ingredients into the skin.
The great news about this mask, and what I love about masks in general, is you only need to relax with it on for 15 minutes. Now, I personally didn't find I had a lot of residue leftover on my skin after the 15 minutes but if you do make sure to rinse it off with cool water (not hot!).
After taking the mask off for the first time I looked in the mirror and saw the magic that had just happened from the mask. To put it simply, I couldn't stop looking at my skin. I mentioned that prior to the mask my skin wasn't in the best shape. It looked rather dull and dry. But after I took the mask off I couldn't believe how refreshed my skin looked!
Naturally, after using the facial mask for the first time I was excited to try the eye mask. The eye mask is formulated with the same ingredients and should be applied the same way. Really, the difference between the two is the eye mask is targeted for the pesky undereye area.
My eye area has been a big focus for me lately because everyone talks about it being the first place to show signs of aging. Not to mention, I had a pretty difficult skin reaction last year that caused me to have some residual swelling under my eyes. To my delight when I tried the eye mask I was just as impressed with the results! I tried the eye mask when I felt like my under eye area was a little more tired looking then I'd like. After taking the masks off I couldn't get over how refreshed my under eyes felt and looked.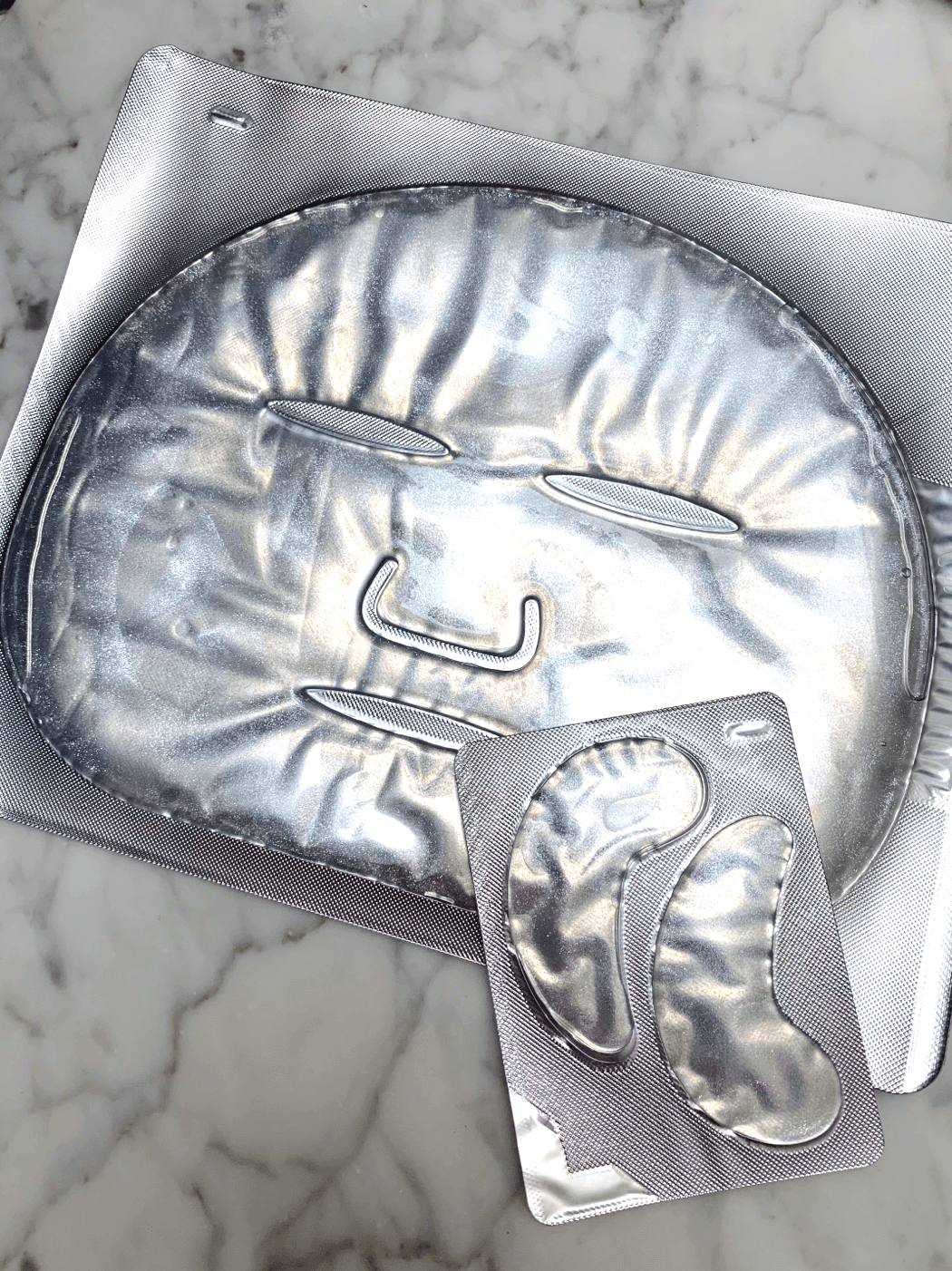 Needless to say, I'm head over heels for these masks. I've now used the eye and facial mask a couple of times and my skin's overall appearance looks so much healthier. More than that my skin has felt so soft, refreshed and hydrated. I don't know where these masks have been all my life but I'm in LOVE. They're a new staple in my skin care routine, I honestly don't think I can get enough of these.
My #1 tip for making the most of these masks is to make sure your skin is thoroughly cleansed and dry before applying them to your skin. Because they're gel if your skin is still a little wet they have a harder time sticking to your skin the way they should. Additionally, stick to the 15 minutes as listed on the box. I'm the type of person who tends to leave masks on longer, admittedly I think I feel as though the longer they're on the better they are for the skin. However, with this mask being created with such powerful ingredients it really does its job in 15 minutes!
I mentioned the eye area being one of concern for me and as much as I love the eye masks, you really shouldn't use masks on a daily basis. I've found that masks are a great add on to your skin care routine, something to do 1-2 times per week (or as needed). But for daily use it's essential to have other treatment products to focus on any areas of concern. For me, eye treatment products are a must. In addition to trying BIONYX facial and eye masks I was able to try a couple of their eye care products to add to my daily skin care routine as well.
BIONYX Platinum Intense Eye Serum and Advanced Eye Cream
Similar to facial masks I've tried my fair share of eye care products. Most of my experience has been with eye serums so I was excited to try BIONYX Platinum intense eye serum and Platinum advance eye cream.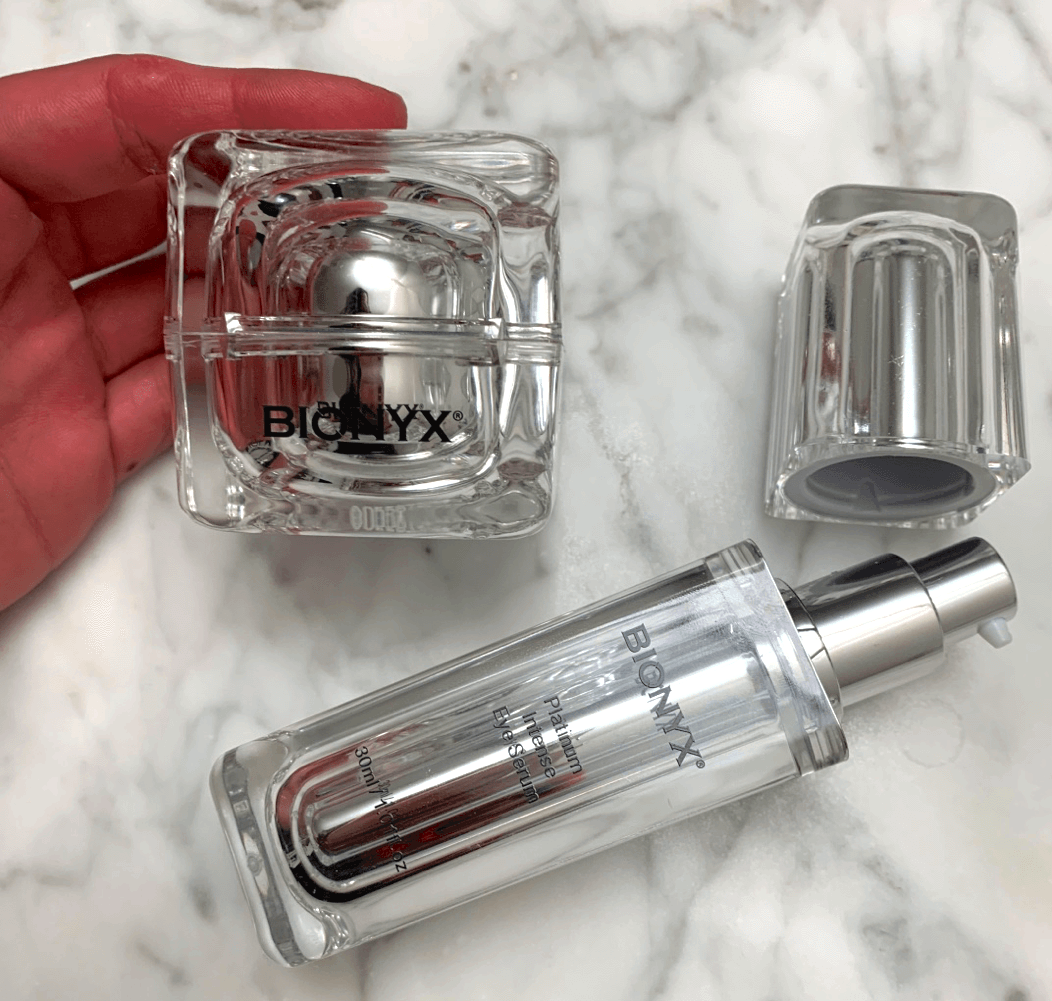 After my newfound love of the platinum collection masks I was looking forward to trying other products from the same line. I've been a fan of adding serums to my skin care routine for a while because, similar to facial masks, they generally offer a more concentrated dose of ingredients and you can use them daily. The platinum intense eye serum and advanced eye cream from BIONYX were specifically formulated to cater to the eye area, essentially to prevent and reduce the appearance of fine lines, wrinkles, and puffiness around the eyes.
Our eye area tends to show signs of aging before the other areas of our skin because the skin is much thinner, this is also why you want specially formulated products to treat this part of the skin.
The serum boosts some incredibly impressive ingredients. This product is infused with green tea extract, peptides and of course platinum. The platinum advanced eye cream includes ingredients like caffeine, aloe and platinum (among others).
In case you haven't noticed, these products from BIONYX are named platinum because they actually include platinum as an ingredient! Pretty amazing, right? Personally, I was intrigued by all of the products I tried from BIONYX because they included platinum. We've all seen gold included in skin care products but I've never experienced platinum.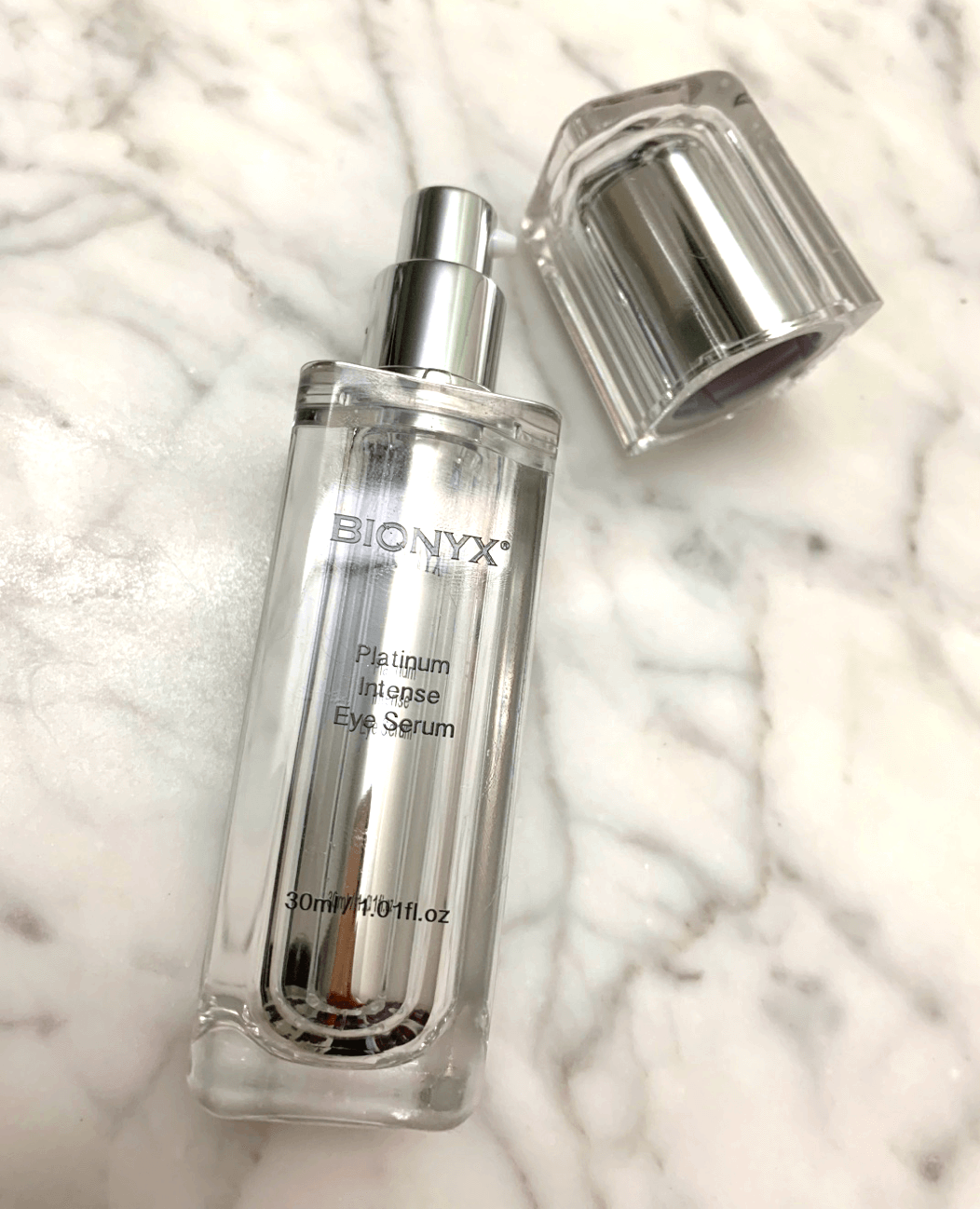 I decided to try the eye care products as a part of my daily skin care routine, the directions suggest using both of them in the morning and evening for the best results. Like I said, I like to follow instructions so that's what I did. Based upon my first impression I was really impressed as the consistency of both products. I've tried some eye care products that feel really thick and almost greasy when applied, but both of the BIONYX products were extremely lightweight and when applied to the skin they were extremely refreshing on my skin. Double win in my book!
After using the products for a couple of weeks now I've definitely noticed my under-eye area having a much healthier appearance. The biggest change I've seen is the reduction of some puffiness I've had under my eyes. I haven't had any lines show up in this area yet, fortunately, but the puffiness was a big one for me. Not to mention, after I apply the products I feel like my eye area looks much more awake. I don't know about you, but that's a big benefit for me. There's nothing worse than tired eyes.
The key with both of these products is to not use too much of the product. It's so easy, especially with eye care products, to feel like the more you apply the better results you will achieve. However, that's not always the case and our skin can only absorb so much. It's suggested to apply the intense eye serum and follow it up with the eye cream.
In addition to not using too much product it's incredibly important to ensure you're applying the products onto your skin properly. Remember the skin on your eye area is delicate, treat it accordingly! Massage the products, gently, onto the skin. I find it easiest to use the ring fingers when applying eye products because you won't apply too much pressure that way.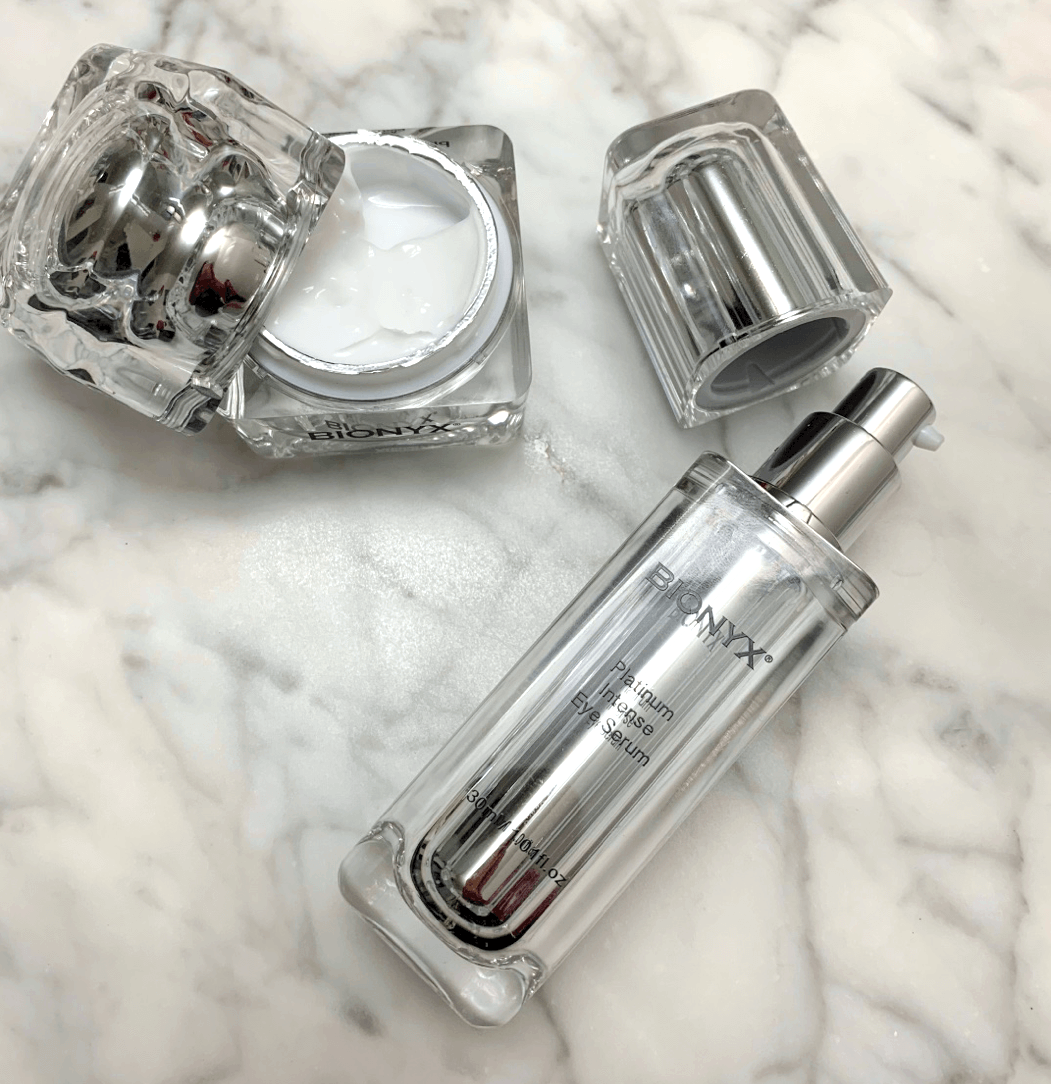 Once I started applying both products for a few days, I found it's best to give a little time between applying the products. In other words after you apply the serum give your skin a few minutes to soak it in before applying the cream. I know it's hard to not rush through your skin care routine but I found it made application much more beneficial. Take your time when applying your eye care products!
Because you need a small amount of product with the eye cream and eye serum to gain the benefit from the ingredients I've hardly put a dent in the containers a few weeks in. I have a feeling the containers will be lasting me quite some time, especially since it's suggested that after you notice more prominent results from use you only need to use them once a day. 
At this point, I'm sure it's pretty obvious I'm a huge fan of all three products I tried from BIONYX. Between the masks and the eye care products I can confidently say BIONYX is going to be consistent in my skin care routine. I'm excited to continue using all three products and see how my skin continues to benefit from doing so.
If you're looking for products that provide real, powerful results and are specific for anti-aging you definitely want to try BIONYX and their platinum products.