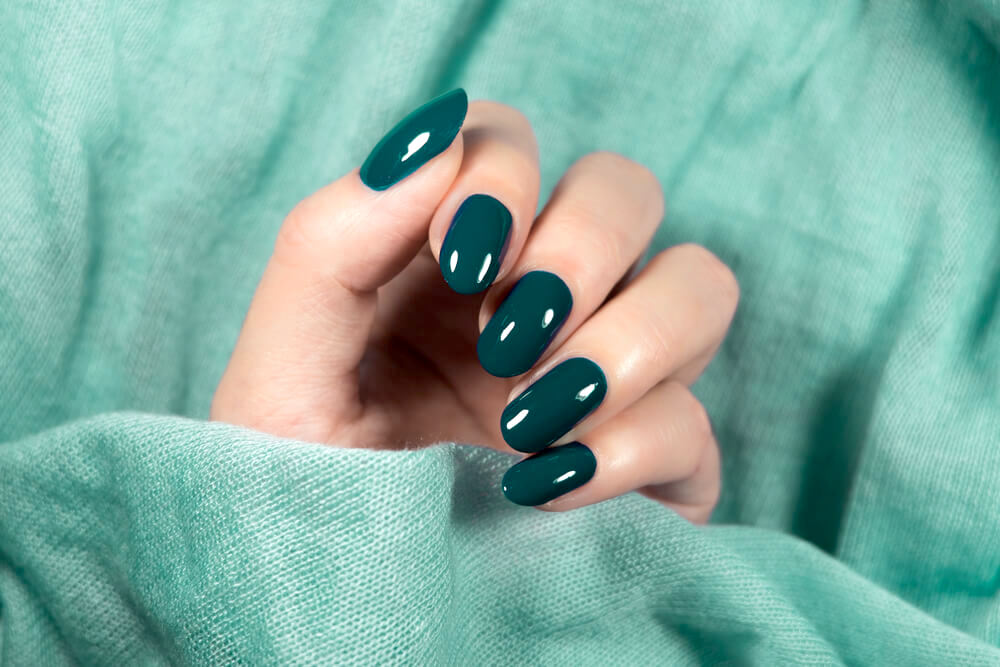 Cooler temperatures and rich foliage tend to inspire us to ditch the lollipop lacquers of the summer and go instead for deeper, more muted tones.
The classic autumnal staples include the red, copper, golden and plum shades, but that doesn't mean you can't play with more enticing colors in the season ahead.
From the autumnal classics like burgundies and purples to more unusual pastels and golds, here is a selection of some of the most stunning nail colors for the season.
Burgundy Red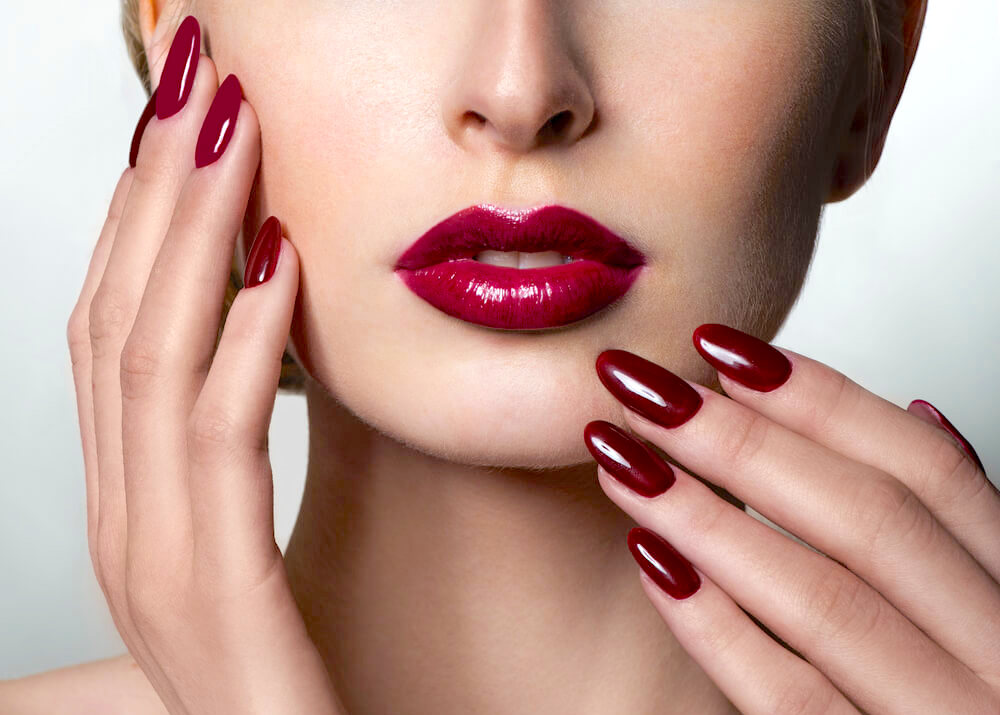 If there is one color that dominates the autumn season, it's deep burgundy.
While lighter, more vibrant shades of red nails make an ideal summer accessory, it's deeper sibling is a touch more serious and sensual.
It can look exceptionally beautiful on all lengths and shapes, but it will appear extra sexy when paired up with almond-shaped nails that have decent length to them.
To recreate this shape, grab a nail file and start sculpting your nails by filing them from the corners towards the center. Make sure not to make it too pointy to achieve the soft edges.
Once you are happy with the shape of your nails, proceed to coat them with a base layer to ensure your color stays put.
Next, apply the burgundy lacquer in steady swiped on all the nails. Wait for them to completely dry, then apply a second layer. If you're still not quite happy with the opacity, feel free to take it up a notch and add a third layer.
To ensure your nails look rich and velvety, apply a high-shine top coat to seal the deal.
Vibrant Orange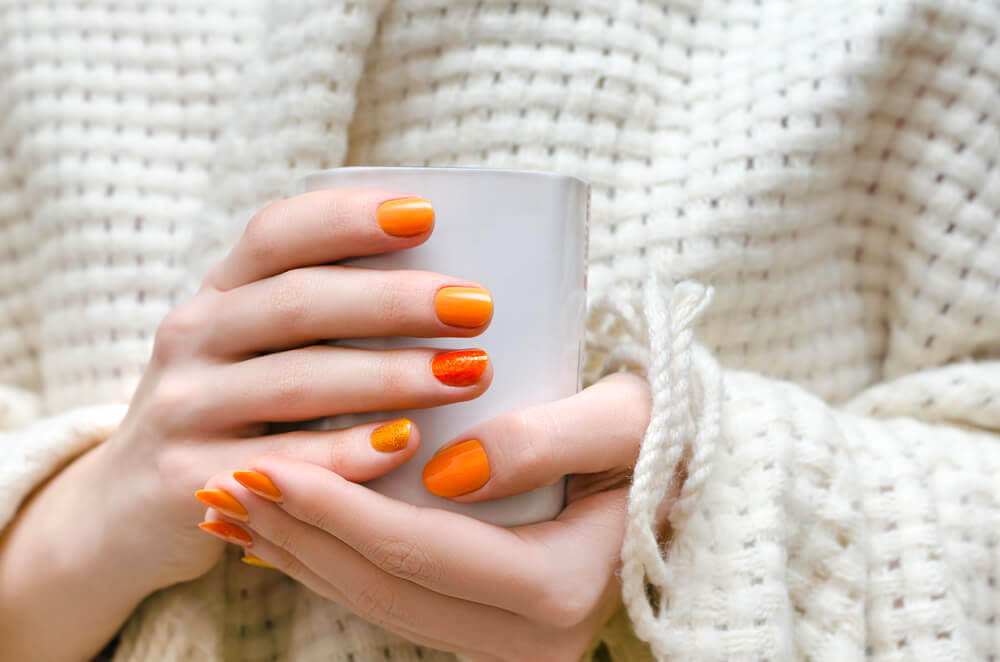 If you're on the market for a true autumn color that's on the brighter side, then your nails and a good orange lacquer will definitely be a match made in heaven.
The color of pumpkins, Halloween and candy corn will help your nails look fresh and vibrant when everyone else is sporting traditional deep tones.
Orange is another one of those shades that needs to be picked with skin tone in mind.
This is why, if you have pale skin or cool undertones, you should go for a pigment-packed orange that leans more towards yellow to avoid emphasizing the redness in your skin.
Honey and coral-tinted orange will look amazing on people with golden and olive undertones, while deeper tones will be complimented with reddish-orange hues.
Locking in that juicy orange look is all about making it opaque and saturated. Once you've filed and cleaned up your nails, coat them with two or three layers of your orange lacquer. Finally, add a layer of top coat, and you won't have to worry about chipping or damaging your nails while you're out and about.
Golden Tones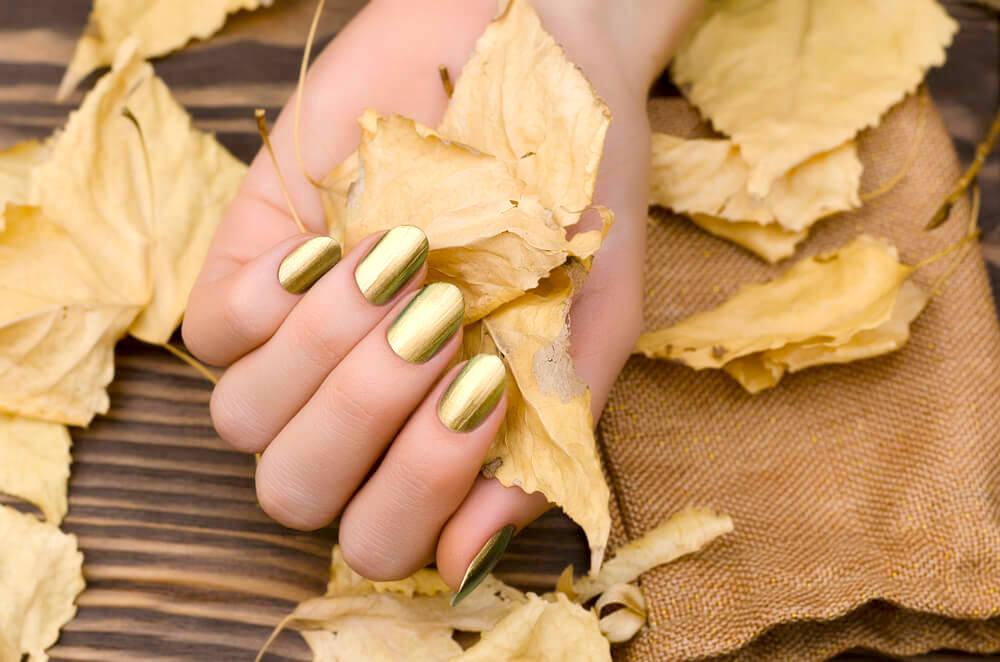 Gold might not be the first color that pops to mind when we think about autumnal shades, but just think about it: what hue best describes a September sunset melting into the fall foliage?
This flattering color is especially stunning in the matte iteration – this kind of finish will also help you make your mani subdued and wearable for day-to-day occasions.
The only thing that it's important that you get right is the saturation. To make sure your golden matte is truly opaque, make sure to apply several coats of lacquer, letting it fully dry in between to takes. To achieve that flawless finish, make sure to coat your nails using quick, steady strokes, so everything looks seamless.
Lock your mani in with a final layer of mattifying top coat and your gorgeous metallic look is complete.
Rich Brown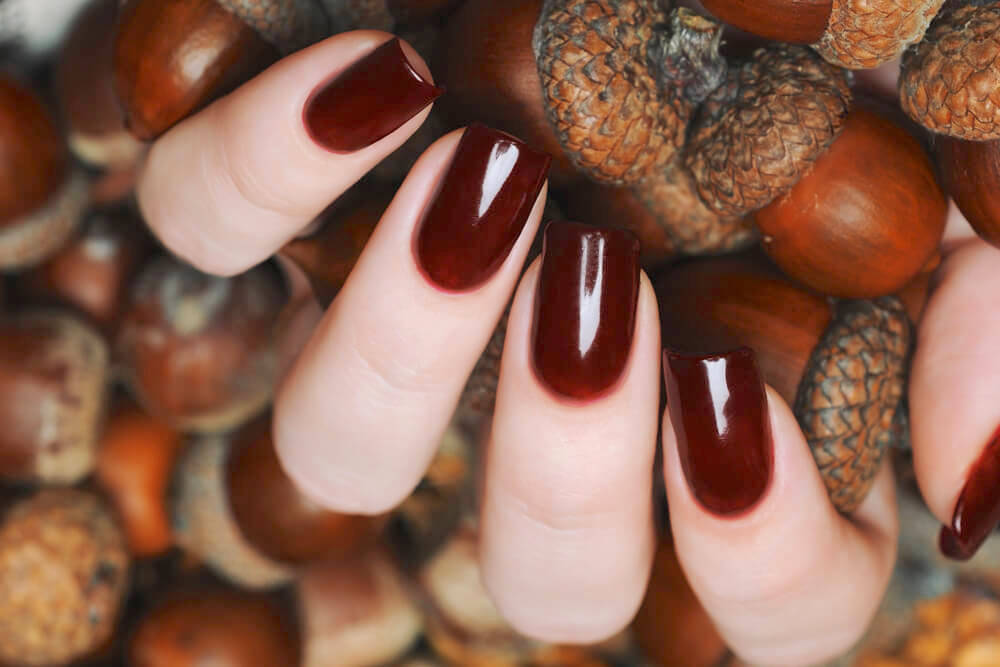 Fall is all about rich foliage, hot chocolate and feeling the leaves crackling under your feet.
And to evoke this fuzzy feeling on your nails, you can coat them in a rich brown shade that will be the perfect autumnal companion.
Other than being super-flattering on every skin tone, a deep chestnut or chocolate hue will mesh perfectly with any color you chose to wear on your outfit or accessories.
Since deep shades like this one run the risk of looking a little monotone, you can ensure your brown looks positively smooth and velvety with these simple tips and tricks.
First, make sure to coat your nails with base color. This will ensure the longevity of your polish and prevent chipping.
To lock in that lush saturation, make sure to apply at least two layers of nail polish on top of each other. If you want even more opacity, add an extra layer.
Finish off the look with a glossy top coat and – voila – your luscious fall-friendly look is complete.
Lush Green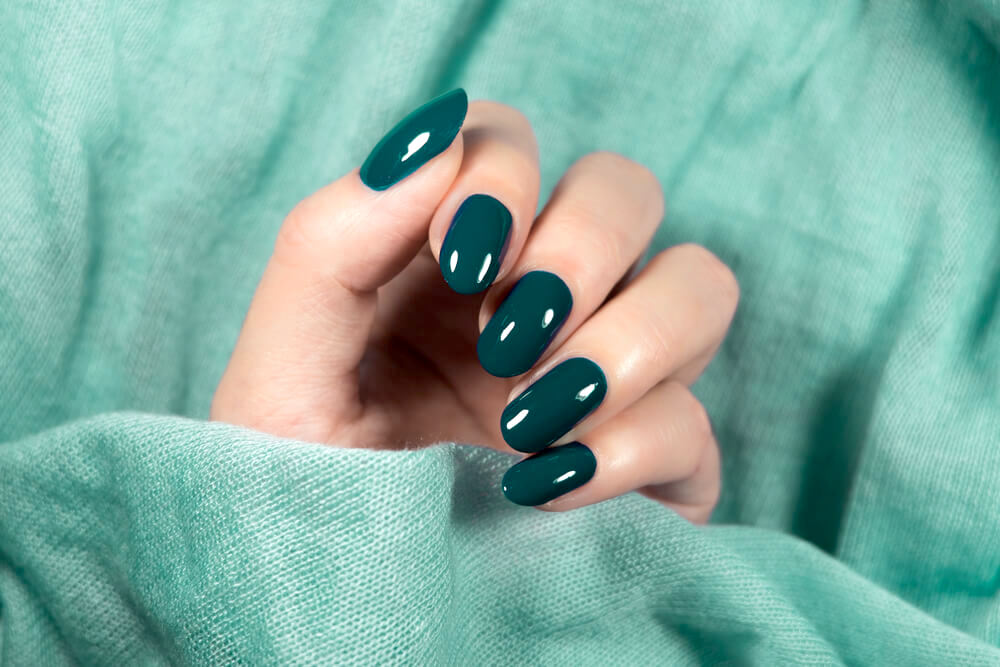 Keeping up with the theme of moody colors, this fall might be the perfect season to sport deep, sensual green.
An emerald color like this can be an ideal nail accessory for the fall for people who'd like to avoid the standard color combos that everyone associates with transitional weather.
In order to nail the luxurious liquid feel to this verdant mani, it's important to make it super opaque and packed with shine.
You can do this by filing your nails until you achieve a uniformed shape and a flat, smooth surface.
Next, coat your nails with a base coat to make sure your color doesn't budge.
Start applying your nail polish in thin layers until you have reached desired saturation.
Clean up the cuticles or any stray lacquer using a cotton swab and a bit of nail polish remover.
Finish off your deep green mani with a final layer of top coat and you have a fresh fall-friendly color on your hands.
Nude Neutrals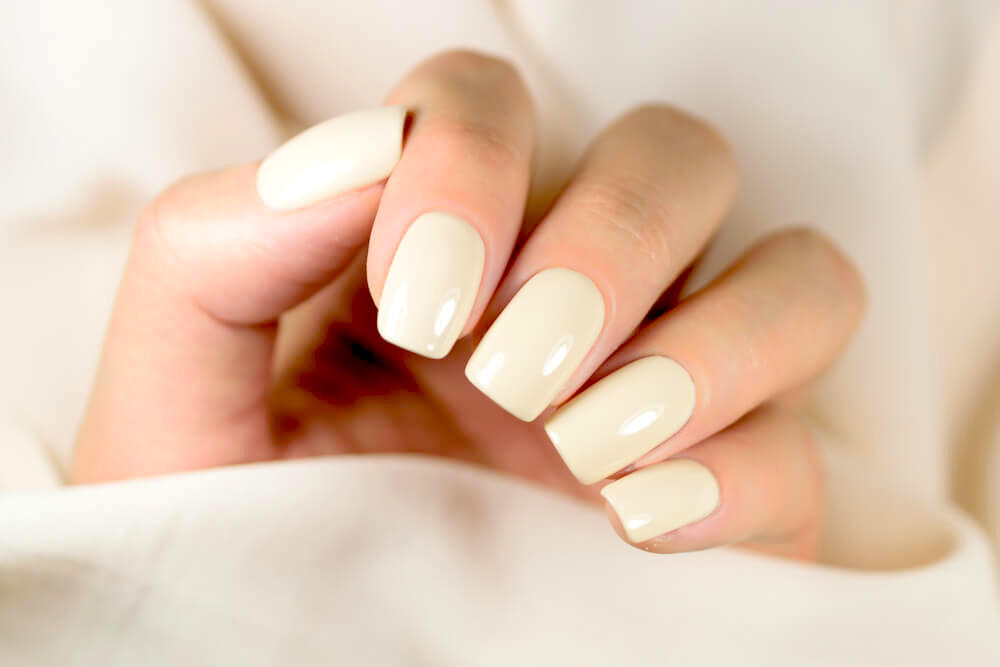 Finding your ideal fall mani doesn't necessarily have to entail dark, opaque lacquers.
Nudes are perfectly acceptable for any season, and will look great on any nail shape or length.
To adapt your nude for the autumnal days, you can go for a couple of shades deeper than your skin tone.
And the first steps towards nailing your ideal fall-friendly neutral shade is to find the lacquer that will match your skin tone.
To help you out in that quest, here are a few pointers:
If your skin is very fair or cool toned, go for pinky and pearly nudes
People whose skin tends to be on the medium, tanner side should go for nudes with hints of peachy and coral tones

Deeper complexions

will look amazing in lacquer with a slightly lighter finish that will accentuate the dark skin tone
If you want to keep your nude lacquer understated, make sure to pick a formula with a matte finish.
For a chic, natural effect, go for a glossy nude that will make your nails look fresh and healthy.
Autumnal Copper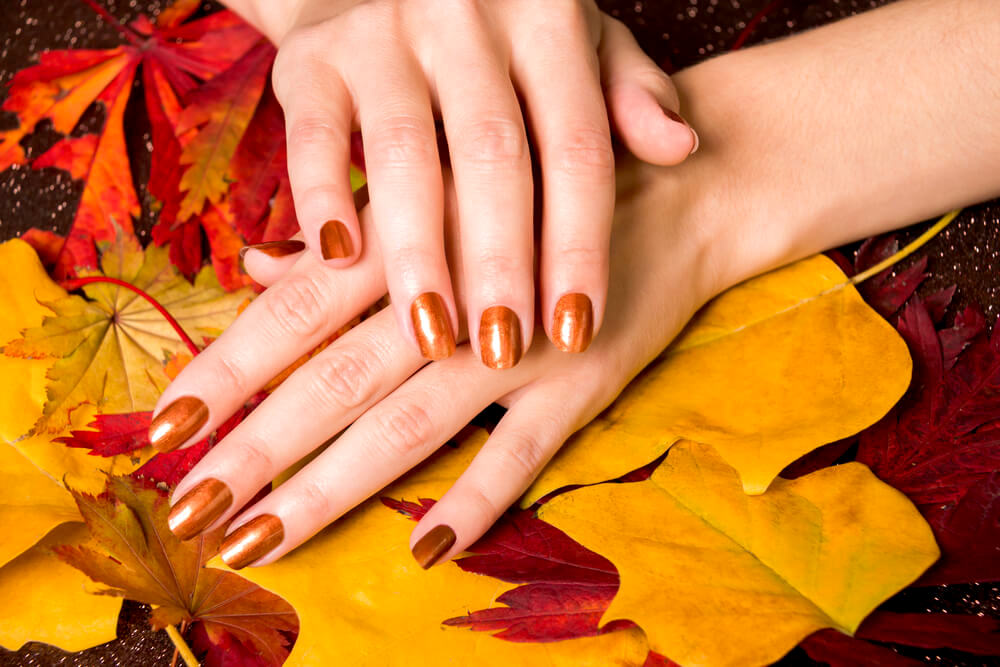 Copper is one of the most luxurious shades you can sport on your nail beds in the season ahead.
This opulent color is ideal for anyone who wants to doll up their nails for any fall events that call for that extra dose of glam.
In order to make the copper tones pop on your nail, go for a lacquer with a glossy finish.
And if you want to make it even more dramatic, you can add a thin layer of golden glitter for that rich, holographic effect on your nails.
To make sure you don't lose the sparkle in your nails, coat them with an extra layer of top coat, which will make your mani stay put for days.
Pastel Greys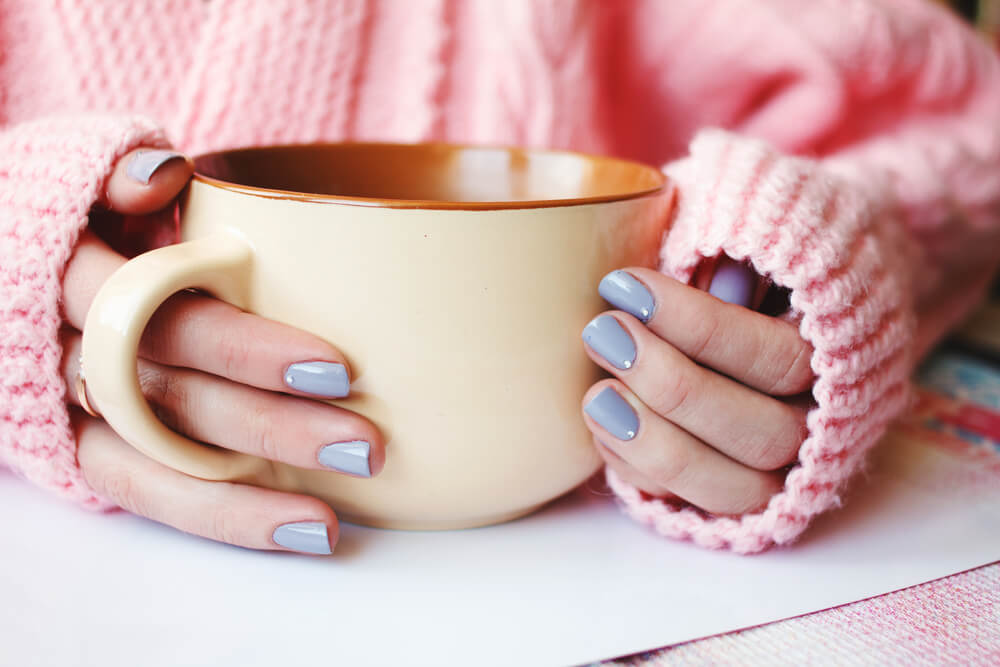 While it's true that most of us think of reddish, orange and brown tones when someone mentions autumn, you absolutely do not have to commit to this particular palette to rock in order to rock a beautiful fall-ready mani.
For example, a subtle pastel polish in grey and blue tones can work perfectly as an autumnal go-to.
It's chic enough to look more interesting than the standard fall shades, yet neutral enough to go with just about any accessory or outfit you choose to sport in the season ahead.
Even though this shade is incredibly versatile, one thing you might want to keep in mind when picking the right kind of grey for your mani is your skin tone.
If your complexion is on the cooler side, go for a grey that's infused with hints of pink or lilac. Make sure to go for a lighter shade, as deeper grey might make you look washed out.
Ladies whose skin falls in the medium, tan or olive type will look beautiful in lighter shades of grey, which will create a flattering contrast against the skin.
If your complexion is deep, you will also look better with lighter, cool-toned grey on your nails.
Avoid having your nails look too dull by coating them with a glossy polish or adding a thin layer of high shine top coat as a finish.
Vampy Vibes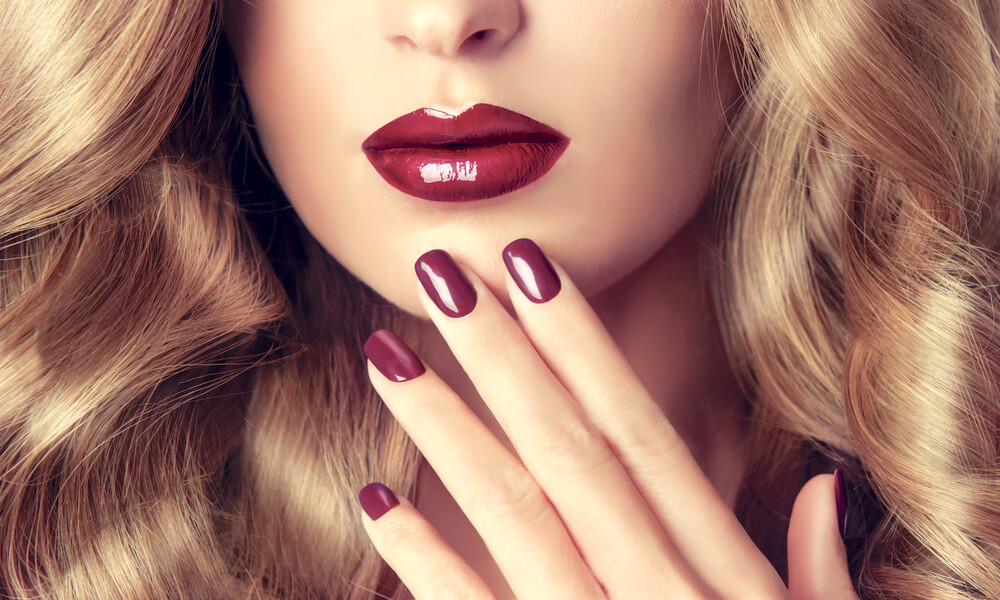 In the summer, many of us like to adorn our nails in hot pinks, fuschias and lilacs.
If you want to stay in the summer color family, but make it more weather-appropriate, swap your vibrant pinks and purples with something deeper and smoother.
A luxurious plum shade will look amazing on any complexion, although there are a couple of tricks out there that can help you really match your dark shade to your skin tone.
For example, if you have deeper skin tone, you might want to go for high-pigment, high-opacity shades that will instantly make your nails stand out.
On the other hairs, very fair skin will look amazing in goth-y hues that contain hints of green and blue.
Deep Navy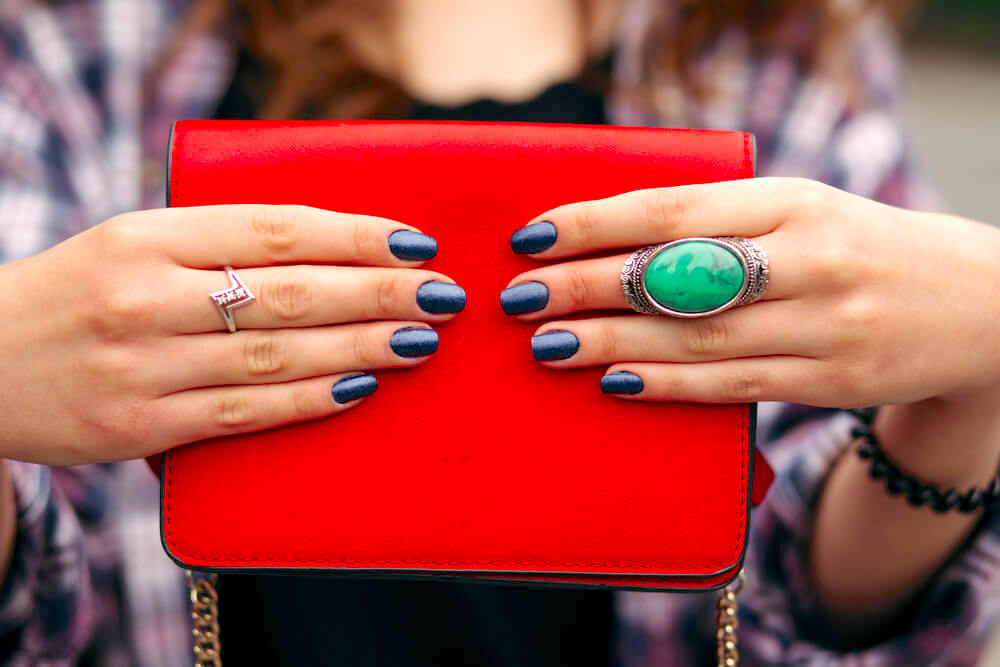 Just because summer is gone doesn't mean we don't get to rock all those gorgeous blues.
The only thing you might want to do is reconsider the shades.
Instead of the loud turquoises and aquamarines, this fall you can opt for a more subdued hue, such as grey-blue or deep navy.
A good way to liven up blues that are slightly on the on the darker side is simply to coat your nails in a shine-rich lacquer instead of the matte one.
This will allow your blue to appear richer and more noticeable, while the understated shade will work beautifully against the red, brown and copper tones of your wardrobe and accessories.
Silver Metallic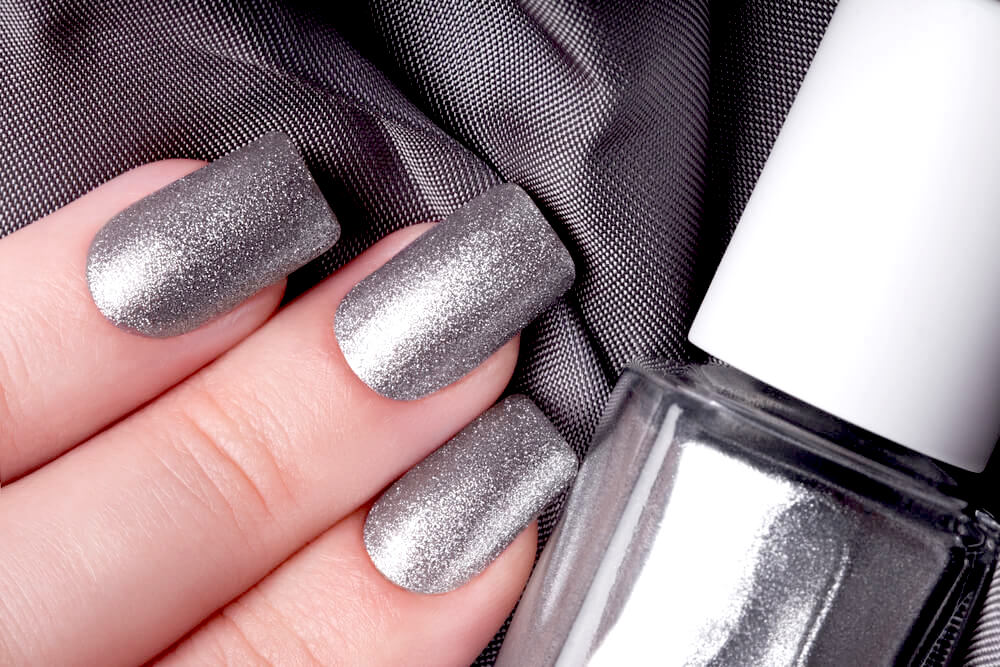 This season, you might find yourself in a strange predicament: you love fall, yet you're not too crazy about all the warm palettes that this season entails.
Don't worry, rocking an icy cool mani can be a great way to match up for those gloomy, rainy days that inevitably happen every fall.
This sleek metallic look with silver tones will look exceptionally good on people whose skin has cool undertones, but that doesn't mean other can't have a go at this gorgeous shade, as well.
To make you silver stand out, go for a lacquer that's packed with glitter. This will make your nails pop and make them more appropriate for all those occasions where you want to razzle and dazzle.
The trick to nailing glittery polish without it looking to chunky or messy is to apply it in super thin layers, always waiting for one coat to completely dry before you start applying the next.
To achieve that rich glitterific effect, add more layers. The more coats you apply, the more accentuated the glitter will become.
And to make sure everything stays in place, secure all that bling with a decent top coat in glossy finish.
And with this, we round up our list of gorgeous colors you can start wearing in the upcoming months. Now that you've learned all about the hottest autumnal shades, it's time to go out and wave hello to the new season rocking a gorgeous fall-ready mani on your nails.