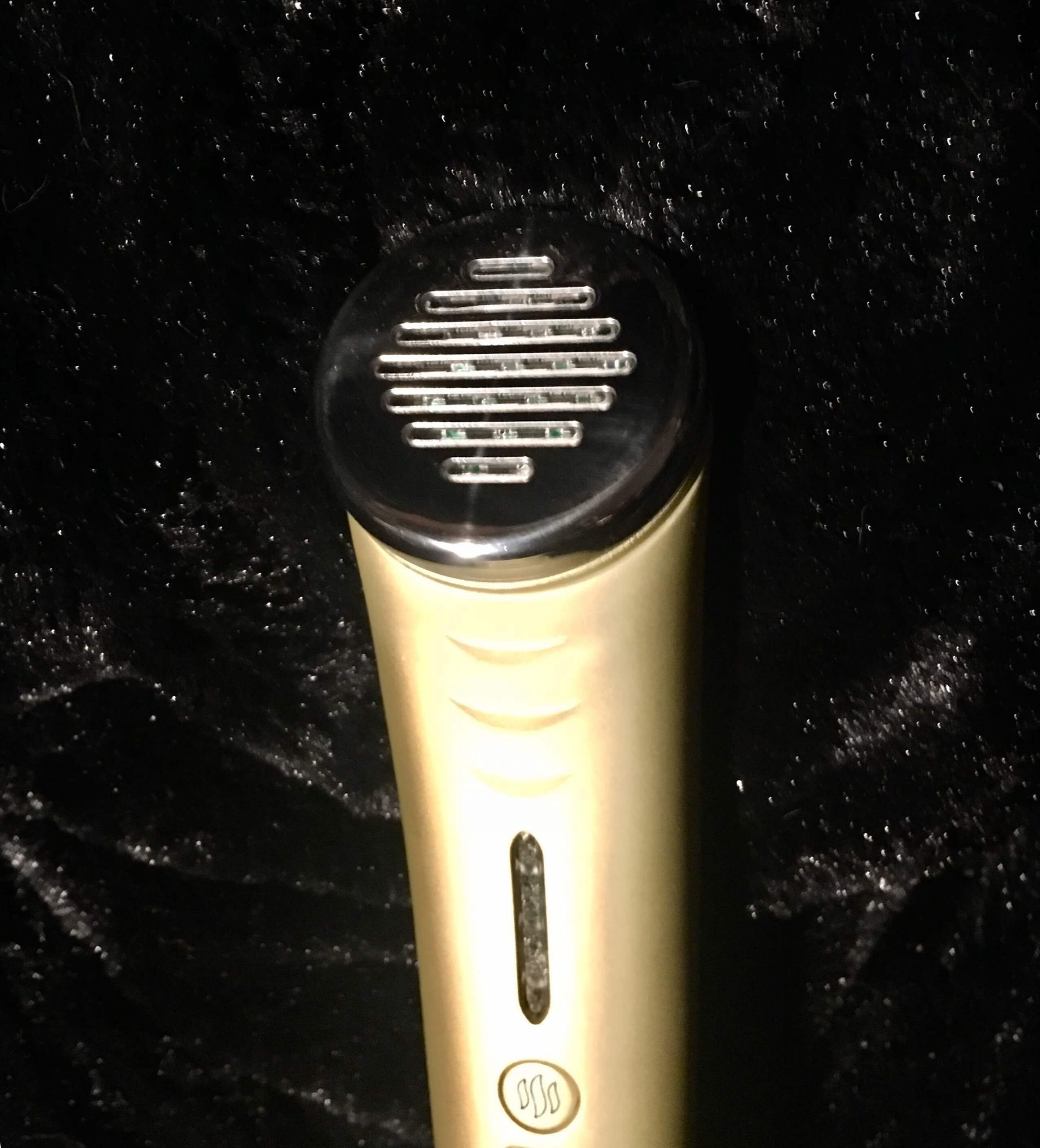 Over the past several weeks, I was given the amazing opportunity to test out the state-of-the-art Jelessi Torchē V2 + Amber Light to determine my impressions, thoughts, and overall takeaways on this amazing product.
After using the amazing Jelessi Torchē V2 + Amber Light as suggested for two weeks, these are my initial and subsequent impressions about its usage, effectiveness, and how it will fit into my daily routine.
About the Product
The Jelessi Torchē V2 + Amber Light is a cutting-edge device that incorporates Amber LED and heat technology to improve the health and feel of the skin. It boats anti-bacterial properties and can reduce the appearance of brown spots, inflammation, oil stabilization, and pore size for a fresher, more youthful look. It comes with two settings – Amber LED and Amber LED + Heat for the ultimate in skincare.
This non-invasive device is a brand new version of the Torchē V1, a device renowned among skincare junkies and beauty bloggers alike for its skin-enhancing properties. This new iteration adds LED Amber Light and Heat to the mix, giving it a super effective edge in treating a variety of skin conditions with ease.
Product Usage
One of the more interesting aspects of the Jelessi Torchē V2 + Amber Light is that you can customize your usage in order to fit your skin's unique needs and usage. This product comes with a usage guide/manual with a full treatment plan that allows you to pick and choose how you want to use this piece for the perfect result.
Overall, it is recommended to use this device on both settings, Amber LED and Amber LED + Heat, 4-5 times per week, following your treatment with your favorite serum and moisturizer for the best effect.
You simply apply the device directly to dry, cleansed skin, gently massaging it in circular motions with a light pressure for 3-5 minutes on each area. The entire process should take approximately 20 minutes or so, depending on the number of treatment areas you are targeting.
Features and Benefits
In addition to having anti-aging properties, this device can help reduce the signs of inflammation and hyperpigmentation, leaving your skin healthy and glowing. It also helps with reducing the size of pores, too!
Each device comes with a lifetime warranty so that you are guaranteed to love this device no matter how long you use it. It is also FDA approved!
First Impressions
I was so excited to receive this device – after all, I've heard all about it on social media. As soon as I received it I had to break it out of the box and check it out immediately.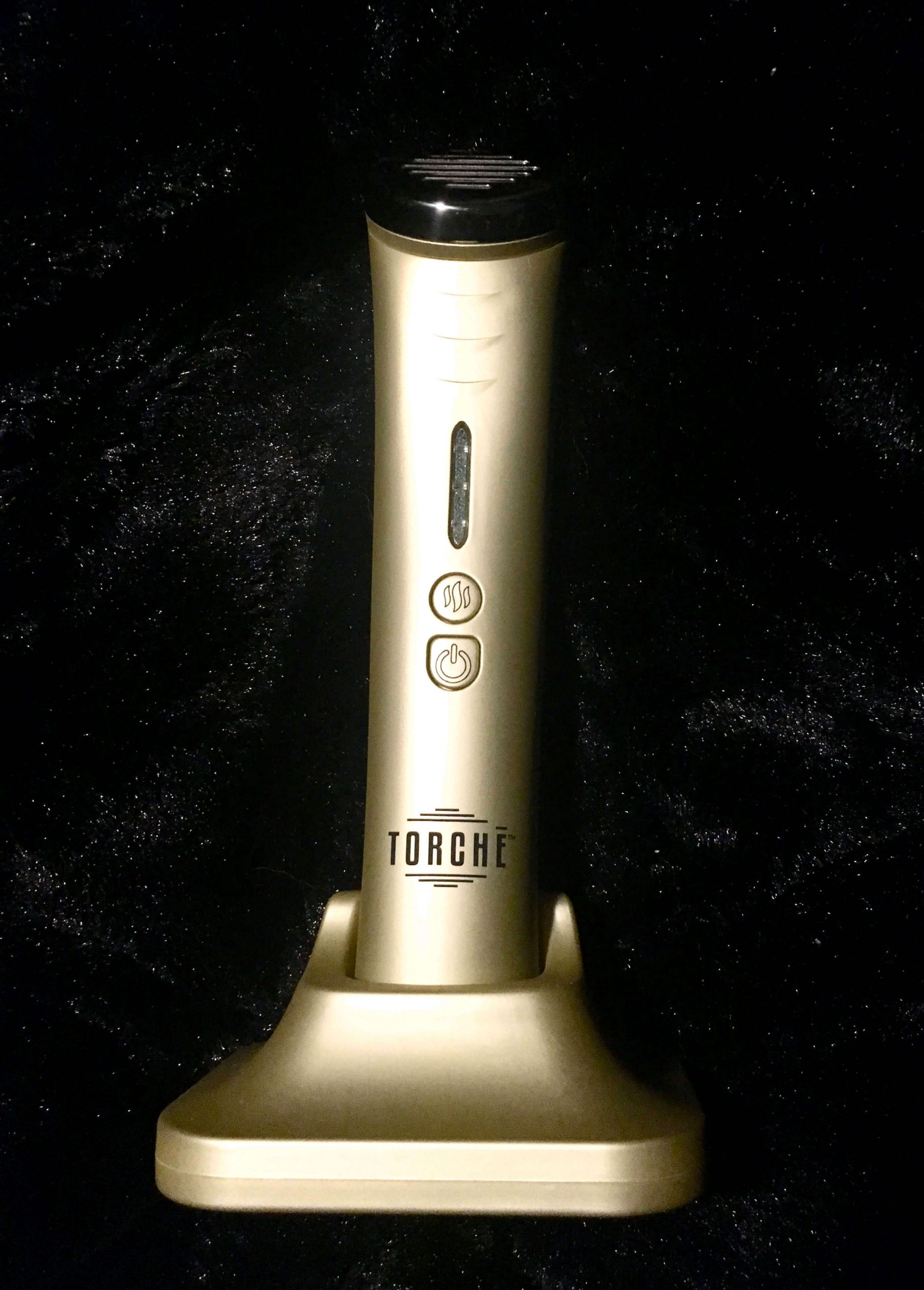 The Packaging
The outer packaging of this device was truly unique – it came in a heavy box with lots of padding and an origami-style opening that revealed the amazing product within.
The device itself is definitely a sight to behold – it is long and slim, shaped to fit the hand, with a gorgeous matte gold finish and both black and silver detailing. The charging port follows the same aesthetic for a sleek appearance that looks super luxe from every angle.
The Feel
The device has a nice weight to it – you can tell that it is high-end! The matte finish gives it a nice soft-touch feel that keeps the device from slipping out of your hand as you use it. The buttons are easy to use and don't click on and off as you grip the device when using it.
The silver head on the top of the device has a soft, silky feel to it that slightly suctions to the skin without tugging or dragging it and feeling uncomfortable as you use it.
The Usage
After letting the device charge for about an hour, I was finally able to break it out to use it. I powered it up to the Amber LED setting and, following the directions, began to massage it into my skin with a circular motion on my chin (one of my biggest problem areas due to redness). The device was slightly heated to the touch, making my skin feel warm and smooth. I continued to use if for the full 5 minutes for the maximum effect, stopping when my time was up and my skin was starting to feel very warm.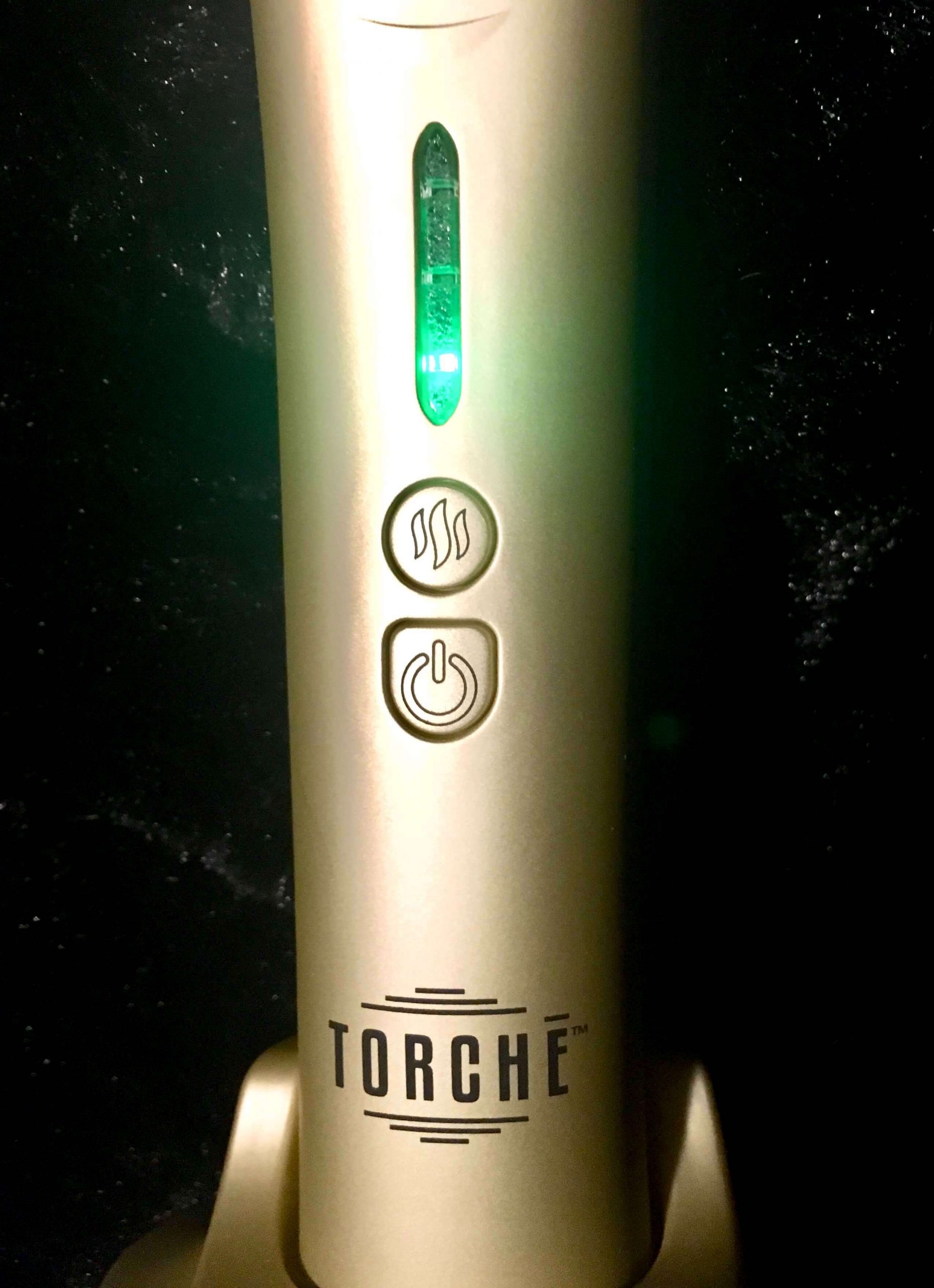 After using the Amber LED on both my chin and cheeks, I decided to amp it up to the Amber LED + Heat setting and go over my skin once more to take the effects to the next level. The device definitely felt a lot warmer to the touch this time around, and I found myself spending less time concentrated on each area because of it (I didn't want to risk burning my skin).
The whole process took me about 25 minutes – a little bit longer than suggested – but I am sure that with practice I can get this down to under 20 minutes.
The Effects
After applying my serum and moisturizer, my skin did feel a lot smoother and cleaner. I didn't notice anything physically different immediately, but I did surprisingly receive a few compliments on my skin the next day!
Overall Takeaways
All in all, I liked how this device felt on my skin and was thrilled with the immediate results. I was surprised to receive compliments the following day on how glowy and healthy my skin looked – I definitely did not expect that after just one use!
Later Impressions
After seeing amazing results just a single day later after using this product, I was incredibly excited to keep using it. I was very anxious to see how amazing my skin would look after a few weeks of using it consistently.
ONE WEEK LATER
After a full week of using this product five times as suggested, I am very excited to report that the effects of the single use were repeated tenfold!
The Effects
If I thought my skin looked good after just using it one time, it's off the charts now. After using it for a full week for about 20 minutes per session, I am beyond excited to report that my skin is positively glowing!
The noticeable redness I typically have in my chin and forehead has all but vanished – there's pretty much none left!  In its place is smooth, glowing skin that feels soft to the touch, too.
To really test how visibly effective this product was on my skin, I skipped wearing any sort of foundation or powder on my face to see if I received any further compliments on my skin. Much to my surprise, I did! I actually had three more people compliment how healthy my skin looked over the span of the week.
Other Notes
Even with how effective this tool is, I found that keeping it on the Amber LED setting rather than combining it with the Amber LED + Heat setting was more effective for my skin. Adding the latter to my routine seemed to irritate it slightly and left it looking more red than glowing afterwards. Moving forwards, I am planning on implementing this setting one or two times per week in combination with the standard Amber LED light to see if it is more effective in treating my skin conditions.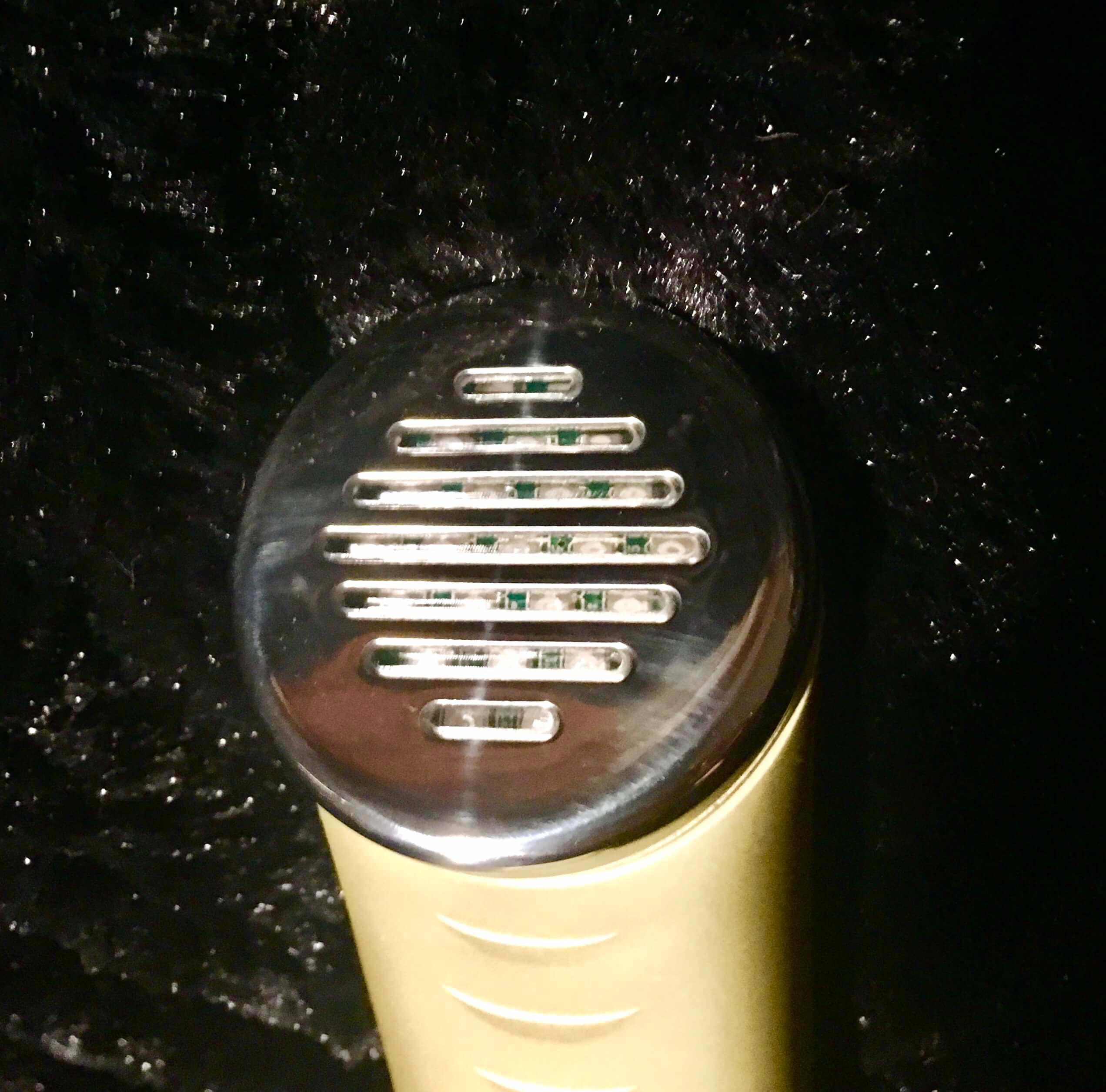 TWO WEEKS LATER
To truly test the results of this product, I decided to use it for an additional week, keeping my usage to five times while lowering the number of times I use the Amber LED + Heat setting.
The Effects
After using this product five times over the span of another week, I have to say that I am still amazed with the results. I used the Amber LED + Heat setting twice – once at the beginning of the week and once at the end – in order to see whether limiting its usage was more effective for my skin.
I definitely saw more improvements in my skin this week – especially in my nose. I suffer from enlarged pores in this area, and decided to concentrate most of my efforts on this section. After applying this device to the area as directed for all five sessions, I did notice that my pore size seemed much smaller. I didn't even feel like I needed to put on any makeup to cover them up!
Other Notes
I am very happy to report that I seem to have found the perfect usage combination for my skin – limiting the Amber LED + Heat setting usage seemed to work perfectly with what my goals were. I no longer saw any redness after use – only clean, healthy skin!
OVERALL TAKEAWAYS
Curious about what you should expect from this Jelessi device? Let me tell you my experience!
What I Liked About the Product
My favorite part about this product was absolutely how effective it was. I saw visible improvements after a single use – I've never seen this type of result with any other product, dermatologist recommendations included. Not only was my skin less red with no visible pores, but this device gave me a subtle, natural glow, too!
Additionally, I liked the feel of using this product on my skin. Although it sort of stuck and lightly tugged on the skin as you used it, this piece stimulated blood flow and left my skin feeling soft and healthy. After applying moisturizer upon using it, my skin felt so fresh and clean!
Finally, I really liked how luxe the product looked – the matte finish with the gold coloration and silver accents made it look well worth the price tag. It looks absolutely amazing sitting on my vanity!
What I Didn't Like About the Product
My only complaint when using this tool was how long it took for an effective use. Like I mentioned earlier in my review, the directions recommend focusing on a single area from 3-5 minutes, with about 20 minutes total for the whole face. As a woman who is super busy and constantly on the move, even when I am home after work, this is a hard undertaking. Finding 20 minutes to sit and do nothing other than use this device was probably the most challenging part of testing!
Nonetheless, with the visible results after just a single use and continued results after two weeks of use, I will somehow find a way to fit this into my routine.
What Can Be Improved?
My primary suggestion would be to make the tool a little more ergonomic in terms of handling. The shape is lovely and the feel is nice on the skin, but I did find my arm and hand getting tired towards the end of my 20-minute sessions.
Additionally, if there is any way to amp up the effects so that the user doesn't need to spend a full 20 minutes using it, I think it would greatly improve this device! After all, not all of us have this amount of time 2-3 times per week to dedicate to its usage.
Who Would This Product Work For?
To be completely honest, based on my experience I believe that this product would be great for anyone, man or woman, who wants to see noticeable improvements in their skin. Whether they're suffering from redness, acne, noticeable pores, or hyperpigmentation, this device is perfectly suited for them.
On the other hand, with the hefty price tag, I'd recommend this device for the individual who has the money to spend and has exhausted all other options in working to have healthy skin. That being said, this device is definitely worth the splurge.
Final Thought
I am absolutely in love with the Jelessi Torchē and am so excited to continue to incorporate it into my weekly routine. All in all, this product is amazing and is perfect for anyone who wants healthy, glowing skin!