If there is one thing we all agree on, it is that braids are the bomb! They keep hair out of the way yet they just look so romantic and sweet. However, I learned that while a simple braid is good for everyday activities, a fishtail braid totally amps up the glamour factor and can go from day to night. It might look complicated but it can be done and with just some practice, you can perfect it!
Steps to follow:
The first thing you need to do is separate your hair into two parts.
Your next step is to take a thin strip of hair from the back of the right section.
Cross it over to the front so that it combines with the left section of hair.
Then, take a thin strip of hair from the back of the LEFT section and cross it over so it combines with the right.
At this point, you should already see a fishtail pattern start to emerge.
Just continue with steps 2-5 until you have a full braid.
For first timers, this can become a bit messy but that is the beauty of this braid—it can be messy and it will still look like a million bucks.
Now if you are an expert at this and you end up with a perfectly straight fishtail braid, that is also fine. However, if you want to give your fishtail braid more attitude you may always pull on it gently from both sides so you can give it a more tousled look. Make sure you secure your braid firmly with a ponytail holder so that it does not come loose.
Hot Tips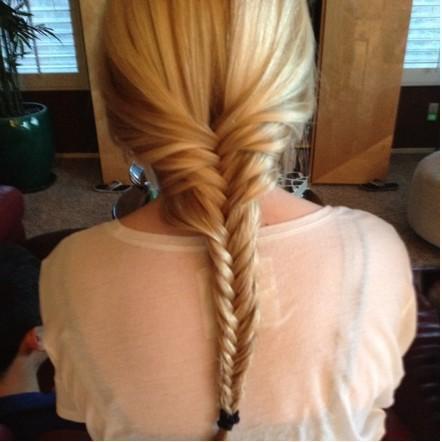 Once you have the basic fishtail braid down pat, you can actually go wild! I went crazy with my fishtail braid and managed to make the sweetest up-dos. I added some rocking accessories like crystal pins to really make it stand out and pop. One thing I learned about this braid though is that it is hard to do on freshly washed hair since the licks tend to be too slippery to braid together.