This year's New York Fashion Week presented us some of the coolest and the most stylish collections out there. We have already discussed some of them and while choosing only 10 collections to present to you was really hard, we still have tried to find the best.
Calvin Klein Fall 2014 Collection
Calvin Klein Fall 2014 Collection was all about knitted sweaters, yarn cardigans and warm coats and overcoats, or as Francisco Costa himself has pointed out, a collection for "kind of a gypsy, very youthful and very urban".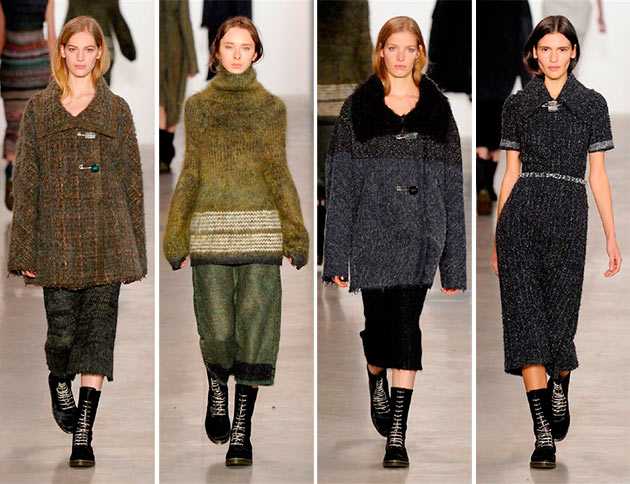 Carolina Herrera Fall 2014 Collection
The new Carolina Herrera collection came as a small surprise to us as we didn't see as many princess gowns as we are used to seeing during the designer's shows. Instead, we saw a lot of rounded shoulders and a color palette that revolved around brown and navy.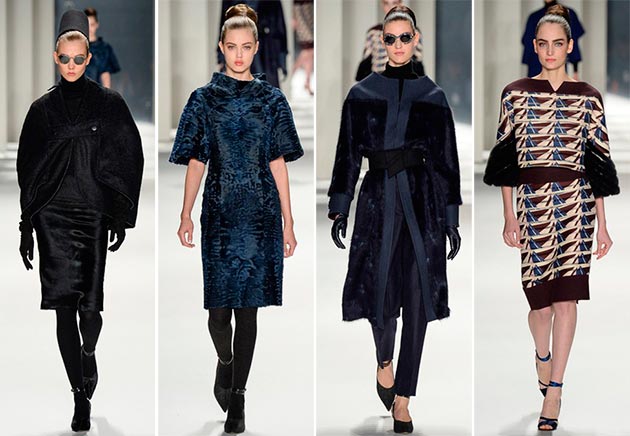 Jeremy Scott Fall 2014 Collection
Sport was main theme of the collection Jeremy Scott presented during this year's NYFW. The collection featured fur coats, lacy skinny pants, sweater dresses, onesies, sports jersey dresses with jersey numbers and even band-aid prints.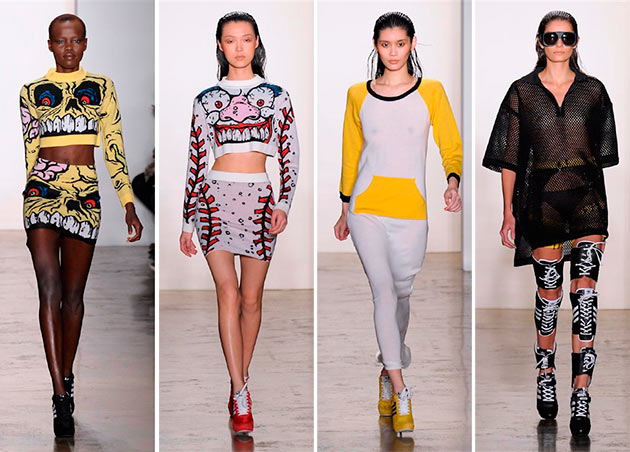 Diesel Black Gold Fall 2014 Collection
The new Diesel collection gave us a piece of Glam rock as models strolled down the runway in metallic short dresses and pants, pleated skirts, turtlenecks and moto jackets.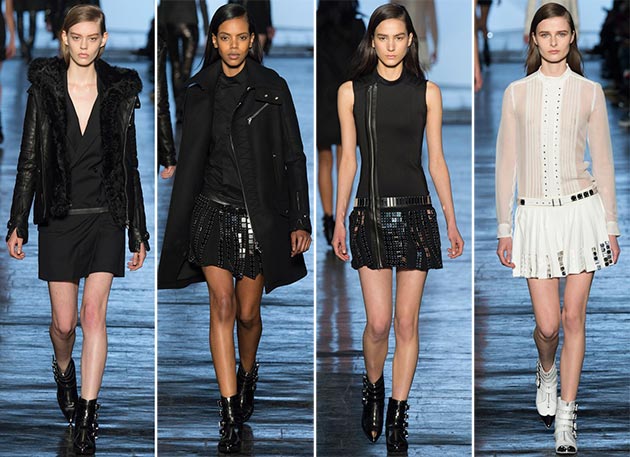 Noon by Noor Fall 2014  Collection
Maxi dresses, sweatshirts, oversized coats and sweaters. This year's Noon collection by Noor was all about maximalism.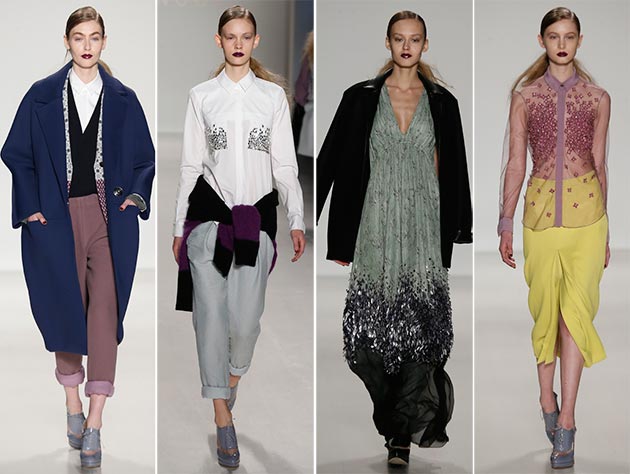 DKNY Fall 2014 Collection
This year's DKNY collection was a little on the wild side: zebra striped sweater dresses and fur coats, leather skirts and letterman jackets mostly in black, white and grey.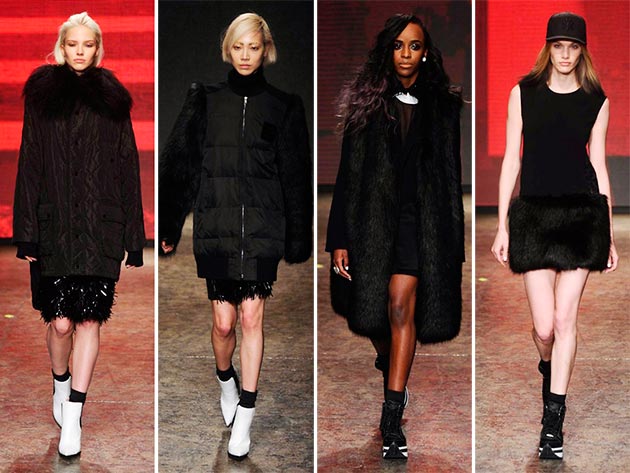 Victoria Beckham Fall 2014 Collection
During the presentation of her new fall collection which attended the rest of the Beckham family, Victoria said, "Everything is not what it seems. It's all 360 degrees — nothing is flat. You look at a structured coat from the front, and then from the back you see this beautiful pleat. Or you're looking at a dress, and then the whole back is missing." The collection itself featured coats and coat dresses, sleeveless jackets and pleated skirts, evening gowns and oversized sweaters.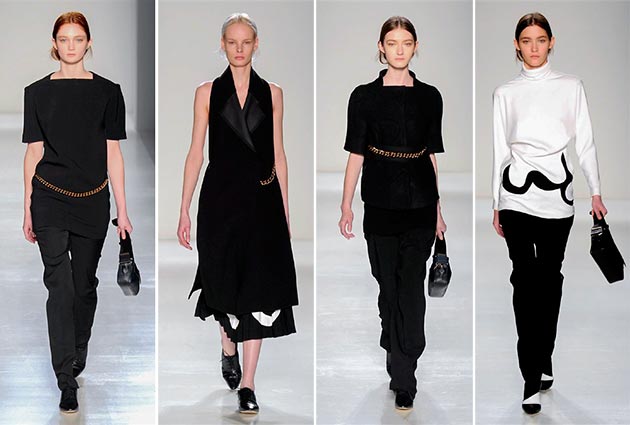 Duckie Brown Fall 2014 Collection
It was a big day for Steven Cox and Daniel Silver who had their debut in womenswear collection which featured oversized t-shirts, wide leg trousers, silky dresses and cropped tops.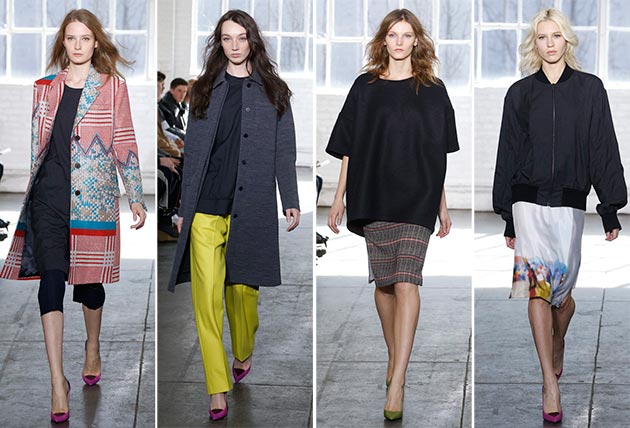 Lisa Perry Fall 2014 Collection
Lisa Perry's took us back to 60s by presenting a unique collection featuring miniskirts and tapered pants, pleated wide leg trousers, cropped jackets and shorts.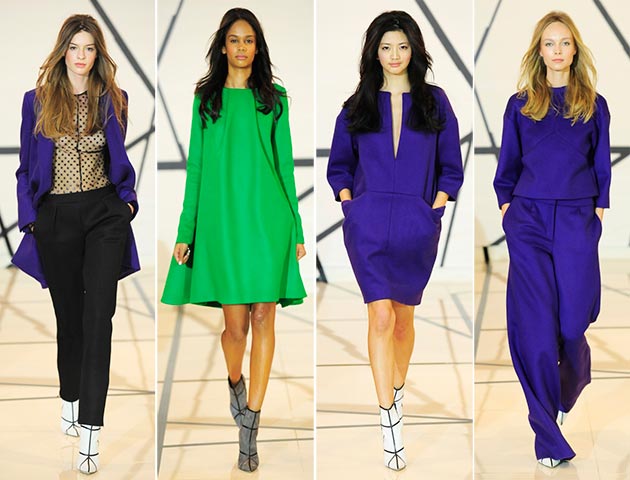 Band of Outsiders Fall 2014 Collection
Scott Sternberg's models this time too were outsiders again as they walked down the runway in shaggy coats, knit pants, matching striped sets and wrap skirts.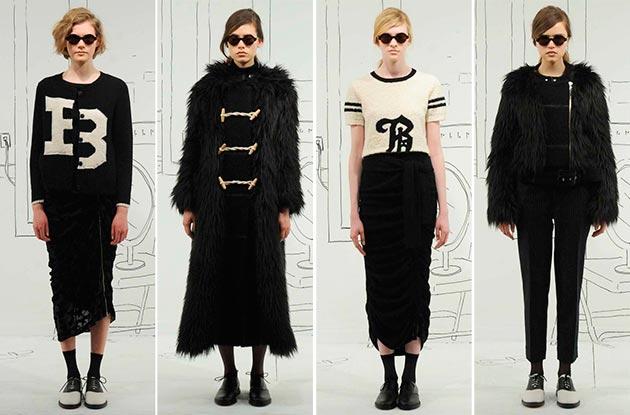 See also: Zac Posen for David's Bridal First Wedding Line
Zara Spring/Summer 2014 Campaign