Recently, big bold eyebrows seem to be all everybody has been talking about. Is it because bold eyebrows give us more intense, determined and dramatic look? Or is it because they just make us look even more beautiful? Whatever the reason, bold eyebrows are something which we see a lot today. While not all of us have the opportunity to get the Cara-like bold eyebrows, we can still try to make the best of what we have got by following some simple tips and techniques.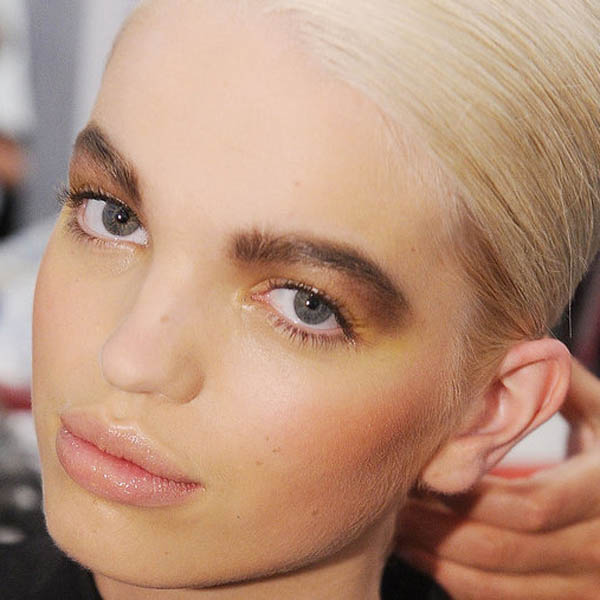 To get the bold eyebrows, start off by brushing your brows up with a wonderful tool known as a spoolie. Then take an angled brush and fill in your brows in short strokes. To make the harsh lines you drew softer, move the spoolie over the eyebrows one more time. To make the arch more expressive, apply a brow highlight underneath it.
If you prefer feathered eyebrows, start by filling in your brows in a shade a little darker than your eyebrow color. Pluck all the unnecessary hair from the outer arch of the eyebrow (avoid over-plucking). Also, try feathering the hair outward. This will give the eye a more lifted look. For more perfectly defined arches, you can also use special brow gels.
As bold eyebrows have a natural feel to them, it's important to keep you whole look all natural by not applying to much makeup to your face. What do we mean by makeup that looks natural? Basically, natural-looking makeup involves a thin layer of concealer, a thin coat of mascara, a thin layer of warm-colored eyeshadow and a light-colored lipstick.
If you are a fan of the eccentric approach, you should totally try combining bold brows with bold makeup. Choose bright colored eyeshadow and/or lipstick to get to a whole new level of eccentricity!
See also: The Best Eyebrow Shape for Your Face
How to Get the Perfect Bold Brow Look