If you have decided to wear glitter makeup, let us warn you: glitter makeup can be a tricky trend to pull off and you may be up for a challenge. And it's true. Choosing and wearing glitter makeup in the right way can often be a challenge. Right way? What do we mean by saying the right way? Follow the tips below and you will know about glitter makeup dos and don'ts!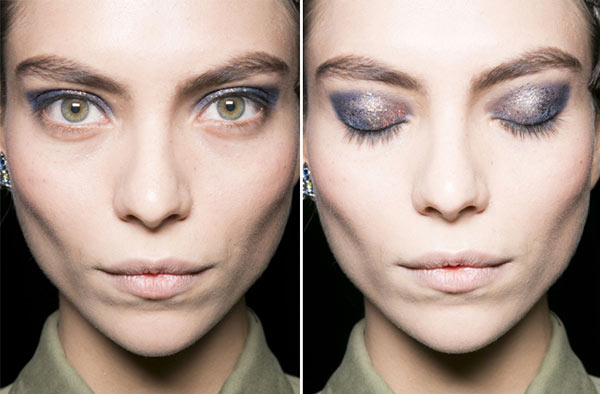 Tip 1: Use everything in moderation
You don't want to look like a schoolgirl, do you? Wearing too much glitter will turn you into one, especially if you have decided to go bold on the lips. Apply only a moderate amount of glitter to your eyes, and you will get the desired effect.
Tip 2: Choose neutral colors
Neutral colored eye-shadows save the look from appearing too overwhelming. Besides, using them with matte shadow will make your eyes more expressive.
Tip 3: Find the right liner
Janice Daoud, the lead makeup stylist for NARS, believes that the liner "if applied the right way, can look very modern and chic". Don't cover your entire lid with eye shadow. Instead, find the right liner (black liner with silver shimmer, let's say) and draw a thin line along the eyelid. Erik Soto, Sephora's PRO lead artist also suggests putting a bit of glitter to the tips of the lashes after applying mascara.
Tip 4: Look for glittery eyes on fashion catwalks
Looking for models with flawless make up? Going to fashion shows (or watching them on TV) is the right thing to do. Or you can just browse through images from runways (Thakoon Fall 2013, for example) and pay close attention to glitter eye makeup of the models. Unending source of inspiration.
Some people believe that anyone over 15 is not allowed to wear glitter. But…what do we care? We love how our eyes catch the light strikingly, we love feeling all sparkly and festive!
See also: The Best Eyebrow Shape for Your Face
How to Apply Makeup Without Makeup Brushes