Remember that Tyra Banks-Hannah Montana scene from "Hannah Montana: The Movie", when they are fighting (we mean really fighting!) for a pair of shoes? Each one of them believes she saw the shoes first. "Oh, the smell of new Italian leather shoes", says Rebecca Bloomwood from "Confessions of a Shopaholic".
Women are crazy about shoes. No matter how many pairs we own, we still feel we need more. Have you ever caught yourself wondering if your favorite pair of shoes will go with your favorite pair of pants? Well, we are here to try and answer your question.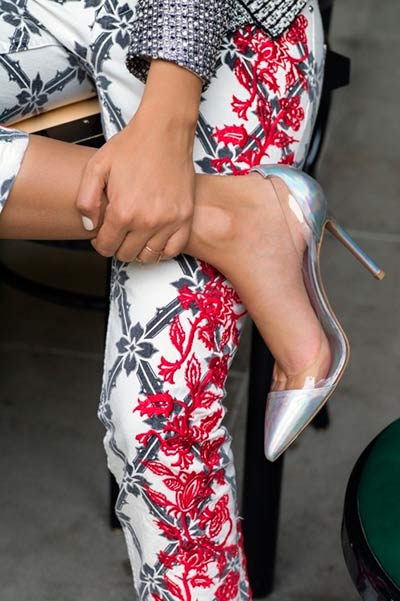 Best shoes for tapered pants: pointy-toe pumps
Pointy-toe pumps make your legs appear longer (especially slingbacks) and they look very feminine with tapered pants.
Best shoes for tuxedo pants: mules
If worn with flat shoes, tuxedo pants may make you look shorter. This is why you should go for high shoes with round toes and try to avoid pointed ones.
Best shoes for skinny jeans: heeled ankle boots
The combination of ankle boots and skinny jeans will never get old! Choose boots, which are not too wide on the neck.
Best shoes for tailored pants: kitten heels
No matter what kind of clothes/shoes we wear, our main goal is to make our legs appear as long as possible. Although with kitten heels you will not look very tall, they will make your legs slim and long (we are looking at you Audrey Hepburn!).
Best shoes for leather skinny pants: ankle-strap heels
Ankle-strap heels look best when combined with cropped leather skinnies when a little skin is visible between the strap and the edge of the pants.
Best shoes for cropped, wide-leg pants: chunky loafers
You probably should not (we mean, you MUST NOT) wear wide-leg pants with heels. It just won't do. But if there's one thing the chunky loafers will look good with, it is wide-leg pants. But be careful to choose loafers with high platforms.
To conclude we should say that a lot depends on your figure as well. These were some general "rules" concerning the combination of pants and shoes. You should always remember that one combination that looks perfect on one person, may not look that good on somebody else.
See also: How to Choose The Right Sweater for Your Body Shape
7 Colors That Men Love To See On Women