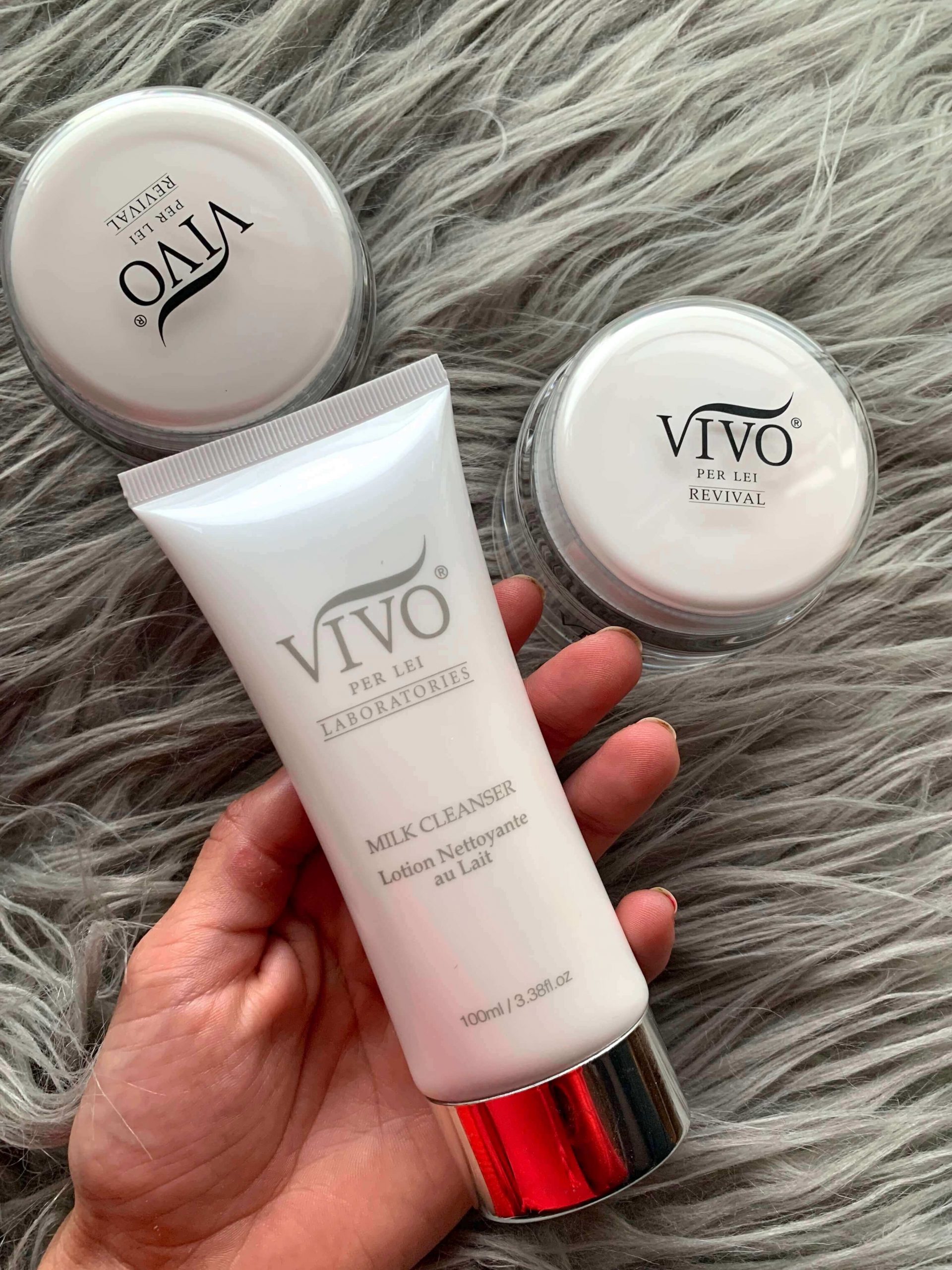 Ahh, skin care. I can admit I haven't always taken the best care of my skin.
Not to say that I was terrible when it came to skin care but when I was younger it wasn't as much of a focus as it is now. I don't think I'm alone in this. As I get older the more energy I put into finding the best products for my skin and the more open I am to trying different brands + products.
Ok, so that might be a little bit of a lie – I do sometimes hesitate to try different products. The reason is because I tend to have rather sensitive skin. I can't tell you how many times I've tried different brands or products and ended up with breakouts. However, when I do research and know the products I'm using I try my best to keep an open mind.
The thing I've learned over the years as I've gotten more and more into skin care is that you really don't know how it's going to affect your skin until you actually try it.
All that being said I started using a brand new skin care brand, Vivo Per Lei, along with three of their products. Like I said, I hesitate sometimes but my skin has really needed a change recently so I was willing to be open minded to try something new. Since I was trying a new brand I figured it was the perfect time to try three of the staple product types that I use in my skin care routine to see how they worked for my skin. So I ended up selecting Vivo Per Lei's Milk Cleanser, Snow Mushroom Night Cream, and their Pumpkin and Collagen Day Cream.
Vivo Per Lei Milk Cleanser
As someone who has sensitive skin and is prone to breakouts I've learned that using a good cleanser is an absolute must for my skin. I wear makeup rather often and I live in a big city where I'm exposed to a lot of toxins. Believe it or not I notice a big difference in my skin when I'm either not cleansing my skin or using a cleanser that just isn't cutting it for me. It's safe to say I'm all about a good cleanser so I was pretty excited to try the Milk Cleanser from Vivo Per Lei.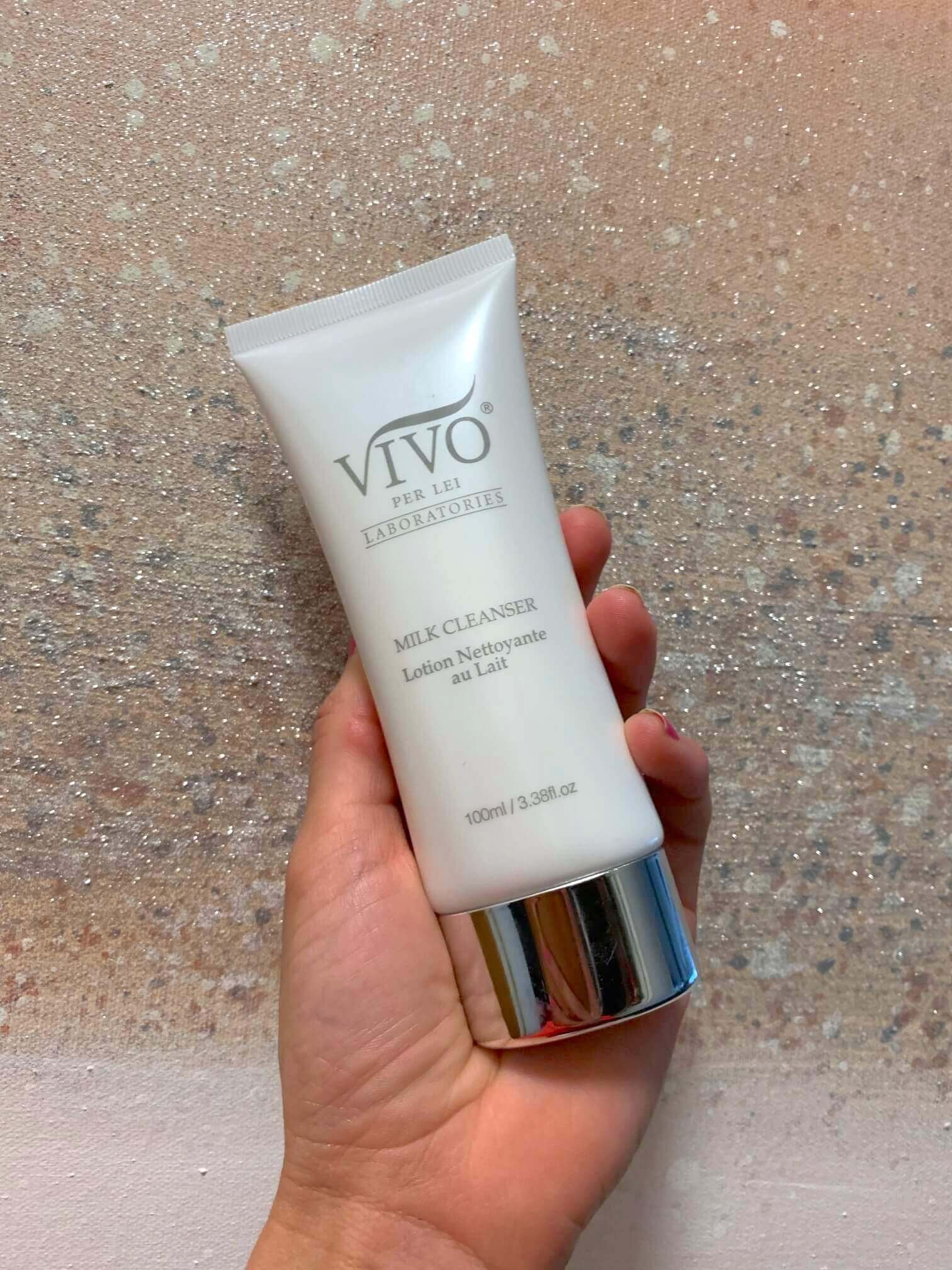 I'm certainly no scientist but I was intrigued at the idea of a milk cleanser. I don't know about you but when I think of anything named milk I think of a creamy consistency. Much to my excitement, Vivo Per Lei's Milk Cleanser was SUPER creamy in texture. It may be one of the creamiest cleansers I've ever used, actually.
The first time I went to use the Milk Cleanser I was a bit surprised. Every cleanser I've used in the past has been rather thin in texture but this particular cleanser was rather thick, living up to the fact that Vivo Per Lei calls this a foam mousse. Admittedly, I wasn't sure how a cleanser that was this particular texture would work for cleansing but I was willing to give it a go.
When I began using the cleanser for the first time I quickly realized that while it's thick at first when you begin rubbing the cleanser onto your skin in a gentle, circular motion it quickly thins out and becomes really easy to spread around your face.
I have to say, this cleanser was probably one of the easiest I've ever used. As I've used more cleansers than I can count at this point, most of the time I find they drip down my face as I'm cleansing my skin because they're so thin. With the Milk Cleanser that didn't happen. I found it really easy to work with and felt like I was able to cleanse much more thoroughly.
Because I was able to really get the cleanser all over my skin in such a productive manner I felt like I got a much deeper cleanse on my skin using the Milk Cleanser. Major win!!
That being said, even though this is a cleanser that lets you get a really deep cleanse it doesn't irritate the skin at all. I mentioned I have rather sensitive skin and sometimes harsh cleansers irritate me immediately but I didn't have that reaction at all. Actually, I felt like my skin has felt even better since I started using the Milk Cleanser. I'm going to attribute a lot of that to getting a deep, gentle cleanse.
If you're thinking of trying the Milk Cleanser yourself I recommend making sure that you splash your face with water before applying the cleanser, per their directions, and then lathering on the cleanser. Just like any other cleanser once you've used the product all over simply rinse off with water.
I'm willing to fully admit I'm pleasantly surprised by the Milk Cleanser. I've been having a hard time finding a cleanser I really love and Vivo Per Lei's has officially made it to my must have list in my skin care routine. Every time after I use the Milk Cleanser my skin feels SO refreshed and extremely clean. Even on the days I wear a lot of makeup all day long I feel like this cleanser helps to get any leftover makeup I may have missed from the makeup remover.
I'm officially in love!
Vivo Per Lei Snow Mushroom Night Cream
I tend to tip toe into new products because my skin is sensitive. Because I've had reactions to many I try one new product out at a time so if I do experience any sort of reaction I can know right away which one it is that's effecting me.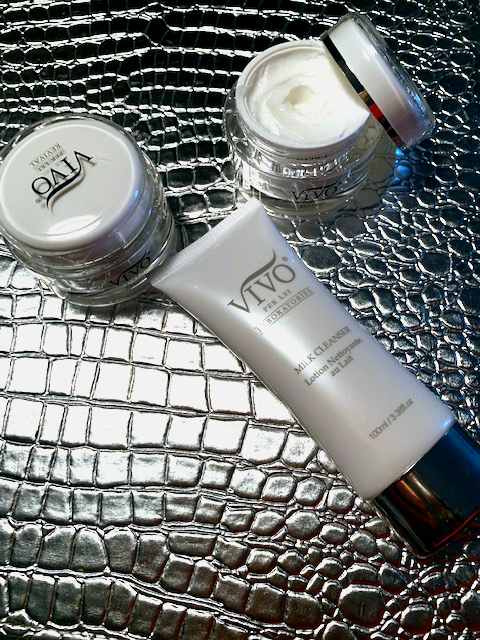 After I used the Milk Cleanser for a few days and started loving it I decided to make my way into the other products from Vivo Per Lei that I got. Next up I opted to try theSnow Mushroom Night Cream. Even though I experience a lot of breakouts I've always loved a good night cream. I won't give you a whole lecture now but I will say that moisture is essential to healthy, glowing skin – yes, even if you have oily skin!
Similar to cleansers I've used my fair share of moisturizers over the years. I've tried high end moisturizers and less expensive options. I was intrigued by the snow mushroom name in the Vivo Per Lei night cream. It's definitely a new ingredient for me. The problem I've had with some night creams in the past is that they're TOO thick. I'm all about a night cream that's a bit heavier than a day cream but from my experience when it's too heavy it doesn't do my skin any favors – it's all about balance.
When trying the Snow Mushroom Night Cream I followed direction and simply applied a small amount of the product to my skin after I cleansed with the Milk Cleanser, at night before heading to bed. Once again, I was surprised just how much I liked this product right away. So many moisturizers I've tried are 'ok' but I haven't tried many that make me feel like they've really done anything too special to my skin. That is, until I tried the Snow Mushroom Night Cream.
Vivo Per Lei formulated this night cream with really powerful ingredients and vitamins that clearly make the world of difference for the skin. This particular night cream has vitamins A, B3, and E in it in addition to snow mushroom extract. According to ingredients list Vivo Per Lei provides they state that the snow mushroom extract assists in drawing AND locking moisture into the skin while you sleep. This is what we want from all of our moisturizers – FYI.
And I have to say I noticed I woke up after the first time applying this night cream to my skin with my skin looking and feeling much more moisturized than it has in a long time. One of the factors that surprised me most from this night cream was that while it's formulated specifically for the evening it's not overly thick or heavy on the skin. It glides onto the skin so smooth and you don't even feel it when it's applied. I usually apply a serum in addition to a night cream to my skin in the evening so this was great – I hate feeling like I'm being weighed down by skin care. So if you layer multiple products at night you will love the consistency of the night cream.
Over time, the formula is designed to help your skin glow, look smoother and reduce the appearance of wrinkles. I haven't been using the night cream for too long at this point but I will say that I've never continuously woken up to my skin feeling so hydrated and smooth.
I'm sure you've been there, or may be there now, when you wake up and your skin feels like the life has been sucked out of it overnight. If that's the case you're going to want to get your hands on this night cream stat because I haven't had that since I started using it in my night time skin care routine.
Vivo Per Lei Pumpkin and Collagen Day Cream
Naturally, since I was on a roll with two of the three products and loved both of them I went for the trifecta hoping for the best on the third product. The third and final product I tried from Vivo Per Lei was their Pumpkin and Collagen Day Cream.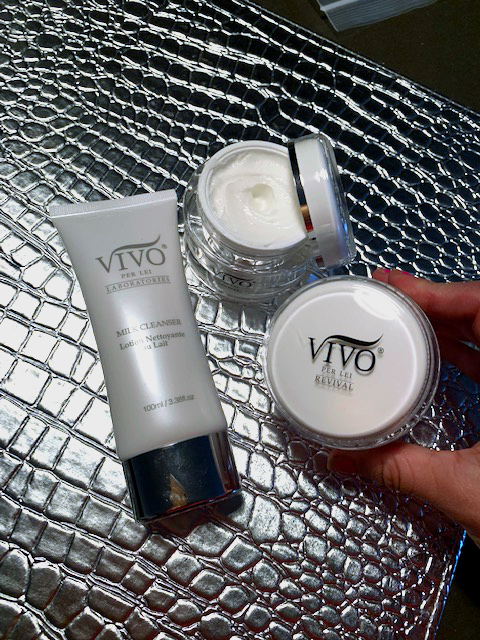 I'll admit at this point I was pretty much expecting to love the day cream as much as I loved the other two products. Fortunately, I did. The day cream glides on smoother than any moisturizer I've ever used! Seriously, I was so shocked at how creamy and smooth this product was the first time I used it. I'm used to moisturizers being rather smooth during application but this one is on a whole other level.
Now that I'm getting older (something I don't love to admit, but here we are), any time I see collagen in the name of a product I'm always game to try it. Give me all the collagen! But let's face it, we've all tried products that list collagen as an ingredient or in the name and don't notice much of anything special happen to our skin.
So I've grown to become a bit skeptical when I see collagen used – I just try not to get my hopes up too much. However I'll admit that when I used this day cream I noticed my skin looked noticeably smoother in texture. I know collagen doesn't work INSTANTLY but the formula feels incredible on my skin. The other active ingredient in this day cream is pumpkin which was really peeking my interest. Pumpkin seed extract is said to fight free radicals, act as a powerful antioxidant and give your skin a nice healthy glow. The ingredients in this day cream together are formulated to give your skin more of a youthful, smoother appearance.
What I know from my experience is this day cream makes my skin SUPER happy. I've been noticing a definite difference in the texture and appearance in my skin. Plus, I find that my makeup glides on seamlessly when I put the day cream on first. I don't know I'd say all of those points are major positives – they are in my world anyways.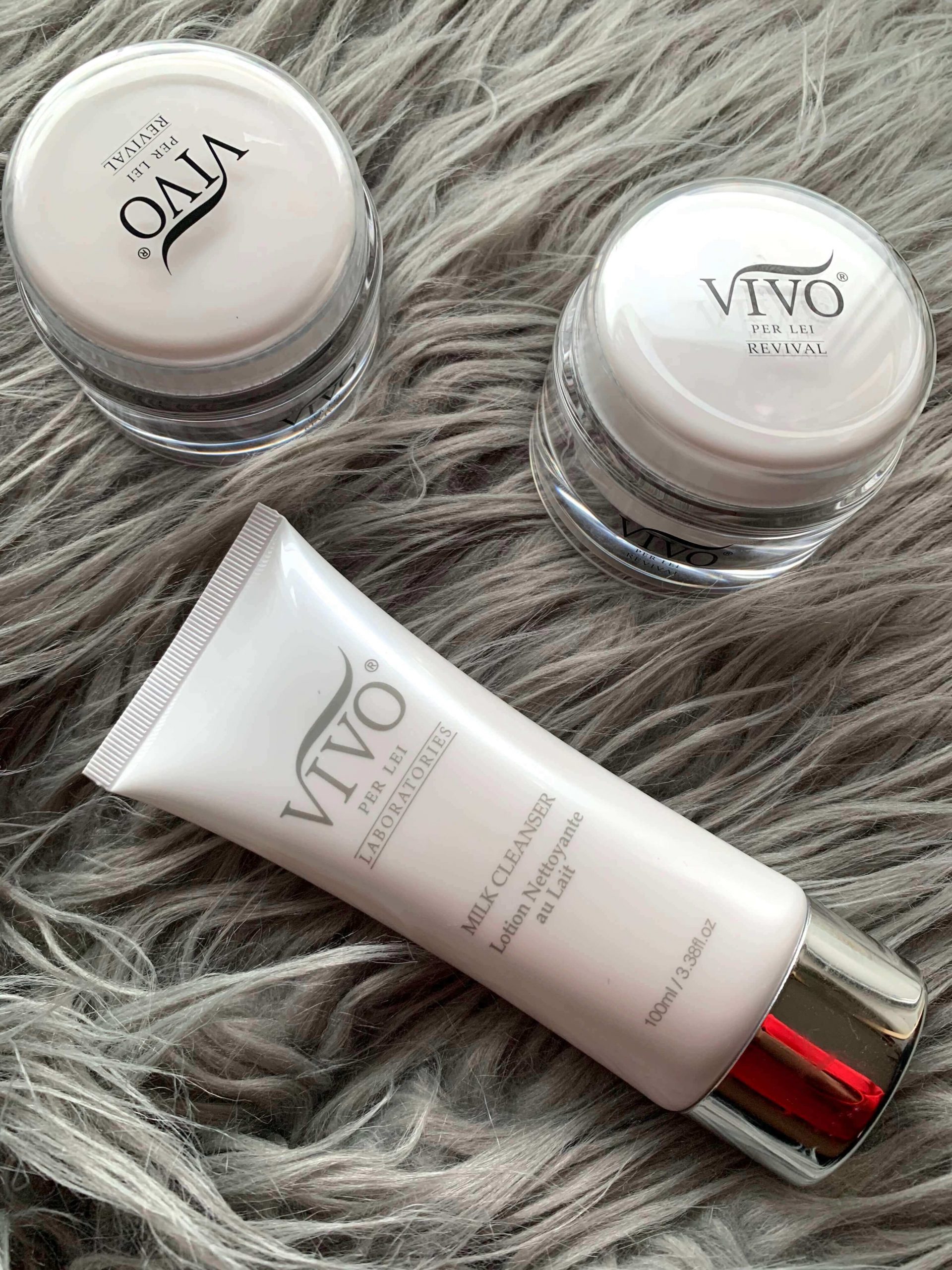 Here's what I know from all three of the Vivo Per Lei products. I LOVE them. No, I'm not just saying that either. All three work are standouts on their own and I notice when they're used together they're a combination that does wonders for my skin.
If you've been feeling like you want to try something new to switch up your skin care routine, want gentle products that aren't going to break the bank I highly recommend giving all three of these a try. I don't think you will be disappointed and really, what do you have to lose? Enjoy…I know I will be!